The Value of 60-Minute Gas Shut-Off Timers For Patio Grills
6 minute read | Grills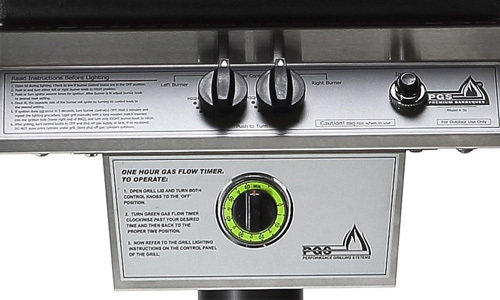 One of the first things that come to mind when people consider buying a natural gas-powered patio barbecue is, "Will I be able to run it safely?" This, of course, is the mark of a responsible homeowner, property manager, or family person, and that's why we are proud to announce that our natural gas grills are or can be fitted with 60-minute gas shut off timers that ensure your grill will not continue to burn or emit gas after that period of time has elapsed.
Even the most responsible natural gas grill operator can get pulled away by an emergency or by other distractions. We try not to let it happen, but we are human. That's why the 60-minute gas shut off timer is such an important and valuable feature, that comes standard with all of our T-Series grills. Here, we'll cover everything you need to know about this important, tested, and reliable safety feature.
Gas Shut-Off Grill Timers
Gas Shut-Off Grill Timers are not the same as a cooking timer. These safety devices are specifically designed to shut the grill off completely after one hour has passed for the purpose of safety. A cooking timer, by contrast, is simply an alarm that tells you that a given period of time has passed. A Gas Shut-Off Grill Timer could be used as a cooking timer if you were cooking something which is meant to be cooked for exactly one hour, but for every other practical consideration, it is primarily a safety feature.
When installed in a rental property or other commercial location, the 60-minute Gas Shut-Off Grill Timer grill feature could be used as a cooking timer. But once again, this is not its primary purpose. These shut off timers give the property owner tremendous value on commercial properties in the form of peace of mind, knowing that your guests or tenants will not leave a gas natural grill running unsupervised creating a fire hazard and wasting valuable fuel.
Grill timers work by cutting off the flow of natural gas or propane to the grill after the 60-minute time limit has passed. It appears as a knob on the face of the grill just like the other knobs that are used to control the temperature.
In the event that the user forgets to turn the grill off, whether the person rushed off to tend to an emergency, got sucked into the big game on TV, or what have you- the timer will allow the grill to run only for a maximum of 60 minutes and will then shut off the flow of gas. That means no matter what the distraction was, the user can rest in the assurance that the grill is not running after 60 minutes. This insurance against forgetfulness and distraction might even help you to save money on your homeowner's insurance or your property management insurance policy. Your insurance company wants to know that you do everything you can to enforce fire safety, and the 60-minute timer gas shut off is an excellent way to prove to them that you are.
Think about how many times you or your spouse has left the house and gotten the sinking feeling that the oven has been left on. With these grill timer/s, you can rest easy knowing that even if you did not shut the grill off, it can not and will not continue to run beyond the 60-minute cut-off. The mechanism has been heavily tested and developed to be absolutely failsafe. It is an extremely simple system with very little to go wrong and has been performance tested thoroughly to ensure that it will work each and every time, shutting off the flow of gas when the 60-minute mark is reached. In our humble opinion, that kind of certainty is absolutely invaluable!
On the other hand, if you or a guest wants to continue to use the grill beyond the 60-minute time limit, you or they simply need to be present to turn the dial back before the shut off happens, or simply turn the grill back on if it has already turned itself off.
Best of all, the automatic grill timer shut off function is standard on all of the T-Series grills we sell.
More on Our T-Series and Other Grills
Every T-Series grill comes standard with our fool-proof, failsafe, 60-minute gas shut off timer. That alone adds tremendous value to these grills and others that feature them. Other important features of the T-Series include;
Quality Materials: These high-quality grills are made to last from durable, corrosion-resistant materials for minimal maintenance and maximum longevity.
Optional Accessories: T-series grills may include warming grill racks, side burners, stainless steel shelves, infrared rotisserie burners, grill timers, attachable drawers, and more.
Your Choice of Fuel Type: You can choose between propane or natural gas. Both are powerful and inexpensive to run. But each comes with different accessibility characteristics. That means that one or the other will be ideal for your specific location and use needs.
Mounting Options: The T-Series grills can be installed as a built-in barbecue grill, as a portable grill, or mounted on a pedestal. Your location, user needs, and personal preferences will determine which is the best mounting option for you.
And of course, all T-Series grills come standard with the 60-minute gas shut off timer built-in. That's just one of the reasons this series of stainless steel bbq grills are a popular choice for those in the market for a commercial grill and/or a portable propane grill.
T-Series Grills
The T30 NG, T30 LP, T40 NG, and T40 LP lines: These grills are a great choice for those who want small and medium-sized grills that work great on pedestal mounts, and also to have multiple grills in the same location.
---
Want more information? Have a question? Contact us today, and we will be happy to help!