Boost Curb Appeal of Your RV Park or Resort by including Site Grills
6 minute read | Grills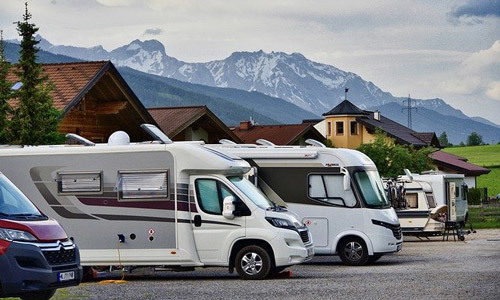 For RV site managers who want to decrease their vacancy rate might consider adding conveniences that fit the RV lifestyle to a tee.
RVs are a blend of outdoor living and comfortable indoor living. The fact that you can roam the globe only makes the RV lifestyle simply outstanding. Another positive is the significant number of parks, campgrounds, resorts that offer parking for RVs. So, as an adventurer, how do you choose the best place as your temporary home? For many people, it comes down to availability, amenities, and location. In this article, we discuss amenities that help blend indoor living with outdoor enjoyment.
Grills — They pair with local activities
Grills make it so much easier to enjoy the things you love. If you are an angler, then what is better than enjoying the catch-of-the-day grilled to perfection? If you are getting together for a family reunion, then grill up the family favorites while you rehash to good old times. Grills make it so much easier to share the outdoor with old friends, new friends or to create a relaxed meal for just the two of you. Grills are a fantastic way to increase guests' experience at your park, camp, or resort.
Improving Camp, Park, or Resort Amenities with Grills
Look around at your competition. Do other parks in the area offer grills? Adding grills to your location can be another reason all the RVs want to stay at your place. You have options when it comes to adding gas BBQ grills to your park, resort, or campground.
Adding a Grill for RV sites
A big plus for adding grills to RV sites is the free marketing. Guests can check off more boxes on secondary referral sites such as TripAdvisor or AAA. Installing gas BBQ grills, a portable propane grill, or a built-in barbeque grill improves the experience of RV guests. All secondary forms of marketing rely on the guest experience as a means of rating or ranking RV sites.
As someone reviews the list of options before booking a spot, they look at reviews, star ratings, amenity lists, and photographs of the campground, resort, or RV Park. These are some of the criteria that people use to choose one location over another. Adding grills or a grilling area is one of the easiest ways to improve customer reviews, attract new guests, and attract returning guests.
Designing Grilling Areas
There are options for designing grilling areas. You can start small or go big. You can make a communal area for grilling or add grills to specific RV sites.
Start Small or Go Big
Add Gas BBQ Grills to a few RV sites and make those deluxe sites. Maybe you charge more per night for those sites or use them as perks for guests. Perhaps that conversation goes something like this: "Let me upgrade your site to one of our deluxe spaces. They come with more amenities."
Offer Portable Propane Grills for Rent
Maybe you rent a portable propane grill to guests who want to BBQ next to their RV. However, during holidays, that service would be very much in demand. Renting a barbeque grill gives you more options to meet demand, and since the grill is not tied to a specific site, you can serve more people.
Build a Communal Grilling Area
Design and build a communal grilling area for your park, campground, or resort. Add a few picnic tables, gas BBQ grills, and maybe some other features, like outdoor patio heaters for fall, spring, winter. A handwashing station would be ideal in such an area too. Many of our gas BBQ Grills come with an automatic grill timer that shuts off the gas to the grill when it has been inactive for an hour. Those features help set our grills apart, and they save time and money for property management, camp hosts, and resort personnel. That feature is excellent for a built-in barbecue grill or communal grilling areas.
One Size Fits All or Not So Much
We offer a fantastic selection of grills. They are available in many sizes. Smaller patio grills are perfect for smaller spaces where people max out at 2-4. For larger areas, we offer larger grills that enable a larger family to grill a complete meal. The medium-sized grills help you design communal grilling spaces that meet the needs of most guests.
Built-in or Portable?
Choosing between a built-in or portable grill can seem like a tough decision. A significant benefit of built-in BBQ grills is that you can pipe natural gas to them. With portable grills, a small canister of gas 5-10 gallons worth accompanies the grill. In some situations, piped gas becomes easier to manage, while portable grills enable grilling in more locations. Is one better than the other? The answer to that question is no. The grill that will serve you best, is going to come down to your property's layout, location, number of guests, and many more factors unique to your RV resort.
Many people may prefer to grill on their site if your property includes a campground as well as an RV Park, then a mixture of portable and installed grills might be your best solution. Guests can rent the portable grills and the tank of gas to fuel it. If the grill belongs to a specific site, then piping gas can be a huge benefit. Portable BBQ grills also have the advantage of smaller upfront costs since you are not paying to pipe gas to an RV space.
Because Life Happens
We carry a complete selection of grill replacement parts. We offer fast shipment, so your uptime remains high, and your guests remain happy. Our part selection includes parts for every grill we manufacture and for our outdoor patio heaters. We make it easy to maintain your gas BBQ Grills or patio barbecues.
Ready, Set, Grill!
Gas BBQ Grills are such an easy way to improve the experience of guests at your property. Whether you offer a mixed camping and RV location, resort, or a park that is exclusive to RVs, gas grills:
Improve guest experiences
Increase the impact of secondary marketing
It can help attract new guests or keep existing guests coming back year after year.
In a communal grilling area, grills help increase socializing, improving the guest experience.
There are many reasons to consider portable propane grills or built-in gas grills for your campground, RV park, or resort. Our large selection of grills makes it convenient to add grilling to your location. For more information about our grills, or to browse the selection of grills available and our parts inventory, visit us online at AEI Corporation or give us a call at 949-474-3070 for more personalized service and answers to your questions. You can also use our Contact Us form for email communications.
---
Want more information? Have a question? Contact us today, and we will be happy to help!