Permanent and Built-In Outdoor Grills are a Great Option for Any Home or Community
8 minute read | Grills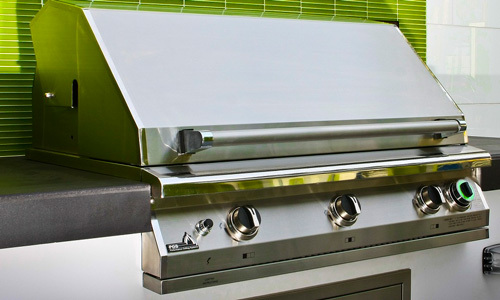 Being able to enjoy a nice cooked meal on a grill is something that almost everyone would look forward to and appreciate. Whether you are looking for a grill to add to your home's outdoor living space or want to improve an outdoor barbecue space for residents of a commercial property or apartment building, getting a built-in barbecue grill is a great option. These permanent grills are of the highest quality, can offer a great way to prepare a meal, and can look great in any setting.
Top Aesthetic Option
For many residential owners and commercial property owners, building an outdoor kitchen and living space is a great option. Not only will this give you a great place to entertain and enjoy a meal, but it could also increase your property value. For those that are coming up with a master plan for their outdoor living space, adding a permanent grill is a good option as it will give you the best aesthetics and organizational plan.
An outdoor permanent grill can be added to any master plan in your living space. Ideally, you should have it built in around outdoor cabinets, an outdoor island, or even a full kitchen. Another option is to mount it onto an existing countertop. Ultimately, it can be designed in any way based on your style preferences, capacity needs, and space configuration. Due to this, the sky is the limit when you are trying to build your outdoor living space and kitchen.
Quality Parts and Components
When you are looking for a grill, you should consider getting an A-Series, T-Series or Legacy Grill. These are high quality and made with top parts and components. The stainless steel BBQ grill will have strong and durable hoods, grill racks and other parts and features that you can take advantage of when cooking a meal. This will ensure that your grill will be ready for your use when the time comes.
The type of grill that you should choose will vary based on your needs. For residential owners, picking an A-series is a great option. These are smaller than the standard commercial grills and are typically more than sufficient for property owners. For those that are looking for a high-end grill option, upgrading the Legacy grills could be a good option. These grills are fully stainless steel and could include additional accessories with the model that you choose.
If you are looking for a commercial grill, the T-Series is the best option. The T-Series is designed to handle larger quantities of food and to be used as frequently as a commercial grill may need to be used. Those that are looking for the highest-quality overall grill should consider upgrading to the S27, S36, or S48 T-Series commercial grills, which are fully stainless steel. While the grills are all very durable and built to last, if you are having any issues with any of the grill options, you can always rely on the manufacturer's great customer support to ensure that you are satisfied and able to use your grill to the fullest.
Different Fuel Options
While the permanent outdoor gas grills will be installed in a way to ensure that they are not moved around much, you do have different fuel options. For outdoor permanent grills, one of the most popular options is to connect the grill to a natural gas line. When you are able to connect to a natural gas line, you will always have access to fuel and will not have to worry about replacing tanks like you would with propane.
If you do not have access to a natural gas line in your backyard, or simply prefer propane, this is still an option. The Legacy, A-Series, and T-Series grills have propane and natural gas grills for each model. It is easy for you to connect your propane tank in a safe manner.
Size and Power Options
When it comes to picking a grill for a commercial or residential property, one size does not fit all. Whether you are shopping for an A-Series, T-Series or Legacy grill, you will be impressed by the range of options you have when it comes to size and power options. The grills start with a total grill space area of around 540 square inches, but they can be larger than 1,000 inches in size for those that want to be able to grill higher quantities of food. The power produced is also significant as certain models can produce more than 100,000 BTUs.
Plenty of Grill Accessories and Features to Include
Regardless of which PGS grill you are shopping for, you will find that there are a lot of great accessories that can help to keep you organized and improve your experience.
Safety Features
Whenever you are going to use any type of grill, you will want to make sure that you are as safe as possible. With these outdoor grills, you can take advantage of the gas flow shut off timers. These timers will automatically turn off the gas flow to your grill after a 60 minute period. Not only will this help to save fuel if you forget to turn it off, but it can help to keep you safe.
Storage Features
With an outdoor grill, you can also upgrade it to get a variety of storage features. Some of these can include cabinetry and drawers that can be used to store your cookware and even some shelf-stable ingredients. This will help to keep you organized and ensure you have access to everything you need before you start grilling.
Additional Burners
When you are preparing a full meal, it is very likely that you will want to cook additional food beyond the primary entrée. If this is the case for you, you will enjoy having access to a variety of side burners and warming racks that can help you cook anything and keep it warm once it's off the main burner. There is also a connectible rotisserie that will allow you to increase the diversity of the foods that you prepare.
Adding a new grill to any outdoor living and entertaining space is a great option. Whether you are looking for a residential or commercial outdoor grill, getting one that is permanent and built into a larger outdoor kitchen is a great option. The range of options that you have to choose from picking a grill and adding it to your outdoor space gives you incredible control and style opportunities. Further, these grills offer plenty of benefits and amenities and can be fun to enjoy as users will be able to prepare amazing meals for years to come.
---
Want more information? Have a question? Contact us today, and we will be happy to help!