Choose the Right Infrared Patio Heater for Your Outdoor Living Space
5 minute read | Heaters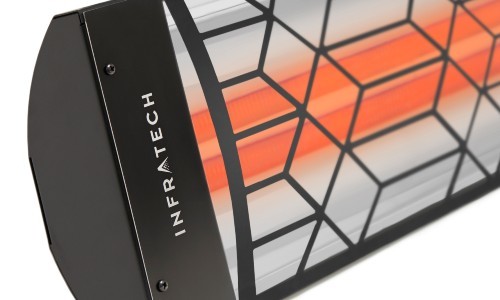 Having a nice outdoor living space to relax, entertain, and even enjoy a nice meal is a great addition to any home or commercial property. While being able to spend time outdoors is great when the weather is nice, those that live in colder climates could find that the cool weather in the winter months could make it uncomfortable. However, you can improve your outdoor living space and make it a great place to enjoy throughout the year if you invest in an outdoor patio heater. There are many benefits of patio heaters that can make them a great addition to any property.
Advantages of Getting an Infrared Outdoor Heater
There are many reasons that you should consider getting an infrared outdoor heater. The main benefit of having an outdoor heater is that it can help to safely keep your guests warm when they are outside even when the weather is cold. Additionally, these heaters are very high-quality. An infrared heater made in the USA will be made with high-quality parts that can help to ensure that it will be durable, effective, and safe for you to use at all times. Additionally, the patio heaters come in a variety of different styles, sizes, and fuel types to ensure that you are able to find one that is ideal for your situation.
When you are looking for an outdoor patio heater, you should consider your options. Three of the most popular are portable liquid propane heaters, natural gas heaters, and electric heaters. You should carefully consider the features and advantages of each option when trying to choose the right one for your situation.
Portable Liquid Propane Heaters
One of the most common forms of infrared heaters is liquid propane heaters. An LP heater will have a self-contained fuel system that will sit in a case at the bottom of the heater. The heat will then come from the top of the heater. In the majority of situations, the heaters will be mushroom-shaped, which helps to ensure that there is a consistent flow of heat all around the heater. This can help to heat a larger area than some other heating options.
One of the main advantages of liquid propane heaters is that they are portable. Since the heaters have a self-contained liquid propane tank, you do not have to leave them in one position. Instead, you can easily move them around your outdoor living space. This can make them an ideal option for anyone that would like to have flexibility when it comes to the location and positioning of the heater. Further, when it is not in use for a period of time, you will be able to easily move it and store it away.
If you do have an outdoor propane heater, you will need to replace the propane tanks from time to time. Most people will find that the propane tanks will last for a long time due to the efficiencies of these heaters. Further, these propane tanks can be found in many locations. They are often available for exchange and sale at your local gas stations, hardware stores, and grocery stores so getting a new one is always convenient.
Natural Gas Heaters
While the portability of a portable LP heater is ideal for some people in some situations, the process of going and replacing the heater may seem inconvenient. Another option that should be considered would be to get a natural gas heater. A natural gas heater is an infrared heater that is connected directly to your home's natural gas line. If you already have a connection in place near your outdoor living space, this could be an ideal option.
If you get a natural gas heater, you will never have to worry about not having enough fuel as your connection to the utility lines will provide consistent flow. While this provides some convenience, it does mean that they need to be placed in a permanent location. Your local utility company should be able to help you connect the natural gas heater to a place that you want.
Having a natural gas heater is ideal for someone that has pre-planned outdoor living, dining, and entertaining space. They can be installed in a fashion to ensure that as many people are provided with heat as possible. The natural gas heaters can be either mushroom-shaped heaters or box heaters. The mushroom heaters can either be placed on poles or suspended overhead if you want to maximize floor space. The box heaters will be mounted onto a sturdy wall and will be able to direct heat down onto your patio. They also come in a variety of sizes to ensure you are able to get one that is ideal for your outdoor space.
Electric Heaters
The third option of infrared outdoor heaters to consider getting is electric heaters. These outdoor heaters are similar to the natural gas heaters because they will be connected directly to your property's electrical system. While they are not portable, you will always have a power source as long as the electricity connected to your home is running properly.
The electric heaters only come as box-shaped heaters. They can then be flush-mounted to a wall or ceiling, which will give the outdoor space a sleeker look. When they are installed, the electric heaters can be angled toward the direction you want based on which areas you want to receive direct heat. They also come in a variety of sizes, which ensures you will be able to find a heater that is right for you no matter what the size of your patio is.
One of the main benefits of the outdoor electric heaters is that they come with a variety of features that can make them stand out. Some of the features include simple on and off switches, easy to control heat regulator dials, and universal control panels that will allow you to program settings. They can also be integrated with your smart home control systems which allows you to turn them on and off and control the heaters remotely. This can add an additional safety benefit as well.
Adding an outdoor infrared heater to any patio space is a great option. Having one installed will allow you to enjoy entertaining and relaxing outdoors for a much longer period of time during the year. When you are looking for a heater, it is important to consider the advantages of each option to ensure you are able to select the right one for your situation.
---
Want more information? Have a question? Contact us today, and we will be happy to help!