Commercial Grill Bases for Outdoor Patio Grills Solve Safety Issues
8 minute read | Grills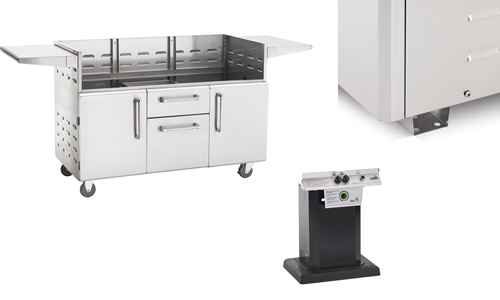 As people in North America acclimated to the work-from-home health emergency, they quickly discovered the many quality of life benefits. Unhealthy commuter fast foods were replaced with freshly grilled meals on stainless steel grills. With the pandemic largely behind us, people living in multifamily facilities are now very serious about outdoor commercial grills as a standard amenity.
An article published in Multifamily Executive, called "Outdoor Amenities Important in Post-Pandemic World," confirms the trend.
"Outdoor fitness spaces like yoga gardens and pickleball courts are also on the rise, and residents are increasingly using outdoor amenities as socialization spots too. According to owners and developers, communal beer gardens, fire pits, lounges, grilling areas, extensive playspaces, dog parks, and, of course, pools are some of the most sought-after features with today's renters," the article states.
Property owners and management outfits harbor some concerns about safety and insurance liability. Perhaps the best solution is to install secure, fixed-in-place commercial grill bases for outdoor patio grills in apartments/condos. Stakeholders in multifamily residential communities would be wise to consider making outdoor commercial grills a standard amenity and take safety measures to minimize risk.
What are the Facts About Outdoor Commercial Grills
The outdoor BBQ grill industry has exploded in recent years, with single-family homes, apartment complexes, and condominiums ordering an increased number of stainless steel grills during the global disruption. From 2019 to 2021, the revenue from outdoor grill sales ticked up from $5.1 billion to $6.43 billion annually. That growth is expected to exceed $7.22 billion by year's end and spike to more than $8.1 billion in 2023.
At that rate, the enthusiasm and money spent on residential and commercial outdoor BBQ grills will likely have doubled in under six years. The data indicates that everyday people are determined to enjoy the healthy meals and improved quality of life experience attributed to grilling. By that same token, apartment complex owners and condo management organizations are not necessarily off base regarding safety.
"When it comes to safety, the best approach is always to have good rules and enforcement of these rules to avoid any additional liability that comes with these outdoor amenity spaces," Andrew Meditz, co-owner and president of ELITE Amenity Management, reportedly told Multifamily Executive. "When The Denizen, (a luxury apartment building in New York City), first opened for their miniature golf course, dog run, outdoor grills, swimming pools, and outdoor fitness classes, they made sure that all the residents signed off on the rules, acknowledging they received them in order to use the amenities."
States such as California, among others, have effectively banned the use of charcoal grills on balconies and wooden decks in apartment complexes due to the risk of fire. One of the most common ways a charcoal grill leads to a fire is by someone accidentally tipping it over. Dry wood and arid conditions can be a perfect storm to set off a blaze. Stainless steel grills fueled by natural gas or liquid propane are very safe in comparison, especially with the automatic gas shut-off grill timers that come standard with all our commercial grills.
Resolving Safety Concerns Regarding Outdoor Commercial Grills
The sentiments of Andrew Meditz likely echo through the property management industry. Strong safety measures and follow-up are essential to maintaining robust safety. These may entail setting reasonable hours of use, recommendations for using stainless steel gas grills, and effectively banning hazardous charcoal and lighter fluid.
The good news for owners and operators of timeshares, condos, and apartment complexes is that industry-leading outdoor gas grill manufacturers continue to integrate safety devices. By implementing commonsense safety guidelines and selecting outdoor commercial grills with the following built-in protections, property managers and residents can both prosper.
Gas Grill Timers: The use of 60-minute gas grill shutoff timers has improved safety exponentially. Before this was used in PGS commercial grills, burns were prevalent. Users would leave the unit running, and unsuspecting people would too often touch the hot lid. Not only have shutoff timers reduced accidents, but they have also ended wasted fuel resources and may lower insurance coverage.
Pedestal Grills: One of the ways apartment complexes and condos are including gas grills in intimate outdoor spaces is through pedestal grill bases. Modest grills can be mounted on the slender base to maximize the free use of patios and small gathering places. Pedestal grills are secured to the ground to prevent people from accidentally toppling them over.
Laser-Etched Control Panels: Commonsense is not as prevalent as one might expect and not everyone knows how to operate an outdoor BBQ. That's why select PGS T-Series models have the instructions and other information laser-etched into the control panel. Property managers won't need signage when selecting this PGS commercial gas grill.
Grill Islands: Large gathering areas typically need expansive commercial grills to accommodate extended family get-togethers, birthday parties, and other events. Multifamily communities that acquire models such as a PGS T-Series grill with more than 500 square inches of direct cooking area require firmly fixed bases. Large grills can be installed on an outdoor kitchen countertop or prefab grill island. The latter reduces cost while securing the grilling station in place.
Commercial grill bases for outdoor patio grills in apartments/condos are critical to ensuring accidents do not occur and residents enjoy the peaceful use of outdoor spaces. Naturally, these secure bases must be accompanied by an industry-leading outdoor BBQ grill.
Top Outdoor Commercial Grills for Apartment Complexes and Condos
It's essential to understand the metrics of installing fixed-in-place BBQ grills. Residential communities typically need one grill for every 25 living spaces. Property owners and managers would be well-served to include modest pedestal grills and a reasonable number of outdoor kitchens to handle events. The PGS T-Series lines provide a wonderful opportunity and top-tier safety.
Models that are best suited for pedestal mounting include the PGS T30 and T40 grills. These outdoor commercial gas grills have options that support natural gas and liquid propane. Made from hard-cast aluminum, both the T30 and T40 models offer 60-minute shutoff timers while providing 330 to 434 square inches of direct grilling area.
The S27T, S36T, and S48T grills are perfect for outdoor built-in kitchens, offering shutoff timers and laser-etched control panels. This class of stainless steel grills also comes with theft-proof knobs and can be secured in multiple ways. The BTUs range from 45,000 to 90,000, and grilling space runs from 540 to 960 square inches. To say this checks all the boxes in terms of community members' desires and managers' safety concerns would be something of an understatement.
The post-pandemic data proves that an increased number of people expect outdoor BBQ grills to be a standard amenity. Property management professionals are answering the call in an effort to attract preferred residents. The PGS T-Series makes perfect sense for decision-makers.
---
Want more information? Have a question? Contact us today, and we will be happy to help!