Declutter Your Outdoor Patio Real Estate with Infrared Heaters Mounted Overhead
5 minute read | Heaters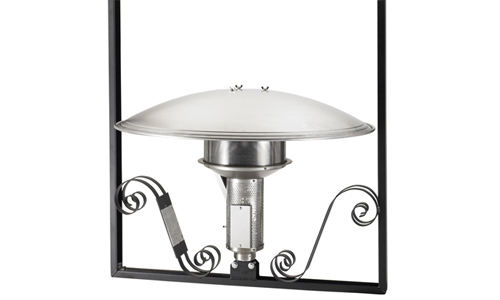 Hardworking people like to get a tangible return on investment for home improvements such as verandas, outdoor patios, and open-air porches. Having the ability to grill outdoors and enjoy the fresh air can be wonderful. That, in turn, often prompts people to incorporate some type of heating unit to extend the season and enhance the comfortable use of their outdoor real estate.
At some point, you may be experiencing diminishing returns because your outdoor real estate has become cluttered with furniture, a grilling station, and cumbersome ground-level space heaters. If that's the case, it's time to take back your patio real estate with outdoor gas heaters mounted overhead. Regardless of the size of your outdoor space, residential patio heaters mounted overhead deliver enhanced enjoyment and give you back the return on investment you deserve. If you are skeptical that flush mounted heaters are the best solution to the unwieldy clutter of floor space heaters, consider the following benefits.
Ceiling or Wall Mounted Outdoor Infrared Patio Heaters?
The decision to choose between flush mounted heaters that can be secured to a wall or ceiling depends on the general use of the outdoor patio, veranda, or even an open-air porch. The next-generation infrared technology used by-products such as AEI's Sunpak and Infratech flush mounted heaters can be secured overhead or on sidewalls.
The inherent value of a product that works efficiently on either platform means that homeowners enjoy the ability to make changes to the outdoor infrared heating setup should your everyday usage of the space change. These AEI heaters work equally well with either installation. But what sets them apart from box-types is that they are flush mounted heaters.
A proven benefit is that the Infratech models that are securely flush-mounted blend in seamlessly with your patio design. That aesthetically pleasing quality enhances the ambiance of your outdoor experience. The decision really comes down to which of the outdoor infrared patio heaters works seamlessly with existing energy sources.
Benefits of Natural Gas Infrared Heaters Mounted Overhead
Overhead infrared heaters that utilize natural gas can be a tremendous boon for homeowners. These products can be connected by a professional into existing fuel resources. The savings can be substantial, given the relatively low cost of natural gas.
It's essential to keep in mind that high-quality mushroom head heaters also utilize natural gas and propane. Although they generally cannot be flush-mounted, some homeowners select good-looking Sunglo heaters which are worth hanging and showcasing. The decision to go in this direction generally requires a substantially high ceiling or overhang that meets clearance safety requirements.
Mushroom head and box style heaters are not necessarily engineered to be in close proximity to walls, ceilings or flammable materials. The Sunpak model works with natural gas or propane and is designed with close proximity safety in mind.
Benefits of Infrared Ceiling Mounted Electric Patio Heaters
While not every home uses natural gas or propane, electricity is a mainstay. That means you can have flush-mounted heaters installed that rely on electricity. Electric outdoor heaters such as Infratech can be professionally installed on the floor or overhead to help you maximize your patio real estate.
If you haven't already run power out to your outdoor space, extending the season and enhanced comfort is a perfect reason to take that step. If you opt for wall mounted electric patio heaters, it may make sense to install additional outlets. Expanding electricity to your outdoor real estate allows you to utilize things like blenders to make frozen drinks and other luxury items. That can be a bold move in terms of ideal outdoor enjoyment.
Why Choose Outdoor Infrared Patio Heaters?
It's also important for homeowners to understand that residential patio heaters such as the AEI do not work with exposed flames. The infrared technology in these products warm objects within the throw range, not the air surrounding them.
Space heaters that throw flame-driven heat tend to be less efficient because even the slightest breeze can blow away any benefits. These often floor space heaters tend to fare better in a fully enclosed space, not outdoor real estate. That being said, infrared heaters deliver the return homeowners deserve for your outdoor patio space.
---
Want more information? Have a question? Contact us today, and we will be happy to help!