Does Your Apartment Complex Come Dressed To Grill?
9 minute read | Grills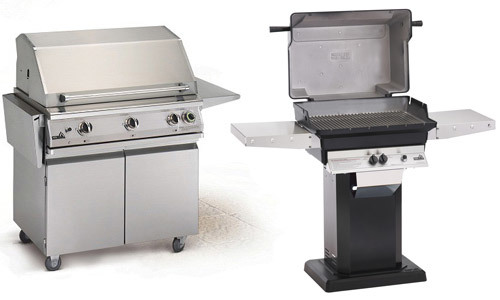 Whether apartment complex owners and property managers realize it or not, they are embroiled in fierce competition to attract top renters and charge the highest fees possible. Across the country, existing complexes are expanding their amenities, and newly-minted facilities include wide-ranging luxury options designed to put them at the head of the renting class.
One of the most cost-effective attractions for both established and new developments is providing a stainless steel BBQ grill for community members. Although a high-quality outdoor gas grill may not require the large investment of a brand new fitness center, a commercial grill delivers a quality of life enhancement that residents and potential applicants appreciate. If you are an apartment complex decision-maker, consider the bang for your buck an outdoor patio grill delivers versus other sought-after amenities.
High-End Apartment Complex Amenity Improvements
How closed communities such as apartment complexes make capital investments must be weighed against residents' benefits. There are wide-reaching options available, depending on how deep in your operation's pocket you are willing to reach. The following are sure to attract the attention of potential renters:
Pet-Friendly Attractions: "No pets allowed" was once a reasonable strategy to maintain the quality and safety of a complex. Saying yes to pets now comes with the expectation you will provide an enclosed outdoor dog park, cleanup bags, and incur higher insurance premiums. Going pet-friendly comes with hidden and growing costs.
State-of-the-Art Fitness Centers: It wasn't long ago that a treadmill and a weight set satisfied renter expectations. That low-cost-threshold has evaporated. Facilities that agree to develop fitness centers are expected to utilize larger spaces, include trendy equipment, yoga studios, televisions connected to cable, and work with third-party exercise class instructors. If you operate an existing facility, this will mean either turning profit-generating space into a common area or erecting another building. And you most certainly will be taking on long-term expenses.
Free Property-Wide High-Speed Internet: Free Wi-Fi has been trending for many years. As popular coffee shops and businesses offered it free of charge, the perk attracted increased customers. These days, Starbucks is seen just as attractive for its high-speed internet as its fancy lattes. Apartment complex operators are generally at a point where it's not a must. Staving off that big expense may be a matter of offering other more cost-effective amenities.
Outdoor Grilling & Kitchens Areas: Newly designed common areas and green spaces are being enhanced with outdoor dining amenities. The idea that submitting an application to a community that can handle full family gatherings, birthday parties, and intimate get-togethers is more than a little appealing. The inclusion of a stainless steel BBQ grill to prepare hamburgers, hot dogs, steaks, veggies, and other choice menu possibilities has been a game-changer.
Established apartment living spaces already have a common area that can be cost-effectively enhanced to include LP grills or a stainless steel natural gas grill if a fuel line already exists. The cost of natural gas or LP gas grills remains nominal, at best. Those are things to consider against big-ticket amenity items.
How To Establish Outdoor Gas Grill Stations
The use of picnic tables with sun-shading umbrellas on brick patios has been a winning attraction that does not call for huge upfront costs or debilitating ongoing expenses. But it's also essential to keep in mind that an outdoor patio grill will be a hot commodity.
When residents are unable to use an outdoor patio grill on a beautiful day or evening, it can prove problematic for property managers. That's why a community-wide grill strategy is advisable that delivers organized access in a reasonable fashion. These are ways successful apartment managers deliver this welcome perk.
Common Grill Areas
Common areas that are in place for gatherings typically benefit from the installation of a full outdoor kitchen. This may entail employing a grill island, such as those that accommodate the commercial PGS Legacy outdoor grill line. Spaces that do not necessarily have a space to install units into countertops can reduce costs with a grill island.
Key considerations when leveraging a space that welcomes outdoor cooks are having the cooking space, side burners, and accessories that make grilling a breeze. Another great grill accessory for apartments is an automatic gas-flow shut-off valve, which prevents potential fire hazards and wasted fuel.
Managing Poolside LP Grills
Savvy property managers typically place smaller commercial grill units in strategic locations. These informally-accessed LP grills may be mounted on carts with wheels so they can be conveniently moved.
That's why some property managers invest in high-quality PGS A-Series and T-Series gas grills. These lines include LP or natural gas connectivity, and cart or pedestal mounting capabilities. If you feel a poolside stainless steel BBQ grill is desirable, PGS grills deliver that flexibility.
Navigating Common Area Outdoor Gas Grill
It's important to remember that weekends, when the weather is pleasant, will bring resident families outside and grilling will be on their minds. Spacing multiple LP grills throughout the grounds tend to be a winning strategy.
Families are inclined to enjoy the outdoor patio grill closest to their living space. Having more than one unit per building lowers wait times and generally fosters community camaraderie. When neighbors come together, safely, around an LP grill to enjoy the locked-in flavors of hot-off-the-flame meals, these are good times shared. In essence, property managers who make a reasonable investment into outdoor gas grills deliver a highly sought after perk and improve a sense of community.
How To Select PGS Stainless Steel BBQ Grill For Residents
Selecting suitable PGS grills to meet space and cooking needs will require some forethought. For instance, areas that have space constraints may be best served by the pedestal mounting available for A-Series and T-Series grills. This space-saving option also allows you to fix the models to the ground.
Cart-mounting options are often used in multi-purpose areas that may need seating to be reorganized for different events. A-Series and T-Series LP grills house the tank in the base and can be easily maneuvered as required. The Legacy series is widely touted as an industry-leading line for outdoor kitchen installations and grill island benefits. Property managers and developers may also want to give serious thought to accessories residents will appreciate. These include the following.
60-Minute Shut-off Timers
Matchless Ignition
Side Shelves
Side Burners
Utensil Storage Drawers
Beverage Centers
Grill Racks
Infrared Rotisserie Burners
The PGS commercial grill lines deliver high BTU capabilities, expansive cooking areas, LP grills as well as natural gas connectivity, fixed and movable mounting options. They also deliver an industry-leading commitment to quality stainless steel BBQ grill design and construction that exceeds the test of time. In terms of amenities that make your apartment complex better able to compete for top renters, commercial grill investments deliver terrific bang for your buck.
---
Want more information? Have a question? Contact us today, and we will be happy to help!