Enjoy More Patio Time with a Sunglo Heater
5 minute read | Heaters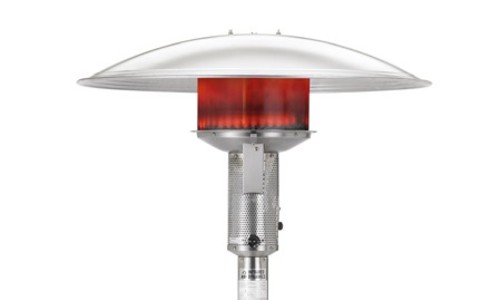 For over 60 years, Sunglo patio heaters have kept the fun going when the weather gets nippy. They've enabled restaurants to continue serving outdoors even when the warm season comes to an end. They've allowed homeowners to ensure their patio guests' comfort when the nighttime chill sends other neighbors indoors.
Whatever the case, Sunglo heaters are reliable for all types of heating needs.
The Disappointment of a Deserted Patio
Homeowners and businesses put a lot of effort into making their patios into all they can be. They select the most comfortable furniture and put serious thought into choosing appealing decor. If people don't use the patio because it's too chilly, all that work goes to waste, and patrons choose a cozier patio to sit on.
Installing just any old patio heater won't necessarily solve the problem. Heaters need to be sturdy, reliable and cost-effective. They need to provide sufficient heat to make guests not merely "warm enough" but sufficiently comfortable to relax and not notice any chill. Sunglo heaters were developed in 1961 as the original patio heaters, and their expert design, careful craftsmanship and relentless testing make them the sought-after heater today.
Sunglo Heaters for Long-Lasting Outdoor Comfort
Sunglo heaters are stylish, sturdy, reliable and built to last. On top of that, their heating power is unmatched. They use infrared heat, which is the same way the sun warms the earth. Infrared heaters don't waste energy warming the air. Instead, the rays pass right through the air and directly warm people up. There's no waiting for the temperature to come to the ideal level. As soon as you turn on the heater, people feel warmer.
As an added feature, Sunglo heaters include a deep dish reflector that radiates the heat across a broader area. On a typical patio, you can position Sunglo standing heaters about 12 feet apart, and all the guests will experience that special Sunglo warmth. Furthermore, a Sunglo heater is specially designed to stay lit, and it won't go out because of a breeze.
The Sunglo Heater Lineup
Sunglo makes a line of heaters suitable for hotels, restaurants, resorts, country clubs, spas, boat clubs and any kind of commercial establishment where there's a need to keep guests warm and happy. They're also ideal for condominium and apartment common spaces. A homeowner who installs a Sunglo heater or two quickly becomes an outdoor entertainment hero.
In addition to being champions at generating heat, Sunglo products are style leaders that enhance the eye appeal of any patio. Their ornate bases and exteriors are uniquely iconic in the patio heater industry. The pleasant glow of the heating element is a welcome sight that promises an agreeable patio experience is in store.
Fuel Source Options
Each Sunglo patio heater runs on one of two types of safe and convenient fuel: natural gas (NG) or liquid propane (LP). Liquid propane heaters are portable units; an LP fuel tank is stored in the base of the grill. It's the same type of tank that's used on a gas grill, and an empty tank can be exchanged for full at gas stations and hardware stores everywhere. Portable propane heaters can be readily shifted from one side of the patio to the other. You can move them into a storage area when the weather is fine and there's no need to use them.
Natural gas heaters attach to the natural gas line that runs the furnace and gas stoves in your building. There's never a risk that they'll run out of fuel, sending you out for a fresh tank. Anytime you want to fire up a natural gas heater, just open a valve and the fuel is at the ready. Most natural gas heaters are permanently mounted into the patio and cannot be moved without modifying the fuel line from the building. The standing heaters have a small footprint, and there are even units that mount overhead and have no footprint at all.
Sunglo Models
Three distinct model lines make up the Sunglo patio heater offerings.
The PSA265 series consists of standing natural gas units that permanently affix to the patio floor. The PSA265s stand on an in-ground pipe for minimal use of floor space. The heating unit is positioned at the optimal height for comfort and safety. The total coverage area depends on what kind of wind exposure the patio has, but, in a typical setup, the heaters are positioned about 12 feet apart.
The A242s are portable standing heaters. You can move them around or even temporarily store them as your needs change with guest and table configurations. An optional floor clamp kit attaches these heaters more securely to the patio. Liquid propane is the typical fuel for portable, but Sunglo also offers a natural gas option A242. An optional hose kit, 12 feet long, runs from the natural gas fuel source to the heater itself.
The A244 heaters are the ideal choice for the homeowner or business owner who needs to conserve floor space. This particular model is very unique as it is a mushroom heater than can be mounted overhead. All Sunglo heaters are designed with an eye to attractive appearance, but the A244s are especially striking with the elegant scrolling within the rectangular frame. These stylish heaters are an enhancement to any patio design motif. These are natural gas heaters, and there's an optional automatic control system available so that you don't have to reach overhead to operate the unit.
All Sunglo heaters feature an attractive aluminum reflector to spread the warmth as widely as possible. The burners are rated for minimal noise, and they use a pilot-thermocouple 100 percent safety shutoff. They need no electrical hookup, and they're no trouble at all to maintain and service.
The A244 hanging heaters have a black frame and stainless steel head for a unique and elevated look. The standing heaters are available either in the black metallic, or in a contemporary-looking stainless steel.
These heaters come with either manual, semi-automatic or automatic ignition. Semi-automatic ignition requires a match or lighter to ignite the pilot, while automatic ignition units start up with a battery-induced spark.
A Longer and Better Patio Season
If you want a warm patio where guests are happy to relax and stay a while longer, you can't do better than Sunglo heaters. If your current patio heaters aren't quite what you expect them to be, maybe it's time to step up to the name that's been synonymous with patio heaters for over 60 years. Their reliability and long life makes them the ultimate cost-effective option. With infrared heat that instantly warms people, your commercial space will be ever so inviting.
---
Want more information? Have a question? Contact us today, and we will be happy to help!