Sunglo Heaters - 60 Years Of Patio Heater Excellence
5 minute read | Heaters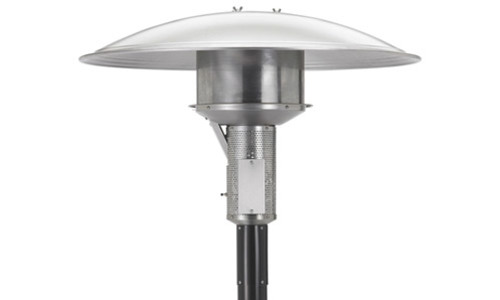 Designed and constructed by Edin J. Cowan in 1961, Sunglo patio heaters are the original patio heater. These convenient, efficient, and effective outdoor heaters were snapped up by hotels, restaurants, and country clubs along the coastal regions of California where they were first used. Within the first six years, after they were invented, the Sunglo became a staple feature of hospitality establishments from Los Angeles to Crescent City, and the name became synonymous with the product. Today, they remain the most iconic products of their kind with their stylish and ornate base and exterior, the convenient and attractive circular shelf around the midsection, and the pleasant visible glow of the heating element just below the canopy. But of course, they are best known for the warmth they emit.
Today, many manufacturers have developed their own iterations of the basic Sunglo design. But Sunglo remains the original, produces their inimitable heaters with their own iconic design, and is the most experienced producer of commercial and residential infrared heaters.
As we move into the cooler months of the year, many homeowners, property owners, and business proprietors are hoping to find a way to extend their enjoyment of their alfresco offerings and spaces. Sunglo radiant patio heaters may be the ideal solution and are certainly the most iconic. Let's take a closer look at these well-designed and stylish products.
The Iconic Portable Patio Heater by Sunglo
Since these iconic patio heaters hit the market back in 1967, the Sunglo company has worked hard to earn its place as the most recognizable and the most sought-after brand of patio heater. They have earned the distinction of having a brand name that most people think of as the object itself, not unlike Cuisineart and blenders.
They are the very symbol of the portable patio heater industry because they were the first. Sunglo products are made with the highest quality materials and craftsmanship. As mentioned above, they are a staple outdoor item in resorts, restaurants, and hotels for over 50 years. Originally, they could only be found in the outdoor spaces of fine dining establishments and five-star hotels. Today, they are commonly found at diners, apartment complexes, private residences, all around the world, and any place where heated outdoor spaces are desired.
Here at AEI, we're proud to carry this classy and popular line of outdoor heaters. We carry both natural gas and propane heaters. All our heaters are round or mushroom-shaped, the most popular and practical shape for multiple use cases.
Powered by Natural Gas or Liquid Propane
Like most infrared heaters, Sunglo heaters run on either Natural Gas or Liquid Propane. Over the years, these two types of fuel have proven to be efficient, affordable, reliable, and reasonably safe to use. Of course, reasonable precautions are necessary, and the Sunglo company has put a great deal of work into its products to ensure they are safe and cost-effective. Here are a few important facts about fueling and operating these devices.
Fuel & Mounting Systems
Sunglo heaters are powered by either natural gas or propane. Natural gas Sunglo heaters can be suspended or they can be mounted on a pole. Pole mounted heaters can take propane or natural gas and suspended heaters take only natural gas. This can be a bit confusing, so here's a quick bullet list for reference:
Fuel Types
Suspended Heater: Natural Gas Only
Pole-Mounted Heater: Natural Gas or Propane
Portability
Propane Heaters: Portable
Natural Gas Heaters: Fixed Position
Fuel Replenishment
Propane Heaters: Require tank replacement
Natural Gas Heaters: Connected to in-ground NG line
Natural Gas Sunglo Heaters
Sunglo heaters that run on natural gas are mounted on a pole or suspended overhead. They must be hooked up to your property's natural gas line. This means that the fuel is piped directly into the heater. You will never have to replace the fuel tank with a natural gas heater.
Fueling these heaters is extremely convenient since they are tapped directly into a natural gas line provided by your local utility company. These heaters are not portable and must be mounted and kept in a fixed position. This has the drawback of being non-portable. But it has the advantage of the ease of use, and there is no need to worry about whether or not a fuel tank is full.
Because natural gas heaters are non-portable, it's a good idea to obtain a fitted, weather-resistant cover for each pole-mounted unit. Their modular design and quality materials make them easy to care for, and covering them in inclement weather will help them to last for many years.
Propane Sunglo Heaters
Sunglo heaters that run on propane are mounted on a pole with the circular/mushroom-shaped heating element on top and a convenient storage place for a propane tank in the base of the unit. The fuel tanks for propane-powered heaters need to be swapped out when they are depleted, but they have the important benefit of being portable. You can move these heaters to wherever you need heat, and store them out of the way when they are not in use. They can be covered to protect them from the weather with fitted, weather-resistant covers.
While swapping out a propane fuel tank may seem intimidating at first, it is easy to learn, and anyone can learn to safely exchange a propane fuel tank safely and easily. The great advantage of a propane-powered heater is the fact that you can store it when not in use. This will make the heater last much longer and require far less maintenance. They can also be covered to protect them from the weather using the same fitted, weather-resistant covers.
Both fuel types are cheap, readily available, and burn cleanly.
Choosing the Best Radiant Patio Heaters
Some spaces may always need to be heated, while others may be able to do without heat some or most of the time. For this reason, many homeowners and hospitality establishments opt for a collection of heaters made up of propane-powered and natural gas-powered units.
Run natural gas lines and install NG-powered radiant patio heaters in locations where guests and other users can be expected to need them. When crowds are larger, or when activities move farther from the building, propane-powered heaters can be wheeled into position to help accommodate users.
Natural gas units are ideal for reliable, fixed position heating and propane heaters are the perfect solution for unexpected heating needs, outdoor events, and for filling in the gaps when and where they appear.
Sunglo Patio Heaters: Over Half a Century of Style and Warmth
This iconic heater manufacturer has the longest proven track record of quality in the industry. They are among the finest outdoor heaters available, and they are easily recognizable. The AEI Corporation is proud to partner with Sunglo to offer you the very best infrared heating technology has to offer.
---
Want more information? Have a question? Contact us today, and we will be happy to help!