Getting Your Grill Ready for Spring-Time in a Residential Setting
6 minute read | Grills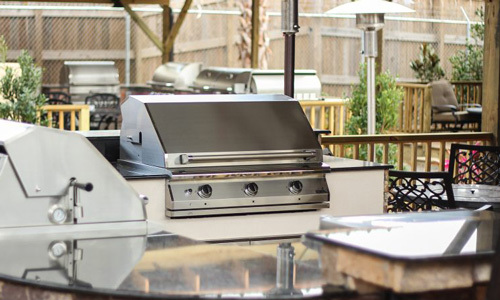 Adding a patio barbecue grill to your home is a great way to add value while creating a wonderful facility for enjoying your outdoor spaces with friends and family. Of course, we're sure you don't need much convincing. After all, everyone loves grilling at home, and our grilling accessories will make it even easier to do so.
Winter is just about over, and when Spring comes, you're going to want to get to grilling. Here at AEI, we want to make it easy for you to get your grill ready for the big BBQ season. We don't want you to miss out on Spring grilling. So our team put together this list of helpful hints and tips to help you get your grill primed and ready to shine.
Getting Your Patio Barbecue Grill ready for Spring & Summer
Hopefully, your patio barbecue grill has been properly stored away for the Winter months. For best results, don't take the following steps to get your grill ready for that perfect Spring day until you're ready to get it prepped and ready for use. Also, at the time this is being written, we may still have a few weeks of suboptimal weather ahead. So it's a good idea to keep your eye on the weather report and wait until Mother Nature smiles on your grilling activities.
If you have a portable propane grill, you will need to wheel it out of storage and move it to the spot you intend to grill at. If there are any questions about the weather, consider placing it under a covered patio, umbrella, or at least have a tarp or waterproof cover handy.
No matter what the weather decides to do, you will need to perform a full safety inspection of your propane or natural gas-powered grill.
Begin by inspecting the fuel line and gas connections. Check the hoses and connection hardware for wear, corrosion, damage, and any other condition that could cause a gas leak. When you do eventually get the grill running for the first time in months, it is a good idea to listen for the sound of gas leaks.
For additional safety, you may use a solution of soap and water and a sponge or brush. Apply the liquid to connections and any section of the hose that looks as if it might have been damaged. When you activate the fuel source, if the soapy solution bubbles, or spatters then you will have discovered a leak.
If you do discover a leak, replace the compromised grill parts as soon as possible and refrain from using your grill until they are replaced. Then check for cracked or brittle fuel hoses and faulty connections again until your leak test comes out negative. If you are certain your grill has been stored properly and does not have any superficial signs of damage, you may skip this step.
Safety Steps for Residential BBQ Grills
Any tool or appliance that runs on combustible gas can be dangerous. It is up to you to prepare, maintain, and use your propane and lp grills with caution. Follow all of the safety instructions included in your owner's manual and contact AEIcorporation.com if you have any questions or concerns about using portable and permanent grills safely.
1. Keep the Area Around Your Gas Grill Clean & Clear
Anything that you might trip on should be removed. The area should be level, stable, free of tripping hazards and combustibles. What's more, children and others should be made aware that the cook's working area around the grill is more or less off-limits. This is to mitigate the potential to fall into the hot grilling surface and to prevent the grill from being knocked over. If your grill does take any significant impact, it should be inspected for gas leaks and for structural integrity before continued use.
2. Secure Cooking Supplies
Your fuel, gas grill briquettes, and all other grilling equipment should be stored securely out of the reach of children. Keep your connections and hoses stored in a location where animals are not able to cause damage and keep gasoline and other solvents away from hoses and connections.
3. Keep Your Propane Grill Clean
Built-up grease can be a fire hazard. Clean away drippings and charred material that has come into contact with burners and grates. A sturdy wire brush is recommended for cleaning grates. Also, periodically inspect the nozzle opening out of which your fuel enters the grill. Ensure it is free of damage and corrosion and clear. All such AEI grill components are highly corrosion resistant, so this should not be a major cause for concern.
4. Inspect Fuel Lines and Connections
As described above, take care to fully and properly inspect all hoses and connections. The process described above should be done at least once a year, and especially after your grill has been in long-term storage.
5. Use Your Grill Timers and Matchless Ignition
Many AEI grills feature a proprietary 60-minute gas flow shutoff grill timer. This is an important safety feature and should be used any time you grill. Even very mindful and responsible people can be distracted by an emergency or a surprise event and leave a grill running. Your grill timer is there to save you money on fuel, and to potentially save life and property.
6. Never Allow Children to Operate or Play With an NG Grill or LP Grill
No propane or natural gas grill should be operated by a child. Warn children that these devices can be very dangerous and be sure they understand not to play with them under any circumstances. Secure your grill in a lockable shed or enclosure if you have any concerns about neighbor children or your own children letting curiosity get the best of them.
Residential BBQ Accessories, Options, & Features
If you don't have a grill or are thinking of upgrading, you have tons of great options to choose from.
Many AEI grills come with or can be fitted with an infrared rotisserie burner
Grills either run on natural gas or liquid propane
Natural gas grills don't have a fuel tank that needs to be refilled or replaced
Liquid propane grills use a fuel tank that will need to be swapped out, but these grills have the benefit of portability.
Both fuel types burn safely, are cheap to run, and are readily accessible
Residential grills come in several sizes to fit your family's needs
Multiple mounting options are available
Pedestal mounts take up the least space and are ideal for smaller grills
Grill carts may be the most versatile mounting option
Every grill is compatible with a grill cart
The Grill Island is a prefab outdoor island made for your grill and is ideal for large and medium-sized grills
If you already have an outdoor countertop, you can build your grill into it
---
Want more information? Have a question? Contact us today, and we will be happy to help!