Home Chefs Level-Up by Adding Rotisserie Burners to Outdoor Grills
7 minute read | Grills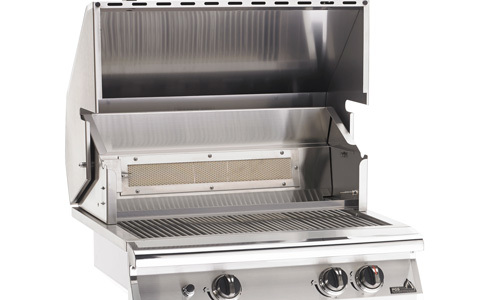 Preparing meals for the entire family on top of the line gas grills has evolved into the new normal. There was a time when a portable propane grill was considered a luxury item primarily used for special occasions and get-togethers. But the advanced technology integrated into outdoor commercial grills, as well as the residential patio barbecue, provide home chefs with versatility and heat consistency, among other benefits.
Needless to say, today's stainless steel outdoor grill delivers plenty of indoor cooking options and much more. One item that can put using a built-in barbecue grill above ovens and stoves is an infrared rotisserie burner. Industry-leading models, such as the PGS Legacy Grill line, can be seamlessly accessorized with an infrared rotisserie burner that doubles a grilling aficionado's cooking options. If you are considering an outdoor grill with a rotisserie included or a product that can be later upgraded, these are worthwhile things to know.
What Is An Infrared Rotisserie Burner?
There are two distinct ways of answering the question, "what is an infrared rotisserie burner?" The first deals with the technical aspects of integrating a unit into the top of the line gas grills.
The gas burner refocuses the intense flame of an outdoor grill to a ceramic tile with tiny holes. The process takes the flame heat generated by propane or natural gas in a patio barbecue and converts it into intense infrared heat. These units are generally positioned at the rear of the inside of an outdoor grill. A notch is typically built into the lid for the spit to rest on securely and rotate automatically. The technical proficiency of installing an infrared rotisserie burner into a top-tier outdoor grill expands a home chef's menu. These are technical benefits of working with an infrared rotisserie.
Even Cooking
Reduced Labor
Cost-Effective
Increased Ability to Prepare Large Options
Regardless of the advanced technology that industry-leading PGS grills embed into the top of the line gas grills, home chefs want food excellence. Any homeowner can purchase a portable propane grill. The question is whether you can grill choice cuts of beef, pork, chicken, and diversify your repertoire with mouth-watering flavor.
Even if you have an exceptional stainless steel patio barbecue, an infrared rotisserie burner takes that outdoor grill to the next level. It also takes your grill skillset and menu to a whole new level as well. These are items that can be prepared to perfection on an infrared rotisserie burner.
Whole Chickens
Turkey & Duck
Roasts & Thick Cuts Beef
Prime Rib
Leg of Lamb
While Pineapples
Veggie Baskets & Kabobs
To ensure the rotisserie temperature remains consistent, the grates of the outdoor grill should not be used at the same time as the rotisserie. This prompts many grilling enthusiasts to include side burners into the built-in barbecue grill setup.
The menu option on the spit is usually the main course, and side burners provide secondary heat to fill out a robust feast. In what now seems like prehistoric times to backyard chefs with top of the line gas grills, these state-of-the-art spits no longer require manual turning. These days, they deliver slow-cooking pleasure automatically.
Legacy Grill Models that Come Standard with Rotisserie Burners
Like many evolving product producers, industry-leaders are now including infrared rotisserie burners as a standard option in the top of the line gas grills. Most PGS grills have the capability of adding a rotisserie burner to them, they come standard in these three Legacy grills models. These are aspects of each Legacy Grill to consider when making a selection.
Newport Gourmet: This 30-inch grill works wonderfully as a patio barbecue when space is at a premium. It delivers 57,000 BTUs, 540 square inches of grate cooking space, and 200 square inches of warming rack area, along with a rotisserie kit.
Pacifica Gourmet: Considered a medium-sized model, homeowners frequently use it as a built-in barbecue grill and the centerpiece of an outdoor kitchen. Delivering a consistent 80,000 BTUs, 720 square inches of primary grilling area, and 260 square inches of warming space, the Pacifica outdoor grill includes a standard 12,000 BTU infrared rotisserie burner. At 39 inches, it is widely considered the best option for mid-sized patios.
BIG SUR: This ranks among the largest Legacy Grill options at 51 inches. Delivering 120,000 BTUs, 960 square inches of grilling area, and 355 inches of warming space, the standard 12,000-BTU infrared rotisserie is widely recognized as a commercial-grade burner. Size does matter when home chefs entertain guests or plan to hold birthday parties, family gatherings, and graduations, among others, on the property.
While these models are considered top of the line gas grills for residential purposes, PGS also offers outdoor commercial grills that can be accessorized with infrared rotisserie burners. A commercial-grade PGS built-in barbecue grill can be utilized with a BBQ island, beverage center, side burners, and a wide range of other accessories as well. But another PGS perk is that a spit can be added to other models that don't offer the game-changing option standard.
For instance, both the A-Series and T-Series can have rotisserie burners seamlessly installed. Easy to assemble kits can be purchased that are uniquely tailored to the PGS models. That means if you already enjoy a high-quality stainless steel PGS gas grill, you do not necessarily need to purchase a new unit to expand into rotisserie grilling.
It's also essential to note that the Newport and Pacifica Legacy Grill lines have what is known as "non-gourmet" options. This basically means that homeowners select one of these top of the line gas grills while leaving accessory options open. There are specifically-sized infrared rotisserie burner kits designed to outfit each line and model with precision. If you currently own a Legacy Grill or another high-quality PGS gas grill, the infrared rotisserie burner kits come with user-friendly instructions on setup, installation, and operation.
The fact that we live in an age of fast-evolving technology that is being integrated into wide-reaching products has not been lost on PGS Grill lines. Making infrared rotisseries standard on some models and crafting kits for others demonstrates this technology is the best way for grilling enthusiasts to level-up and embrace patio grilling as the preferred choice as the new normal.
---
Want more information? Have a question? Contact us today, and we will be happy to help!