How to Select a Community Barbecue for Gathering Spaces
5 minute read | Grills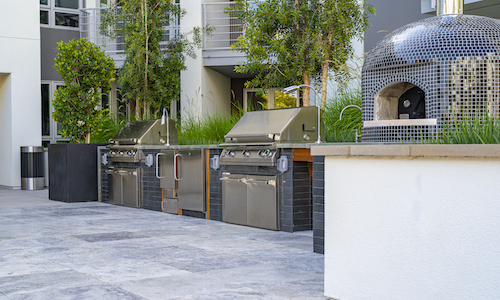 Durable and attractive spaces for barbecuing are desirable amenities in multi-family living situations. Apartment and condominium residents appreciate a dedicated space for grilling so they can cook their burgers, hot dogs, steaks, and more with the distinctive flavor that only comes from cooking outside. What should community planners look for when outfitting commercial bbq spaces?
One of the most important considerations for a common grilling area is installing a grill that is durable. The grilling equipment should be manufactured from the finest aluminum or stainless steel. The PGS Commercial products line is the T-Series of grills. Every T-Series is made from cast aluminum or stainless steel on its exterior.
Commercial grills have to be able to stand up to frequent use. PGS commercial grills are designed to be used multiple times every day. Each grill's housing is built for constant use, as are the strong stainless steel cooking grids and the stainless steel side shelves. Each T-Series is also built with a self-contained continuous spark electronic ignition system that guarantees it will light up continuously no matter how many grill chefs use it.
Another important feature of commercial grills in common areas is the manufacturer's warranty. PGS T-Series grills all come with a one-year full parts replacement warranty. The warranty excludes misuse, vandalism, surface rust, paint, or scratches. It's a guarantee that the components will stand up to multi-family commercial use.
If the T-Series grill ever needs a replacement part, the AEI online shop offers a robust selection of choices in everything from handles to gas regulators to "Moon Rok" briquettes.
A PGS grill is the perfect fit for every community situation. Each T-Series comes in the buyer's choice of propane bbq or natural gas bbq. Propane grills with the tank stored inside come with the flexibility to be moved around the grilling area. Natural gas models must be tied into a gas line by a qualified contractor. The buyer is also able to customize the mounting of each T-Series grill. Options include mounting them on grill carts, outdoor kitchen counters, or pedestals. Available choices include permanent posts and bases for natural gas models and stainless steel and aluminum pedestals for propane models. Pedestal-mounted grills are a favorite choice in apartment and condominium complexes. They make it easy to add several grills to one spot, including small bbq grills for apartments. This flexibility makes it easy to design grilling areas that work for a variety of chefs.
The T-Series grills also come with safety measures that are important to community developers. Time and time again, apartment complex managers complained that cooks left the gas on and flowing all night after they were done grilling. Each commercial grill comes with a PGS FuelStop 60-minute timer. After one hour, the gas automatically stops flowing. This prevents grills that have accidentally been left on from emptying the contents of their propane tanks so that the next cook will find that it's suddenly empty. For natural gas models, the timer ensures that natural gas isn't flowing unnecessarily for hours on end. FuelStop keeps the grilling area safe while extending the grill's lifesaving you money.
Property managers are also relieved to find out that PGS grills are manufactured with theft-resistant knobs. A grill will not be rendered inoperable because someone twisted off the knobs. Many of the T-Series commercial models also come with the instructions laser etched onto the grill. That way, the directions never fade or disappear.
It's important for multi-family complexes to have enough grills so that residents don't have to stand in line and wait their turn to begin cooking or walk too far from their doorway carrying their food. The T-Series grill options make it easy for planners to maximize the complex's barbecuing area. Pedestal-mounted grills can be installed closer together than grills on large bases. But propane grills on portable carts can be moved around as needed. Each grill cook needs enough space to work as well as a place to keep the food before it is prepared. There also needs to be a spot for grilling utensils, platters, and pots full of marinade. PGS makes this easy with side shelves on grills and carts holding the cook's tools.
Larger complexes may need more than one grill. They may also need more than one grilling area. Planners at these bigger communities should factor in how many residents will use the grills and be aware of what the longest walk might be from a unit to a grill. Barbecue zones are a great amenity. But if there's always a long wait for a grill or it's difficult to move food and grilling accessories from inside to outside, barbecuing may not be as much of a draw.
Community designers may also want to factor in the cooking surface area of the grills they select for the common area. Will chefs share the extremely large surfaces of some of the grills or is it better to buy smaller grills that will only be used by one grill master at a time?
And when it comes to the number of grills that are needed, allow for different cook times at each session. One person may use the grill for a quick hamburger and hot dog session, while another may want to cook 20 pounds of bone-in chicken breasts that will take significantly longer to prepare.
Grilling patterns may be easier to predict in established communities that are getting a barbecue area makeover. But in a new community, it is best to prepare by purchasing multiple grills and locating them in convenient spots.
A dedicated barbecue area is an exciting amenity for apartment and condominium residents who don't have the outdoor space in their individual units to set up a grilling zone. To make sure it remains an amenity and not frustration, property managers should select extremely durable grills, that can stand up to multiple uses a day, have robust warranties, easily obtainable replacement parts, and important safety features. PGS T-Series commercial grills are made from the sturdiest aluminum and stainless steel and were designed with constant use in mind. They are available in both propane and natural gas versions with a variety of pedestals, bases, and carts to suit each community's needs. They come with a one-year replacement warranty on all parts and an online website with easy parts and accessories ordering. And the 60-minute FuelStop timer is an integral safety feature that keeps the gas from being left on all night.

---
Want more information? Have a question? Contact us today, and we will be happy to help!