Infrared Patio Heaters for Restaurants Expand Seating & Restore Profitability
7 minute read | Heaters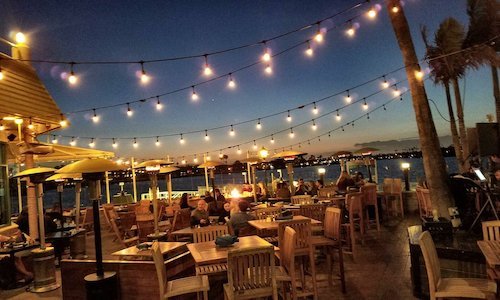 If you own or operate a restaurant, the decisions you make now as states reopen their economies could have a profound impact on your future bottom line. Fear and anxiety may cause some people to retract and cut business expenditures instinctively. But proactive decision-making requires a thoughtful analysis of the post-shutdown landscape and how to recover and prosper in the new normal.
By considering how the foodservice industry will function and pressure points that can drive profits, many restauranteurs are depending on outdoor dining areas. Patio seating areas must be maximized going forward, and patio heaters for restaurants look like the best investment.
Restaurant Patio Heaters Are Now Critical Infrastructure
Although many state-mandated closures are being lifted, industry leaders do not anticipate dining to return to a pre-pandemic state. A recent article by full-service restaurant industry magazine, FSR, called, "3 Ways Restaurants Will Adapt to a Post-COVID World," highlights the point that significant change remains ahead for the industry.
"The restaurant of the future will need to evolve to meet new consumer demands around health and safety. As states begin to reopen businesses, we expect to see shifting floor plans to allow more space between guests due to social distancing guidelines, party size limits, and capacity restrictions," FSR states. "We could even see more radical changes to restaurant layouts, including the removal of bar seats to help with social distancing or the elimination of host stands due to a shift to a digital waitlist or reservations model."
Key strategies revolve around social distancing to promote health, safety, and bring back customers. Many eateries anticipate virtual menu policies, such as patrons using electronic files and even ordering meals digitally. For those who plan to maintain in-person waitstaff ordering, personal protective equipment such as facemasks will undoubtedly remain on the menu.
A huge part of rebuilding their customer base will be to spread out efficiently with your available outdoor seating. The patios, decks, sidewalk seating, and verandas that once accommodated customers or provided a fresh-air dining experience are now more of a necessity than a convenience.
How To Select Patio Heaters for Restaurants
Maximizing season use and extended hours require the warming comfort of a high-quality outdoor portable heater or permanent patio heaters installed overhead. Without restaurant patio heaters to open earlier for breakfast service or keep patrons comfortable for late-night appetizers and drinks, the road to recovery could be much longer for business owners. Given these spaces are emerging as the most valuable square-footage available, decision-makers are tasked with creating a patio heater strategy that keeps customers cozy-warm and happy to be dining out. If you are a restaurant decision-maker, these are fundamental space issues to consider.
Open-Air Outdoor Patios
One of the critical decisions will be investing in a quality product that leverages infrared technology rather than flame-driven heat. The primary reason infrared far outpaces flame units is that this next-generation system warms objects and people instead of the surrounding air. By deftly positioning an outdoor heater to disburse an efficient radius, your customers will remain comfortable regardless of chilly night or morning breezes.
Semi-Enclosed Outdoor Spaces
It's not uncommon for a restaurant owner or manager to assume an outdoor portable heater tends to rank among the only viable choices, but you can install stationary heaters to the ground or overhead. This class of patio heater can be fixed overhead to accommodate people's social distancing at bars or seating with overhead protections. Top-tier units can even be installed on surrounding walls or posts.
A fixed outdoor heater strategy helps maximize floor space while delivering an enjoyable experience. Restaurant industry decision-makers are widely considering these as a long-term investment because the day will come when social distancing will no longer be a thing. When the coronavirus is wholly defeated, seating increases will occur, and you'll be ready to maximize quality customer service.
Top Patio Heaters for Restaurants
As the saying goes, "sometimes, you have to spend money to make money." Given that outdoor seating areas are vital to recovering from the economic downturn, it's essential to implement an infrared patio heater strategy promptly. The time is now to make this long-term investment into a profitable success.
The good news is that investing in patio heaters for restaurants is not a stop-gap measure. Outdoor heaters will continue to provide an excellent return on investment long after they help you recover from the pandemic. That being said, AEI Corporation distributes an industry-leading line of commercial infrared products that are perfectly suited for restaurants. These are models that can help your restaurant quickly pivot and deliver a robust dining experience for decades.
Propane Infrared Mushroom Heater: Both the Patio Comfort and Sunglo heaters have portable propane mushroom heaters. These iconic outdoor heaters consistently rank among the most popular models used by restaurants. The inherent value of portable propane heaters stems from the fact that it's an easily movable outdoor portable heater. Housing liquid propane tank in its base, the Patio Comfort outdoor portable heater can be repositioned to accommodate changing seating arrangements. It can also be moved safely out of the way on warm summer afternoons to increase seating when the time comes.
Electric Infrared Heaters: This class of fixed box-shaped heaters efficiently run on electricity and can be installed by a professional with relative ease. The Infratech patio heaters, for example, operate on a designated electricity line that can be temperature-controlled and typically uses a shut-off timer. Infratech units can be fixed overhead or permanently attached to surrounding walls or posts. They are actionable units for restaurant owners and managers that do not have a natural gas line near the outdoor space or prefer the simplicity of electric panel operation. A flush mounting kit allows some Infratech heaters to be flush-mounted, so the "box" of the heater is hidden out of sight, this gives a nice discreet look to your heaters.
Natural Gas Mushroom and Box Heaters: Like the electric models, lines such as the Sunpak can be deftly mounted overhead, on walls, posts, and enjoy vertical and horizontal configurations. Like propane models, mushroom heaters can run on Natural gas as well. Although, they won't be able to be portable. They tie right into your property's NG line, and provide warm cost-efficient heat for your guests.
Creating a robust infrared heating system for a restaurant's outdoor dining service area requires an understanding of the throw radius of each unit and unique aspects of your space. The Patio Comfort, Sunpak, and other models offered by AEI are considered green products based on energy-efficient power usage and the fact natural gas, electricity, and propane are low-emissions resources.
When considering a profit-driving investment into restaurant patio heaters, it's essential to review each unit's manual to determine the spacing between models, patron comfort, fuel source, and how they fit the design and décor of your restaurant. AEI offers decorative options that can enhance the ambiance of your outdoor dining area as well as models that can be tucked away and virtually hidden.
In many cases, a savvy patio heater strategy employs models that will help restore short-term profitability and deliver long-lasting customer benefits. The way we live and dine has already changed. Patio heaters for restaurants are highly likely to be part of the post-pandemic new normal.
---
Want more information? Have a question? Contact us today, and we will be happy to help!