Install a Patio Grill at Your Vacation Rental and Watch Reservations Soar
7 minute read | Grills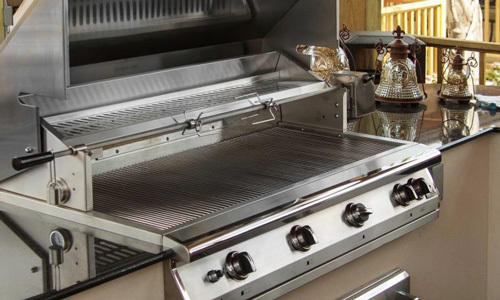 Vacation and short-term rentals have become big business and a lucrative source of secondary income for homeowners as well. The rise of organizations such as Airbnb, VRBO, FlipKey, and HomeAway, among others, also makes this industry increasingly competitive.
It wasn't too many years ago that business and pleasure travel was secured through an agency. These days, everyday people can compare pricing and amenities with a tap of their touch screen. That's why vacation rental property managers and room renters alike are looking for that something extra that puts your reservation at the front of the line. The trending solution has been to install an outdoor patio grill so that visitors can enjoy delicious meals and feel right at home while enjoying the fresh air.
Outdoor Barbecue Grills Keep Vacation Rental Competitive
The rise of homeowners renting out rooms through outfits such as Airbnb has added a significant layer to the industry. Property owners who wish to profit from spare rooms have a great deal of flexibility about the use of their space. This often involves allowing guests unfettered access to outdoor patios where it's common to have a stainless steel BBQ grill. How room-renters approach access to such amenities has a quantifiable impact on the rental industry at large.
When Airbnb rentals began trending, it opened the door for many to add a built-in barbecue grill and write it off as a full or partial business expense. Imagine the advantage this provides homeowners who can now enjoy an outdoor patio grill and roll back the cost against rental profits. This has put the stainless steel BBQ grill front and center in the rental industry. Purely commercial vacation rental units are now tasked with delivering equal or better amenities or lagging behind.
But the good news for vacation rental properties is that you can install a built-in barbecue grill as a full business expense and also outfit the property to remain competitive. Whether you own and operate a bungalow, second home, or commercial property, you likely have enough space to earn top-dollar booking well into the future by upgrading.
Maximize Marketing Efforts of Your Rental
Regardless of whether you are a full-time professional or enjoy additional revenue from renting space, how your present that little extras will be a determining factor in whether people reserve your space. It's essential to deftly furnish the interior with comfortable chairs and a place for someone to take out their laptop and work, among others. With that in mind, superior online marketing requires you to take photographs and display them, preferably in a slide show.
Also consider posting images of points of interest such as beaches, swimming, live music, museums, parks, and those little tidbits local people cherish. It may be worthwhile to promote the outdoor space under a second heading so that renters feel they are getting an even bigger bargain in terms of space. Feature the outdoor BBQ grill, furniture, dining tables, and perhaps a patio heater so that guests understand they can use the patio year-round. Grill and patio heater combinations often prompt people to promptly click "reserve."
But it's also important to remember that area competitors are also likely to install a built-in barbecue grill and mushroom gas heater. Leisure rentals are a hot trending business opportunity and one that calls for only the best products and models to ensure top online reviews and repeat customers.
Use Only the Best Products for Vacation Rental Patios
Having a high-quality stainless steel BBQ grill available while traveling or on vacation remains a significant perk. Supplying guests with a charcoal grill or cheap gas grill from a mass retailer will definitely not garner the review-praise property owners desire. In fact, subpar models are likely to result in comments such as "I burned my finger lighting the grill," or "my steak burned on the outside and was raw in the middle."
That's why decision-makers in the rental industry have come to rely on PGS outdoor barbecue grills to deliver a quality experience. Many industry leaders consistently work with PGS because the built-in barbecue grill models are perfect for full outdoor kitchen installations and can be outfitted with convenient and state-of-the-art accessories such as the following.
Side Shelves and Side Burners
PGS Models can be Permanently Fixed or on Mobile Carts
PGS Models can be Pedestal Mounted to Save on Space
PGS Grills Work with Propane or Natural Gas
Infrared Rotisseries can be Added
Matchless Ignition Comes Standard
60-Minute Gas Shut-Off Timers are Available
And when the cold weather starts to diminish your ability to effectively market the luxurious outdoor space, placing patio units that heat people and objects using infrared technology such as the Patio Comfort line distributed by AEI Corp is an excellent complement.
Iconic mushroom heaters such as the Patio Comfort models have a wide throw-range, and the next generation infrared technology delivers warming comfort that cannot be whisked away in a breeze. Infrared heats objects, not necessarily air, and that makes a world of difference in terms of rental experience.
Of course, vacation rental properties have the ability to secure these patio heaters in place or install overhead or wall-mounted units as well. The point is that extending the season means generating increased revenue and improved customer satisfaction.
Benefits of Short Term Rentals with Amenities
It may seem almost counterintuitive, but short-term room rentals and vacation properties enjoy higher earning potential than many apartments. That's largely due to the fact that you can charge a premium for the convenience, weekend availability, and leisure amenities.
It used to be that owners could only capitalize on short-term rentals if you had a property in or around a prime destination. But everyday people have good reasons to travels to cities, small towns, mountains, lakes, and many other places. If you have top-tier amenities to offer, such as outdoor barbecue grills and patio heaters, you are likely to see reservations soar because of the enhanced experience visitors will enjoy.
---
Want more information? Have a question? Contact us today, and we will be happy to help!