Legacy Patio Grills Lead The Charge In Residential BBQs
6 minute read | Grills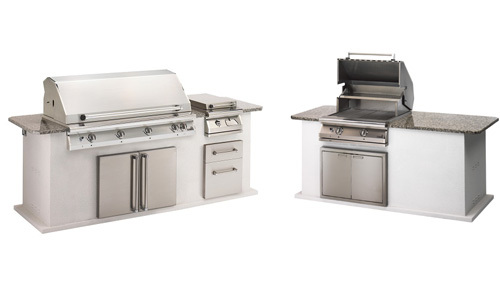 Just about every homeowner enjoys grilling outdoors for family and friends, but not all of them are using the right tools. A lot of folks are trying to produce superior food with inferior charcoal grills, and it just doesn't work, especially with the hassle of coal, ashes, and lighter fluid. Some of these grills are worn out and need to be replaced, and others were never very good in the first place.
If you're ready to upgrade, it's time to think about a grill with first-rate performance that will last a long time. If you plan on a lifetime of BBQs (and most backyard chefs do!), why not get a grill that will continue cooking superbly as long as you do!
Choose a New Stainless Steel Legacy Grill
Even with a worn-out charcoal grill, an outdoor BBQ event is a fun and sociable occasion. But think of how much better it can be with top-of-the-line equipment. Rather than buying a subpar grill every few years, invest in a first-rate Legacy grill that will keep you at the peak of your outdoor cookery game long into the future.
No more fooling with charcoal; you can buy a Legacy grill that runs on either liquid propane or natural gas. It can be permanently mounted as a built-in patio grill. Or your Legacy grill can roll on a cart and be used anywhere in the yard. Whichever you choose, your Legacy grill will produce culinary masterpieces year after year.
The Legacy Grill Series
The stainless steel Legacy grills come in three sizes, and all are available either as a liquid propane grill or in a natural gas model. If you want succulent burgers cooked to perfection or sizzling steaks and chops, any of these models are up to the job. They're even available with a rotisserie attachment so that you can also delight your guests with perfectly turned golden brown chicken.
They're a cinch to get going with "sure start" battery-operated electronic ignition. Uneven cooking and flare-ups are a problem of the past by using "moon rok" ceramic grill briquettes; which keep the temperature the same everywhere on the grid. You'll have less food falling through the grates; the spacing of the cooking grids is optimized to keep that from happening.
The Legacy grills come with a "no compromises" lifetime warranty on many of the components. Much of the grill is fashioned from high-grade stainless steel, including the basin, the burners, the lid, the grate, and many other important interior parts. There are available add-on grill accessories such as stainless steel side shelves, side burners, storage drawers, beverage centers, and more.
S27 Newport
The Newport grills are the smallest grills in the Legacy line, but there's nothing tiny about what they can do. If you have limited room to work with, or if a two-burner grill is all you need, you'll find that the S27 Newport can crank out a lot of delectable goodness in a limited space.
The Newport is simple enough that a BBQ novice can push the ignition button and cash in on immediate cooking success. Yet the veteran outdoor chef will find features that support all varieties of backyard cookery, including grilling, smoking, and baking.
The S27 provides 504 square inches of grilling surface with another 200 available on the warming rack. A pair of 304-grade stainless steel burners produce 45,000 BTU of grilling capacity. If rotisserie cooking is part of your culinary game, consider the Newport S27R, which adds a 27,000 BTU infrared rotisserie burner. Either the S27 or the S27R can be the powerhouse of your outdoor dining experience for as long as you keep firing it up.
S36 Pacifica
For a bit more cooking capacity, step up to the S36 Pacifica grill. Now you'll have 720 square inches of direct cooking space with another 260 square inches on the warming rack. That's an impressive 980 total square inches to work with! Though the Pacifica is classified as a mid-size grill, it cranks out an impressive 67,000 BTU of cooking power. One look at this ultimate BBQ tool and you'll practically smell those steaks sizzling already.
If you purchase an S36 Pacifica, it's likely to be the last grill you ever buy. If you add the available side burners, storage drawers, and other accessories, you'll have a mid-sized outdoor kitchen that produces max-sized flavorful meals.
Like the Newport, the S36 is also available in a rotisserie version, the S36R Pacifica grill. It's just what's needed not only for chickens on a spit but also for roasts and thicker cuts of beef. With this option, the Pacifica can reach a total of 80,000 BTU. It will handle whatever variety of meat you want to feature at your next outdoor get-together.
S48R Big Sur
When it comes to the size of your outdoor grilling station, how much is enough? For BBQers who don't want any limits, the S48R Big Sur may be the right choice. It offers a mammoth 960 square inches of primary grilling space heated by four 304-grade stainless steel burners. On top of that, there's a 355-square-inch warming rack.
The four burners churn out an industry-leading 120,000 BTUs, and there are 12,000 more BTUs from the infrared rotisserie burner. When you have a large and hungry gathering, Big Sur is more than up to the task.
Do some guests like pork chops and others like chicken? No problem – cook both. Throw on some grilled pineapples while you're at it, and add a few veggie burgers. At the same time, you can accommodate the kiddies with their beloved hot dogs and nuggets.
You're not limited to grilling. With the massive cooking interior and a rotisserie burner, it's a breeze to slow-cook with reduced heat. Whenever you want to please or impress, there's no cooking partner like the S48R Big Sur patio grill.
A Great New World of Grilling
When you upgrade to a stainless steel Legacy outdoor gas grill, you can be confident of a cookery station that's as particular about good food as you are. Whether you choose liquid propane or a natural gas BBQ grill, you'll have a top-quality system that's built to last.
Don't forget, there are several choices when it comes to mounting your new Legacy grill. If you opt for propane, you can install it on a wheeled cart that will go wherever you want to cook on your patio. Natural gas models can mount on a pedestal with folding side shelves. With either fuel source, you can custom-build your grill into an outdoor counter or situate it on a ready-to-use grill island that's built to fit our grills. It's like moving a world-class kitchen outdoors!
---
Want more information? Have a question? Contact us today, and we will be happy to help!