Natural Gas Grills: Ideal for Condos and Apartments
6 minute read | Grills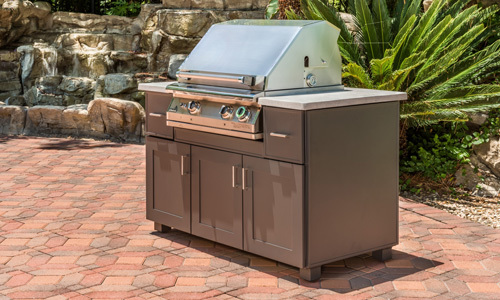 A common patio area does wonders to promote camaraderie in a condominium or apartment. Especially if it's a patio with a natural gas grill. It's fine for individual residents to have their own grills, but when more than one family can get together for friendship and a delicious outdoor barbecue, they'll agree that their building provides community living at its best.
Whether the residential dwelling is a multiplex, a condo, apartment, a timeshare, or a resort there's nothing like a natural gas (NG) grill to make people happy to be living or staying there.
The Advantages of NG Grills
Gas grills burn either natural gas or liquid propane. In some situations, propane has an advantage, particularly in terms of its portability. However, there are benefits you can get only with NG, and they're particularly useful for grills that are set up to be used by large groups and lots of different people.
Natural gas is inexpensive. If the building already has gas, an NG grill doesn't add much to the utility bill. After all, NG is already powering appliances such as ovens, dryers, and water heaters. A grill is a small addition.
Natural gas is safe and efficient. Once it's hooked up, it burns cleanly, and it doesn't produce fumes or ashes.
Natural gas is available in most homes, apartments, and condos throughout North America. Some home builders even provide outdoor gas hookups as a matter of routine in new construction. There may already be a natural gas line right where you need it. If not, a professional installer can put one in with safe access to the NG lines you already have.
NG cooking is a hassle-free experience. You never have to worry about whether the tank is full. Just open the valve and your fuel is ready. This is particularly useful if many different groups will be using the grill. There's never an argument about whose turn it is to go buy a new tank or about who let the gas run out in the first place. You never get stopped in the middle of food preparation, because natural gas has no tank that can run empty.
Many Ways To Mount an NG Grill
It's true that you can't pick up a natural gas grill and roll it across the patio as you can with a propane grill. Once you pick a spot for your NG grill, that's where it stays. However, there's a lot of flexibility in how you mount your grill, so it's easy to locate it where it's accessible and convenient for everyone who wants to use it.
NG residential grills can be installed with a pedestal mount, a grill cart, or a grill island. They can also be built into an outdoor countertop.
Pedestal Mounts
For a smaller grill, pedestal mounts are the most inexpensive mounts, and they take up the least space. As with just about all grills, grill covers are available to keep them safe from the elements. Pedestal grills might be best suited for buildings that have a small patio or more than one common patio. You might use more than one of these on larger patios where it's not difficult to provide more than one NG hookup. It's common to see larger properties like apartments and condos have one or more outdoor grilling areas with a handful of pedestal grills in a semi-circle to allow the maximum number of residents to use them at once.
Grill Carts
Grill carts are another option for small patios or for several grills arranged on a larger one. Grill carts augment the grill with side shelves and additional storage under the cooking surface. They enhance your patio with their great looks, and the roomy convenience makes them a joy to cook with. Like pedestal grills, they have a very small profile and can be arranged in a similar fashion.
Built-in NG Grills
If you can find a way to do it, there's nothing like building your gas grill right into an outdoor countertop. If there's not already a suitable structure on the patio, you'll have to build an outdoor countertop for your grill. It's an effort and an expense, but it provides the ultimate in beautiful appearance and control of the design. You pick the color, you pick the material and you make it look any way you want.
An attractive built-in outdoor grill is a terrific amenity for attracting new condo owners and new apartment renters. It will become a natural gathering place for groups large and small.
Grill Islands
If there isn't an outdoor countertop and you don't have the space or budget to add one, an outdoor grill island is an alternative worth looking into. These are generally built for a specific grill model. They transform the grill into more than just a cooking surface; it becomes an integrated food preparation area. You get an attractive countertop and plenty of storage and prep space. Residents will rave about the pleasure and convenience of grilling on the grill island.
Which Mounting Option Is Right For You?
All of the choices have their advantages. Ultimately, the right choice for your building depends on the size and shape of your outdoor area and the way you anticipate that it will be used. However you mount it, it's hard to beat a natural gas grill for cost-effectiveness, convenience, safety, and just the pure joy of carefree out-of-doors grilling.
NG Grills with the Best Features and Accessories
Outdoor commercial grills by PGS have led the industry for more than 40 years. They're in use throughout North America wherever there are apartments, condominiums, golf clubs, and sailing clubs.
We offer natural gas grills (as well as liquid propane units) with all of the available mounting options. These are made-to-last appliances with stainless steel burners and sturdy cooking grids. Many have our ceramic MoonRok briquettes that ensure even heat distribution and prevent cooking hot spots.
While our focus is more on durability and quality than on fancy bells and whistles, but our grills don't lack the features that promote safety and convenience. You'll find stainless steel side shelves, side burners, storage drawers, anti-theft knobs, warming racks, and more.
These grills are not only great for the old standards such as burgers and steaks. There are rotisserie and spit options for specialized roasting. PGS grills are simple enough for the casual Sunday afternoon cooking novice yet sophisticated enough for accomplished chefs to demonstrate the full range of their culinary skills.
PGS uses piezoelectricity in our matchless ignition system. This is the ultimate in match-free lighting; you'll never see the burst of flame that some ignition systems give you.
For a building where many grillers use the equipment, one of our most important features is the 60-minute automatic fuel shutoff timer. Every one of our commercial grills will shut itself off after one hour even if the valve was accidentally left open. Anyone can make the honest mistake of accidentally leaving the grill after they're done with it, but with PGS gas grills they won't be wasting natural gas or creating a safety hazard.
PGS backs its grill with a warranty that is among the best in the industry. There's a full-year warranty or a lifetime warranty on many parts. Our first-rate customer service line is available, and we carry an extensive inventory of replacement outdoor grill parts, on our website for
---
Want more information? Have a question? Contact us today, and we will be happy to help!