Natural Gas Patio Heaters Ideal Choices for Hospitality Businesses, Homeowners, & Multi-Family Communities
5 minute read | Heaters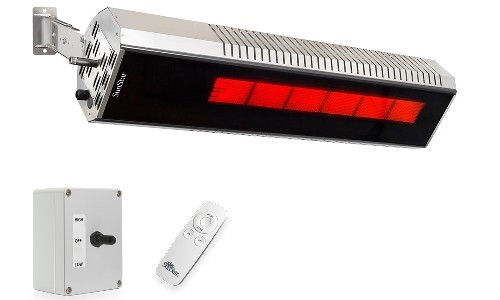 If you are looking for ways to drum up extra business and invite more patrons into your commercial space, there's no better way to do that than to invest in quality outdoor patio heaters. Purchasing a natural gas patio heater could help restaurant owners, event coordinators, multi-family property managers, and homeowners utilize outdoor spaces deep well into the chilly winter months..
How Infrared Patio Heaters Offset Winter Chills
Homeowners and those operating hospitality businesses have an opportunity to onboard infrared patio heaters that generate radiant heat instead of relying on outdated flame-driven designs. For those researching the best residential or restaurant patio heaters on the market, infrared patio heaters warm objects in their throw radius. That means natural gas patio heaters can be deployed to provide warmth and comfort to friends and family members on backyard patios, as well as paying customers who enjoy outdoor dining, among other leisure activities.
By contrast, obsolete flame-driven patio heaters warm the surrounding air. Each time a breeze swirls, people near these old-style products feel the chill to their bones. It's also important to note that strategically positioned infrared patio heaters do not expose loved ones or patrons to the risks associated with open flames.
Benefits of Investing in Natural Gas Patio Heaters
Natural gas outdoor heaters are considered the most cost-effective and environmentally sustainable ways to extend the seasonal usage of decks and patios. A cost comparison between natural gas, liquid propane, and electricity puts the former in the driver's seat. Some estimates peg natural gas upwards as three times more efficient than propane. It far outpaces electricity in terms of cost and sustainability. In terms of carbon emissions, natural gas heaters are widely touted as the cleanest.
Given that an increased number of businesses and houses have transitioned to natural gas because of these very reasons, adding a designated line for patio heaters usually pays for itself. These are other benefits infrared patio heaters provide homeowners, multi-family living environments, and hospitality businesses.
Uninterrupted Comfort: The classic mushroom heaters popular on home patios and sidewalk cafés are typically powered by a liquid propane tank stored in the base. Although these tanks are long-lasting, they require periodic swapping out. That means mushroom head restaurant patio heaters may sometimes run out of fuel at an inconvenient time, if they are not adequately monitored. By contrast, natural gas patio heaters receive continual, worry-free fuel.
Improved Profitability: Natural gas restaurant patio heaters allow businesses to continue food service well into the cold-weather months. They also help reopen those spaces long before spring weather might otherwise allow. These extended hours, days, weeks, and months translate into increased revenue. If al fresco dining, smoking areas, and outdoor gathering areas already help generate profits, adding patio heaters will only make the venture more lucrative.
Customer Retention: The hospitality industry has grown increasingly competitive, and open-air spaces can make a significant difference. Your ability to serve customers outside in the fresh air and under the stars draws patrons. When seasonal chills drive people indoors during the evening or force you to close out patios, people will look elsewhere. Not only will revenue decline, but once steady customers will keep patronizing your competitors.
Fixed-In-Place Installation: Mushroom heaters offer space flexibility because they can be moved when cool. Natural gas outdoor heaters, on the other hand, are secured to overhead infrastructure, sturdy walls, and posts in some cases. As part of an overall outdoor heating system, they cannot be accidentally knocked over or cause an otherwise avoidable injury.
Space Efficient Heating: Home and business owners have an opportunity to maximize the square footage of usable outdoor spaces. By installing patio heaters to overhangs, walls, and posts, seating and gathering areas are not impacted. Natural gas restaurant patio heaters, for example, would not reduce the number of table settings.
Another critical advantage of investing in natural gas patio heaters involves how they are operated. Whether you invest in a single unit or an entire natural gas patio heating system, top-tier products can be controlled by a central hub. Property owners and managers typically select a convenient wall location to place a power panel. This allows users to set timers to avoid wasting fuel and powering up only the infrared patio heaters needed to deliver warming comfort to people within their throw radius.
Industry Leading Natural Gas Patio Heaters
The importance of selecting top-of-the-line patio heaters cannot be understated. Anything less than durable, energy-efficient natural gas heating units come up short in terms of cost-effectiveness, longevity, and personal comfort. AEI Corp has a complete line of natural gas outdoor heaters suitable for any space. These include the following.
Patio Comfort Heaters
Fashioned in the mushroom heater style, this line uses natural gas rather than liquid propane. Utilizing a fixed-in-place pole, Patio Comfort heaters can be connected to a natural gas fuel line. The mushroom head provides a circular infrared heat comfort radius. Using 304-grade steel for the posts, this line of patio heaters generates upwards of 40,000 BTU. They can be ordered with a classic stainless steel or antique bronze finish.
Sunglo Heaters
Another offshoot of the iconic mushroom heaters, Sunglo natural gas patio heaters generate a robust 50,000 BTU and come with excellent safety management controls. Built with heavy-duty materials that resist corrosion, Sunglo heaters come with a black or stainless steel finish. One caveat that sets Sunglo heaters apart involves the ability to choose models that can be hung overhead. These stylish hanging heaters add to the décor of semi-enclosed spaces.
Sunstar Heaters
This line of natural gas box heaters provides a wealth of opportunities to cover outdoor spaces with radiant heat. They can be ordered in black to blend into ceilings and overhanging infrastructure or stainless steel. Depending on the unit best suited for your space, they can be secured at angles ranging from 15 to 60 degrees.
Although they are all durable commercial patio heaters, AEI Corp has a subset of Sunstar heaters explicitly designed for harsh environments. Those are built with marine-grade stainless steel and protective coatings. Areas that suffer fierce winds and off-season storms benefit from units that withstand the intense weather and generate upwards of 35,000 BTU. Marine grade Sunstar heaters have the capacity to utilize angled infrared heat between 15 and 30 degrees.
What AEI Corp Natural Gas Patio Heaters Have in Common
These natural gas outdoor heaters have earned a reputation as industry leaders because they are long-lasting, consistent, safe, and energy efficient. Adding to their value is the fact that AEI patio heaters enjoy parts replacement opportunities, and extensive warranties we rarely see elsewhere these days. AEI Corp offers a variety of options within each product line to ensure restaurants, resorts, multi-family living environments, and homeowners can select the perfect patio heaters to serve their purposes.
If you are considering investing in natural gas patio heaters to extend the daily and seasonal use of an outdoor area, wading through the options can prove overwhelming. That's why AEI Corp has patio heater specialists available to answer any questions. If you need assistance choosing which natural gas heater is right for you, contact us today, and let's get the process started.
---
Want more information? Have a question? Contact us today, and we will be happy to help!