Patio Heaters Extend Family Leisure Fun
5 minute read | Heaters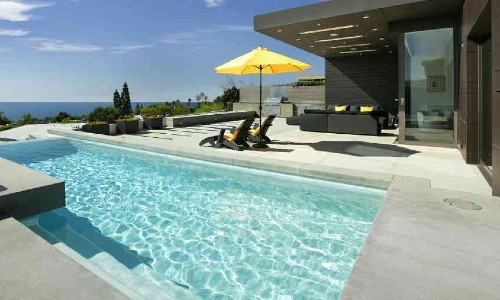 Getting the maximum possible benefit from an outdoor pool often tops the list of businesses, associations, and homeowners and outdoor gas patio heaters can extend your swimming season.
Swimming pools represent a substantial investment in improved quality of life. Friends, family, guests, and living association neighbors are limited to use based on the weather. As the fall chill rolls in, pleasure swimming is often narrowed to peak sun hours and warm days. And when spring flowers appear, pool lovers are again held back from the leisure activity by the low temperatures. The point is that weather considerations before and after peak temperature months reduce the sustained enjoyment of pools. Fortunately, a radiant patio heater can deliver increased swimming opportunities.
The way today's next-generation radiant patio heater technology works is to deliver infrared warmth to physical objects. The old-style methods of trying to heat the surrounding air never quite worked efficiently enough. A sharp breeze and the warm air just blew away. But the infrared technology used in quality outdoor patio heaters such as AEI's Patio Comfort model comfortably warm objects and people within its wide throw radius. These portable LP heaters offer the flexibility to reposition your heaters as needed.
Radiant Patio Heater Delivers Poolside Comfort
Using portable heaters with advanced infrared engineering also allows families extended poolside enjoyment. It's no secret that children will swim until their fingers prune. Such is generally not the case for parents and grandparents.
A well-positioned portable heater gives parents and grandparents the priceless gift of watching their smiling youngsters laugh, play, and splash each other in the water while the adults remain cozy and warm. As day turns into evening, there's no reason to end the family fun because adults can grill poolside under a radiant patio heater while the kids swim. It's like creating an endless summer and the memories that go with it.
Although outdoor gas patio heaters do not increase your pool's water temperature, they do deliver the enhanced quality of life you desire from an outdoor swimming pool. And when businesses such as hotels install an infrared patio heating system, guests are more likely to book fall and spring rooms or patronize the restaurant. A strategically installed outdoor patio heating system could make your pool viable 365 days per year. The return on investment for outdoor gas patio heaters can be substantial.
Select the Right Outdoor Patio Heating System
Determining the best radiant patio heater to meet your needs involves decision-making based on your patio layout, physical structures, and how many more days you want to enjoy your swimming pool. Starting with the premise that residential and commercial pool owners want to maximize the use, space, and physical structures may dictate which models to secure.
Outdoor pools often lend themselves to the classic mushroom head heaters that are prevalent on restaurant patios, and homeowners' backyard decks. Aside from the iconic look, they remain an industry mainstay because they offer flexible use and work efficiently.
Spaces that have open-air overhangs such as verandas or gazebos may be suitable for mushroom heaters as long as there is proper clearance. These portable LP heaters usually house the fuel tank in their base. Although an excellent warmth resource, space considerations may warrant installing a gas or infrared electric heater that can be mounted to walls or ceilings.
Mounted heaters help maximize your valuable floor space and are widely favored by hotels and other commercial endeavors with outdoor swimming pools. These makes and models rank among the industry leaders and can deliver the following infrared warmth and benefits to any poolside area.
Portable LP Heaters
These mushroom-style heaters are popular because they can be strategically placed and moved to meet the changing needs of pool patrons. The propane tank is located in the base and can be easily swapped out.
Fixed Mushroom Heaters
Poolside areas range from relaxed sunbathers to romping children. Mushroom-style heaters can be secured in a fixed position and use either natural gas or liquid propane gas as a fuel source. This tends to be a favorable option in a commercial setting or home with growing families.
NG Mushroom Heaters Mounted Overhead
A relatively recent trend is to hang the iconic mushroom head heaters from the ceilings of verandas and other outdoor structures. Many enjoy the aesthetic value of hanging models mushroom heaters by Sunglo. Sunglo heaters can be accessorized with a fully automatic ignition system.
Boxed-Shaped Heaters
Homeowners and businesses with overhead roofs may be wise to install natural gas or electric box heaters. These installations are also cost-effective. The heaters of AEI's Sunpak line can be installed to walls or ceiling both vertically and horizontally. The big benefit is they do not take up valuable floor space and can be outfitted with energy-saving timers.
Infrared Electric Heater
Box-type patio heaters that run on electricity produce as many BTUs as their natural gas counterparts. They can be mounted overhead or to a wall to provide maximum heat coverage for your patio. Infratech is the industry leader for electric patio heaters is because they deliver a sleek and reliable product. These heaters warm an infrared element (usually a rod made out of quartz) that emits safe infrared rays that will keep your family and guests safe while they enjoy your patio spaces.
Choose a Top-Tier Radiant Patio Heater for Your Pool Area
The fundamental idea behind investing in an outdoor swimming pool was improved quality of life and enhanced leisure time. In-ground pools tend to be a significant investment and that means you place a high value on being outdoors and enjoying the fresh air. Whether that is a personal homeowner's choice, residential community, or a customer-driven business such as a hotel, a patio heating system cost-effectively increases poolside pleasure. Your swimming season will be longer. Your hours poolside will extend later into the evening, and you'll get the year-round quality of life you deserve from a radiant patio heater.
---
Want more information? Have a question? Contact us today, and we will be happy to help!