Portable Patio Heaters are the Solution
5 minute read | Heaters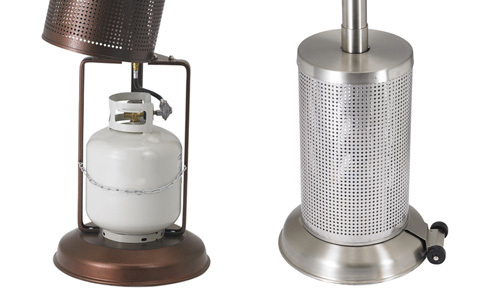 An outdoor patio space can be your own personal oasis. It's a place to dine, to entertain, or simply take a moment to stop and relax. Whether your patio is poolside, adjacent to your backyard, or a dining room extension of your restaurant, you want to get the maximum amount of use out of it, no matter the weather. That's why portable patio heaters are the solution to making the most of the patio season. When chillier days and nights arrive, you simply turn on portable propane patio heaters and move them where you need them to keep you and your guests comfortable.
Permanent vs. Portable Patio Heat
Patios that are equipped with permanent outdoor heaters benefit from a boost in comfort with outdoor patio propane heaters. Heaters that are installed in one fixed spot around the patio may not adequately warm every square usable inch. A portable heater can be rolled into place to send a circle of warmth to a colder corner or an awkwardly situated spot. If the number of guests is larger than expected, a portable patio heater can be moved so that it warms up overflow areas where people are sitting or standing.
Some outside areas simply don't have the structures in place to mount or install permanent heaters. Wide-open spaces like the farthest side of the pool deck or the patio at the end of the stone path don't usually have anything to support a permanent heater. But an outdoor patio propane heater can be moved to those spaces, guaranteeing warmth wherever it is needed.
Many outdoor patio heaters have domed-shaped reflectors on top of them to guide the power of the heat. They are sometimes called mushroom heaters because those reflectors resemble mushroom caps.
Portable Patio Heaters are Space Savers
Portable patio heaters on wheels offer endless versatility around the patio. On hotter days, the heater can be pushed out of the way to a remote spot or placed in a storage area. If the nights get chilly as soon as the sun sets, a portable heater can be rolled out at the moment it's needed. If a group is dining, heaters can be placed tableside to keep them warm while seated and then moved away from the tables if they are congregating later on in other parts of the patio.
Patio Comfort Portable LP Heaters
Patio Comfort is one of the premier lines of portable lp patio heaters and is exclusive to AEI Corporation. Model PCO2 is a completely self-contained unit, providing 40,000 BTUs of comfort. Patio Comfort Heaters radiate an even circle of infrared heat. Infrared heat is very similar to the energy that the sun's rays use to warm the earth. The reflector on the Patio Comfort heater directs the infrared rays so that when they hit human skin or surfaces like glass, concrete, wood, or metal, they radiate heat and warmth.
Patio Comfort Heaters are operated with match-free ignition systems and are UL listed and approved and meet all safety and performance standards in the United States and Canada. Each Patio Comfort Heater is designed with performance, safety, and dependability in mind.
These heaters are also designed to integrate with any patio decor and are available in stainless steel, antique bronze, jet silver, and vintage finishes. Patio Comfort wheel kits make these heaters extremely easy to move where needed.
Sunglo Patio Heaters
Sunglo has been manufacturing patio heaters since 1967 and is considered a leader in the outdoor heating industry. Model A270 is a portable lp heater that is designed for residential and business use. It uses radiant heat to warm people and objects and not just simply warm the air. This Sunglo outdoor heater operates continuously for about 10 hours on a 20-pound propane cylinder. There is a large reflector on the top of the heater to help direct the warmth.
The Sunglo A207 propane heater operates at 40,000 BTU with a battery-operated ignition system and a safety shutoff. A tie-down kit is available to tether the heater in place to a spot like an outdoor deck. This heater is available in stainless steel and black finishes.
Sunglo also manufactures natural gas patio heaters. Most of these heaters are atop poles that are permanently affixed to gas lines for power and cannot be moved to adapt to patio heating needs. The Sunglo A242 is one option for natural gas patio heaters.
A full line of replacement parts is available for Sunglo Patio Heaters. Sunglo Heaters are made in the USA.
Who Needs a Portable Patio Heater?
Portable patio heaters are for all residences and businesses that need an extended patio season, even when the temperatures drop. An outdoor patio propane heater doesn't require any installation expertise or installation costs and it doesn't have to be committed to a fixed location. Simply wheel the heater to where it needs to go to heat up any corner or a dining or gathering area outside.
Patio heaters are built with safety in mind, from the metals used in construction to the design of the ignition systems. Consumers just have to be mindful to keep the heaters away from combustible materials and sprinkler systems and to always use outdoor heaters outside. These heaters are not safe inside garages, barns, and other enclosed spaces.
How Many Portable Patio Heaters do I Need?
The number of patio heaters needed depends on the climate, the size of the patio, and the environment around it. Large patios that are protected by manufactured walls or screens of bushes may only need heaters spaced fifteen feet apart or so in mild climates. If the patio is subjected to wind, the heaters may need to be placed about a foot apart. If you are using patio heaters in a colder environment, you may need heaters spaced about eight feet apart.
Many residences only need one heater to warm a patio.
Patio Heaters: The Solution
A portable patio heater may be just the thing you need to extend patio season at your home or business. Portable lp heaters are the solution for heating up any corner of the patio or pool deck. Portable heaters give you the flexibility to warm up spots as needed and extend the usable space of your patio. Both Patio Comfort and Sunglo heaters are built to the highest safety standards from the best materials. You and your guests can gather in comfort on the patio for dining or relaxing, knowing that sophisticated infrared heating technology is keeping you warm even on the chilliest days and nights. It's time to get outside and enjoy your patio and your portable heater.
---
Want more information? Have a question? Contact us today, and we will be happy to help!