Propane Patio Heaters Solve Outdoor Space Limitations for Condo & Apartment Residents
6 minute read | Heaters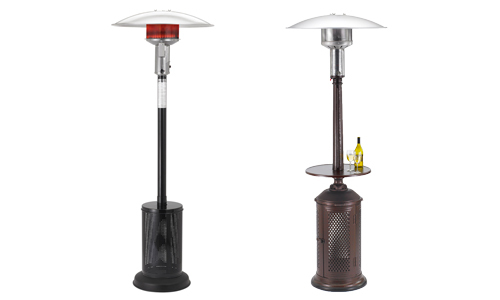 In an effort to attract good-paying tenants and high-character community members, multifamily property owners and condo management outfits enhance common areas to deliver a rich quality of life experience. Still, many lack pragmatic outdoor heaters to maximize their daily and seasonal usage.
Pools, outdoor kitchens with stainless steel grills, and quiet spaces to relax and enjoy a good book make a significant difference to residents. But those enjoyments are typically cut short by uncooperative temperatures. Early morning chills and the cold that sets in as the sun sets drive people indoors. Not to mention the fact frigid seasonal conditions render otherwise pleasant common areas unusable for months.
It's not unusual for property managers to balk at investing in a patio heating system. The cost of running a natural gas line to multiple sites with outdoor heaters might be outside your current budget. Natural gas lines covering significant distances are typically trenched and run underground. That means hiring an excavator and, possibly, an engineer to oversee portions of the project. So proper planning is required for the proper implementation of a natural gas heating system.
Leveraging electric patio heaters may be a viable option in select common areas. But these cost-effective and safe patio heating systems require structurally sound infrastructure such as an overhanging roof or walls. Few outdoor kitchens and pool decks are electrified.
But what some condo management companies and multifamily property owners may not realize is that propane patio heaters avoid these expenses. Deploying standalone propane patio heaters rank among the most cost-effective ways to deliver the full use of outdoor communal areas residents desire.
Propane Patio Heaters Improve the Multifamily Community Experience
It's important for property owners and management firms to keep in mind that industry-leading outdoor heaters are no longer flame-driven. The next-generation science used in advanced patio heating units involves infrared technology. The radiant infrared rays warm the objects in their throw radius without exposing everyday people to an open flame. That's why infrared propane patio heaters remain a safe way to keep people warm. These rank among the other proven benefits associated with standalone propane patio heaters.
Fuel Source: This class of outdoor heaters houses a reusable tank in its base that can be refilled at many gas stations, hardware, and grocery stores, among others. The cost of liquid propane remains relatively inexpensive and is widely recognized as an environmentally sustainable resource.
Installation: Standalone propane patio heaters provide property management organizations with flexibility. They can remain portable, allowing staff members and maintenance professionals to position them as needed when cool. Property owners and managers concerned about the safety and insurance liability also have the option of securing propane patio heaters in place.
Gatherings: Some common areas require a reshuffling of tables, chairs, grills, and other items to accommodate large groups. Birthday parties, graduations, and family get-togethers may leave fixed outdoor heaters in the way. In other instances, people using increased square footage may require additional units. By maintaining an inventory of mobile units, large groups of people can remain comfortable deep into the evening.
People living in condominiums and apartments are inclined to make monthly payments and support fees commensurate with their quality of life experience. Position propane patio heaters to maximize the comfortable use of pleasant outdoor spaces offers a win-win investment.
Safety Consideration When Deploying Propane Patio Heaters
Safety remains the most important responsibility of property owners and managers as they incrementally improve amenities. Just like "no running" is a necessary poolside rule, outdoor heaters must be used properly as well. One of the keys to installing and repositioning portable propane heaters is doing so on a level surface and making sure the minimum spacing requirements are followed for combustible materials.
Similarly, standalone propane patio heaters are typically not suitable for indoor use. Property owners can use heaters in semi-enclosed outdoor spaces such as verandas. It's always crucial to follow the safety, installation, and usage guidelines provided by the manufacturer.
Industry Leading Outdoor Heaters for Condos and Multifamily Communities
It's no secret that AEI Corp offers high-quality patio heating systems that leverage advanced infrared capabilities. While there are units specifically designed to be secured to overhangs, walls, and even posts, there are two lines best-suited for open living spaces — Sunglo and Patio Comfort heaters.
Both the Sunglo and Patio Comfort lines of propane outdoor heaters generate ample BTUs to create a wide throw radius capable of warming residents and guests. Keep in mind that infrared heat cannot be blown away by a stiff breeze, and that allows Sunglo to Patio Comfort outdoor heaters to extend the day and season. The following are traits the Sunglo ad Patio Comfort lines have in common.
Infrared Heat: Both lines generate upwards of 40,000 BTUs of infrared heat that typically covers a throw radius of 12 feet. These units can be positioned so that the throw radiuses slightly overlap to maximize expansive comfort.
Safety: Both propane patio heaters possess control systems that allow people to regulate fuel usage and shut off safely. Sunglo and Patio Comfort models come with battery-operated ignition systems to ensure no one has to mess with matches trying to start the outdoor heaters.
Mobility: These designs include fixed wheels for staff members and maintenance crews to move an unsecured unit once it is cool. These design elements overcome mishaps that result from people attempting to move portable propane heaters with hand trucks.
Parts: In the event of a severe weather event or an accident damaging propane patio heaters, complete parts and support are available to property owners and managers in need.
When calculating prolonged use of Sunglo or Patio Comfort outdoor heaters, a 20-pound propane tank typically lasts for upwards of 12 hours and a standard OPD cylinder can power the unit for 10 hours. When investing in propane patio heaters for prolonged use, property managers may want to consider storing backup tanks in a secure location.
How Do Sunglo and Patio Comfort Outdoor Heaters Differ?
The primary differences between the Sunglo and Patio Comfort lines of infrared outdoor heaters largely revolve around aesthetics and mounting options. Sunglo propane heaters can be selected with either a stainless steel or black finish and have a heater that can be suspended overhead without a pole. The Patio Comfort line provides a wide range of design options: stainless steel, antique bronze, jet/silver vein, and vintage series.
For example, the PC02SS heater comes in traditional stainless steel, while the PC02AB heater provides a classic bronze décor that enhances an outdoor community space. Similarly, the PC02J heater comes in Jet-Silver, and the Vintage Series offers a nuanced base and pole overlayed with an eye-catching antique bronze polyurethane powder coating that is electro-statically applied. And every Sunglo and Patio Comfort product delivers reliable Made in USA quality.
Heating an outdoor living area requires thoughtful consideration and planning. Common areas away from electricity and existing natural gas lines can benefit from icon mushroom head infrared heaters such as Sunglo and Patio Comfort models. Including outdoor heaters provides residents with the warming comfort and quality of life experience they deserve.
---
Want more information? Have a question? Contact us today, and we will be happy to help!