Satisfying the Hunger of College Students
11 minute read | Grills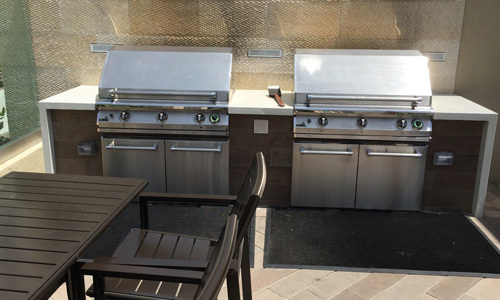 Students seek admission to their preferred colleges and universities to satisfy their hunger for knowledge. Although most institutions of higher learning offer a growing number of classes and educational experiences online, a significant number of undergraduate and graduate students prefer to live on campus. They choose to live in dormitories to take full advantage of the benefits of residential life, including immediate access to libraries, professors, clubs, organizations, and a wide variety of student activities.
Getting a Taste of Academic Life, and the World Around Them
In addition to their quest for learning, most residential students in college and university dorms are young adults who have a hunger for their newfound freedom from life at home, one that encourages them to try new things and gain new experiences. Their quest for independence often includes a desire to eat what they want when they want.
Schools have responded with dining experiences that far surpass the institutional cafeterias of years past. No longer limited to a large area that resembles a somewhat fancy mess hall, food courts and other targeted dining experiences have created options students can enjoy today that have them spending less time heading off campus or to a vending machine.
Still, this may not be enough.
Many students today come to campus with cooking skills. Some enjoy sharing their culinary creations with others. Most prefer grilling their own burgers, hot dogs, veggies, or other BBQ creations as part of some quality social time on campus, rather than having to get something from an institutional food court.
Gathering near their dorm rooms to share recipes and marinate happy cooking memories can become part of the student life experience. Having reliable commercial BBQ grills in close proximity to student dorms and gathering spaces will create new social spaces and places for tasty and tasteful interactions.
Food brings people together. Good food often sparks greater conversations. A great BBQ meal leaves a lasting impression of sharing times with others who are also on their academic journeys and who relish some grilled memories beyond the grilling they will experience during exams and in-class presentations throughout the semester.
Serving Food with Great Taste and Safety, Too
Since humans first gathered around the earliest fire pits, people have connected cooking and grilling with time for gathering and sharing. The wide availability of propane BBQs and natural gas BBQs available today has preserved this popular tradition but without all of the messiness and extra cleanup involved when using wood or charcoal.
Similar to the units many people have purchased for their homes, there are now commercial BBQ units perfectly suited for campus life. Durable and easy-to-maintain, a conveniently located pedestal BBQ with lid strategically placed in or near residential commons areas will spark new opportunities for discussion and delicious cooking.
Whether recreating a favorite meal from home, trying to impress others on campus by sharing some great food, or grilling meat and veggies for a gathering at the dorm, the addition of commercial BBQ grills near residential areas will create new places for students to interact, exchange recipes, eat, and get a taste for other opportunities to socialize on campus.
These commercial BBQ units offer important advantages to the college or university. A sturdy and well-designed pedestal BBQ with lid attachments includes a grill timer with a 60-minute automatic gas-flow cut-off.
Even the brightest honor student has sometimes been known to walk away from a grill while leaving the gas on, a costly and potentially dangerous problem. Young and hungry, they may leave an unattended grill that causes serious unintended consequences.
Having propane BBQ or natural gas BBQ units strategically placed near dorms or in residential areas of the campus solves another safety concern. Similar to the occasional student who defies campus rules about pets as they hide some exotic creature in their dresser or under their bed, some students with a taste for BBQ and a love for grilling may try to sneak small BBQ grills or units inside the residence halls that could pose a fire danger if used on patios or indoors, or if left unattended.
Rather than addressing the presence of illegal personal BBQ grills later, a better option is to have reliable, easy-to-clean commercial BBQ grills in common areas today, so students who enjoy the cooking experience have a safe, institutionally-sanctioned alternative to the dining hall options they may find less appealing.
Choosing from units that have a grill timer to regulate propane or natural gas flow is an added safety benefit that also saves valuable resources.
The T-Series Line Offers a Full Menu of Commercial BBQ Grilling Options
Since 1966, AEI has offered residential and commercial heating products for those who enjoy outdoor cooking. Some colleges and universities may already know about our company through the variety of patio BBQs and outdoor patio heaters that we offer. Long an industry leader in natural and propane gas heaters, our T-Series commercial gas grills offer an energy-efficient, easy-to-use, and safe alternative for academic institutions that want to add commercial BBQ grills for their students to use.
The T-Series BBQs can be designed to fit any dorm area or common space layout. Each model comes with a propane BBQ version and a natural gas BBQ version. All T-Series grills have a grill timer that will turn off the gas flow after 60 minutes as a standard option. This feature prevents wasted fuel from a unit left on long after its use and encourages safe grilling practices.
Designed for high-use, high-traffic spaces, all T-Series grills have laser-etched control panels that will not fade away, so students operating them will know the knob is in the proper direction. Units come with anti-theft knobs well-suited for public spaces where mischief and vandalism may occasionally occur.
Added features to the selections below are the availability of quality replacement parts and our robust warranties that protect your valuable investment, so the T-Series grills you have added to campus will serve your student body for years to come.
Space Saving T30 and T40 Models
Perfect for smaller spaces, our T30NG, and T30LP commercial aluminum grills offer 30,000 BTUs of cooking power on 330 square inches of cooking surface, using either natural gas or propane.
For those with more room wanting more cooking power, our T40NG and T40LP commercial aluminum grills provide 40,000 BTUs of cooking power on 440 square inches of cooking surface, using either natural gas or propane.
These handy units fit perfectly when pedestal mounted, but can also be mounted on grill islands, grill carts, or outdoor countertops. Natural gas BBQ grills tend to be slightly easier to operate, while propane units have the added flexibility of being portable, so they can be stored when not needed or moved for special events.
Small, Medium, and Large Stainless Steel Grill Solutions
AEI understands that college and university campuses may have varying needs for grills of different sizes. These selections offer greater commercial BBQ grill flexibility:
The S27T has 304 stainless steel cooking grids and a cooking surface of 540 square inches, with an output of 45,000 BTUs.
The S36T has 304 stainless steel cooking grids and a cooking surface of 720 square inches, with an output of 67,000 BTUs.
The S48T has 304 stainless steel cooking grids and a cooking surface of 960 square inches, with an output of 90,000 BTUs.
Stay in the Heat and Meet Students' BBQ Demands
Colleges and universities reaching out to prospective students often celebrate campus life. Having BBQ grills conveniently available in busy student areas provides an added benefit as students begin their academic journey,
The commercial grills available from AEI Corporation offer a cost-effective way to build camaraderie across campus, one that includes the safety you expect.
---
Want more information? Have a question? Contact us today, and we will be happy to help!