Usher in the 2022 New Year with a Stainless Steel BBQ Grill that Lasts a Lifetime
5 minute read | Grills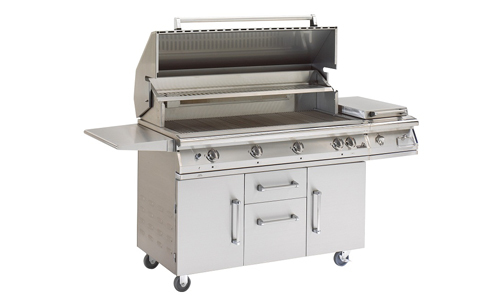 The increased popularity of cooking on an outdoor propane grill means that everyday people will be looking to replace an aging model or select their first stainless steel BBQ grill in 2022. Upwards of 61 percent of Americans currently own a propane or a natural gas grill. Consumers spent more than $4.9 billion on BBQs and outdoor grill parts and accessories during 2020.
One of the unfortunate reasons for such high consumer spending involves outdoor propane grill quality. Poorly constructed patio grills last less than five years and middle-of-the-road models typically require replacement in just a few years. Rather than repeatedly throwing money at subpar grills, it may be in your best interest to invest in an industry-leading PGS Grill that stands the test of time. Before choosing a so-called "beginner grill" or kicking the can down the road by selecting a less-than-admirable product, answer the following questions and make a savvy 2022 grill decision.
Do you want your grill to run on propane or natural gas?
How do you want to mount your grill?
What size grill do you need?
Do you want your grill to be stainless steel or aluminum?
What grill accessories do you want?
Outdoor Propane Grill vs Natural Gas Grill
The decision between selecting a natural gas grill or a liquid propane grill typically relies on convenience. Homes powered by natural gas are tailored to run a fuel line to a fixed-in-place natural gas grill. Residential and commercial property owners who do not use natural gas or do not want a new line run usually opt for an outdoor propane grill where the fuel tank is stored in the grill's base. The pros and cons of natural gas or liquid propane include the following.
Mobility: An outdoor propane grill, mounted on a grill cart, can be mobile because its fuel tank is housed in its base. Propane grills can be repositioned on the property to best serve you, your guests, and your family members. Natural gas grills are mounted in-place and are not mobile.
Fuel Hookups: Liquid propane grills house an easy-to-swap-out fuel tank in the base of the grill. Local gas stations, hardware stores, and big-box retailers often offer tank exchanges. A natural gas grill requires an initial NG hookup by a professional. The upside to being hooked up to your natural gas line is that grilling enthusiasts never run out of fuel or have to drive into town and make an exchange.
Home Value: Creating an outdoor kitchen provides growing families with a fresh-air space to cook and gather for delicious meals. A fixed outdoor kitchen generally increases property values, giving backyard BBQ chefs a return on their investment.
Mounting Options: Natural gas grills need to be mounted in place on a pedestal, a grill cart, a grill island, or on an outdoor countertop. Liquid propane grills work mounted in a fixed position or on a portable grill cart.
The decision to select a top-tier stainless steel BBQ grill revolves around fuel access to a large degree. But grill mounting preferences also play a significant role when buying a patio grill in 2022.
Outdoor Patio Grill Mounting Options
When people select their first outdoor BBQ grill, they often focus on the prevalent cart-mounted models. These are widely popular among homeowners who like the ease of swapping out propane tanks in the base and can be wheeled about the patio or deck. While a cart-mounted outdoor propane grill may serve your needs, these are other options to consider for 2022.
Grill Size, Appearance & Accessories
Choosing the right size outdoor BBQ grill often proves more challenging than it appears at first blush. Residential and commercial property owners sometimes think in terms of average usage and the people in their orbit. But the inherent problem with selecting a grill size that meets typical use is the highs and lows. For instance, a small pedestal-mounted grill easily supports couples and small families. But when the in-laws show up, or you host a birthday party, guests may end up waiting for burgers, hot dogs, steaks, and delicious veggies. When selecting the best-sized grill to meet your needs, these are things to consider.
Modest Grills: The PGS A-Series grills are perfect for pedestal mounting or grill carts and can be fueled by propane or natural gas. The A-Series offer a good 330-434 square inches of direct cooking surface and 121-178 square inches of indirect or warming space. This sized grill can definitely support a family. In terms of commercial use, the T-Series grills that are cast aluminum like the A-Series, are the same size. Multiple T-Series grills can be mounted in different locations around apartment complexes, resorts, and condominiums can serve many families at once.
Mid-Sized Grills: The PGS T-Series grills provide direct grilling surfaces that range from 330 square inches to 540 square inches, depending on the grill. Generating 30,000 to 45,000 BTUs, these mid-sized models can be deftly cart-mounted or installed into outdoor countertops. This level of cooking space allows outdoor grilling enthusiasts enough room to prepare multiple items simultaneously. For everyday use with a close family, one side can be fired up to reduce fuel use.
Large Grills: The PGS Legacy series grills rank among the preferred options for grill island installations and outdoor kitchen investments. As a top-of-the-line stainless steel BBQ grill, the Legacy line delivers 540 to 960 square inches of direct heat surface and as much as 355 square inches of warming space. These propane or natural gas grills are ideal for outdoor kitchens, growing families, and people who like to entertain. Perhaps the item that truly separates them from the pack is the fact several Legacy models come with an infrared rotisserie burner.
The infrared rotisserie burner remains perhaps the most highly sought-after accessory in the outdoor grilling landscape. For home and business owners choosing a new grill for 2022, it may be wise to select a PGS model with an infrared rotisserie or one that can accommodate this accessory later. Other essential grill accessories include 60-minute gas shut-off timers, beverage centers, side burners, and grill briquettes that utilize advanced technology.
Residential and commercial property owners rely on PGS Grills because they are smartly constructed with stainless steel or cast aluminum, offer significant warranties, access to outdoor grill parts and accessories, as well as provide industry-leading consistency. If you are considering a new patio grill in 2022, consider a top-tier and easily accessorized PGS Grill, so you won't have to throw money at a new grill again.
---
Want more information? Have a question? Contact us today, and we will be happy to help!