What To Know When Planning A Large Outdoor or Patio Heating System
6 minute read | Heaters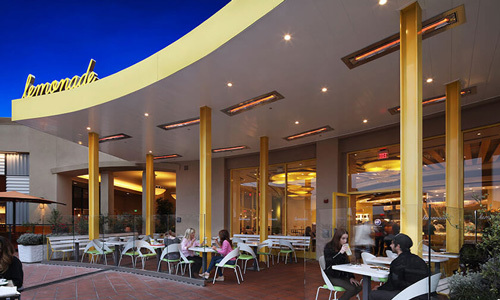 The businesses that drive profits by providing an indoor-outdoor experience to patrons often earn less when the chilly weather arrives. Chilling temperatures can make your business less appealing and cause you to unnecessarily lose revenue. The only logical solution is to make that outdoor area comfortably warm all year round. That means installing a commercial-grade patio heating system.
The good news about investing in a patio heating system for restaurants, nightclubs, outdoor event centers, or sports facilities, among others, is that the return on investment will be substantial. You will suddenly be able to accommodate more customers, sell more tickets, and serve more food and beverages. The ability to maximize your earning potential by utilizing a portable patio heater, overhead natural gas heater, or deftly positioned suspended heaters extends your season and keeps regular patrons from going somewhere else. A smartly designed outdoor radiant heating system isn't really a matter of cost, it's understanding how to deliver cost-effective comfort in intimate and large outdoor spaces.
Maximizing Radiant Heater Comfort
It's not uncommon for smaller venues to simply purchase an outdoor radiant patio heater or two to check the box that patrons can expect to utilize an outdoor area. Some businesses secure a portable patio heater to satisfy smokers. These guests often feel marginalized by having to go outside and unfairly endure frigid temperatures. That's a real concern that restaurant and venue owners should consider in terms of customer satisfaction and appreciation.
But larger venues and even mid-sized patios would be wise to consider square-footage, furniture, overhead structures, energy resources, and other factors when implementing an outdoor heating system. It's also essential to consider how the various types of industry-leading radiant heaters can be strategically placed to provide the best bang for your buck. You will also need to consider whether to fuel the system with propane, natural gas, or electricity. A top-tier, commercial-grade infrared heater made in USA, such as the AEI's line of heaters, can be tremendously cost-effective. These are items to think through when designing an outdoor heating system.
Overhead Radiant Patio Heater Solutions
Decision-makers who are beginning to research outdoor heaters may be surprised to discover that the products have evolved. For example, the iconic mushroom heater can now be suspended overhead. Radiant heaters such as the AEI Sunglo suspended heaters have been customized to works as an integral part of an outdoor space's décor. The Sunglo models are both decorative and deliver a wide, circular radiant heat throw that maximizes floor space for customers.
For businesses that have already created the ambiance you desire for patrons, box heaters such as the AEI Sunpak models can be fixed to overhead structures and even walls. Using box heaters that can be strategically deployed overhead and on surrounding walls provides improved patio heating options. By reviewing the far-reaching radiant heat throw range and square footage, you can make every patio seat perfectly comfortable.
While the Sunglo and Sunpak commercial-grade lines can be fueled by propane or natural gas, products such as the Infratech are proving to be a cost-effective way to connect into existing electricity. In many cases, a minor installation to put these units on a separate line is all that is required. These industry-leading products can be accessorized with energy-efficient temperature controls and automatic shutoff timers.
Rethinking Fixed Floor Patio Heating Systems
The advanced technology integrated into today's radiant patio heater has completely changed outdoor system designs. The AEI Patio Comfort mushroom liquid propane heaters are extremely convenient. Their extensive radiant heat-throw capabilities and conveniently housed LP tanks in the base make them practical and easy to put in a fixed position where natural gas lines aren't available. Securing a heater is a vital liability consideration when dealing with large crowds, particularly at events such as concerts.
But the use of fixed box heaters has risen to prominence at outdoor venues in recent years. Among the more savvy strategies is to fix box heaters to posts or overhead beams. Because they can be installed vertically or horizontally, larger outdoor venues are finding that natural gas lines of electricity can be run, and permanent comfort achieved.
Think about the heating system this way. Your posts can be placed to eliminate heating gaps and turned on only to warm areas where event-goers are gathered. It's also important to keep in mind that today's LED stage lights do not warm performers the way they once did. It may be in your best interest to place a few box heaters on stage rather than deal with cold performers.
Portable Outdoor Patio Propane Heater
Although permanent designs have huge perks, there's a reason the iconic mushroom heater continues to enjoy immense popularity. The ability to position these cost-effective units to suit changing events and crowd needs is priceless.
The Patio Comfort heaters can be accessorized with wheels so that workers can reconfigure your outdoor space needs on an event-by-event basis. As long as they are cool, you can reposition the heater to where they are needed. It's not uncommon for mid-sized and large outdoor businesses to keep a portable patio heater cache to fill in any heat gaps, as well.
Consider Possible Hybrid Solutions
There are no one-size-fits-all outdoor heaters. And while that may make effectively warming an outdoor area a tad more complicated, it also opens the door for major revenue upticks. The robust economy is allowing more and more Americans to dine out, buy concert tickets, and spend their hard-earned money on leisure.
Take your time to think through the most cost-effective application of radiant heater types, fuel sources, and accessories. There has never been a better time to install a radiant outdoor heating system that guarantees an excellent return on investment. It's time to get an infrared heater made in USA, and AEI continues to be a commercial-grade industry leader.
---
Want more information? Have a question? Contact us today, and we will be happy to help!