Your Complete Guide to Infrared Patio Heaters
9 minute read | Heaters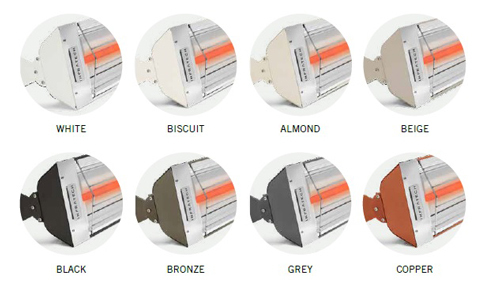 Outdoor infrared heaters are a great way to add welcome heat and comfort to patios, dining areas, grilling spaces, and so much more. Expand your ability to enjoy the weather with friends and family with powerful, safe, and convenient heating appliances from AEI.
Infrared Heaters
While infrared heating technology is not new, it is relatively novel compared to other ways of generating heat. That being the case, it is understandable that it is somewhat misunderstood. It is reasonable that some folks would have questions. So our infrared heating appliance distribution team here at AEI Corporation sat down to tackle some of the most commonly asked questions and misconceptions about infrared heaters. Here's what we came up with.
Infrared heaters produce heat generated by infrared light no matter what fuel source they run on. Infrared heaters can run on propane, natural gas, or electricity. All three fuel sources are energy efficient and safe, affecting only how and where they can be mounted.
Infrared heaters can be used on and around outdoor patios safely and effectively. Our infrared heaters can come in the mushroom shape or the box shape and are used in homes and businesses widely throughout North America.
Natural Gas Heaters
A natural gas patio heater is a great choice for any setting and comes in a number of configurations. Natural gas outdoor heaters come in either the iconic round mushroom shape or the easy-to-install box-shaped heaters. These heaters can be installed via a floor-mounted pole, in a wall, or suspended overhead.
The great benefit of natural gas-powered heaters is that they are always connected to your natural gas line. This means you will never have to refill a fuel tank, and the heater can be easily turned on at any time.
Natural gas-powered heaters must remain in place due to the fact that they are directly connected to a natural gas line. This is a good reason to compliment your natural gas heaters with propane-powered units to ensure you will always have enough to heat warm large crowds and variable activities.
If you prefer natural gas and don't have a natural gas line you will need to work with a contractor and your local utility provider to install an NG line.
Propane Heaters
Liquid propane is a popular and well-known fuel source for portable outdoor heaters. These units come with unique benefits distinctive to the power source. Here are a few things you should know about these portable outdoor gas heaters.
Propane heaters mostly come in the versatile and convenient mushroom shape which distributes heat evenly in a 360-degree radius. But they also come in a box-shaped configuration, which is a good choice for projecting heat in a specific direction.
Propane mushroom heaters are the only type that can be fully portable since it runs off of propane that is stored in an onboard tank which must be refilled. Heaters that run on propane can also be mounted in a permanent position on a floor-mounted pole or suspended overhead.
Because these portable heaters feature an onboard propane tank, they can be moved at any time in accordance with your needs. Portable propane heaters are excellent for residential use since they can be stored away easily in the off-season or locked up for security reasons. Permanently mounted propane heaters could be a good choice for apartment complexes and other public or semi-public venues in areas where natural gas is not available. But in most cases, either natural gas or electricity will be a better choice for permanent mounting.
Propane tanks do need to be swapped out from time to time. Therefore, it is a good idea to have an extra tank in storage. Users will also have to learn to perform a tank swap, but once you learn to exchange propane tanks it becomes second nature.
Electric Infrared Heaters
Finally, we have our electric-powered infrared heaters. There are many advantages to these heaters and a few limitations that you should know about.
Our electric heaters come only in box-shaped models. However, they come in a range of sizes and output capacities to suit your heating needs. Electric heaters are always installed in a permanent position since they must be wired directly into the electrical system of the home or building where they are to be used. That being the case, you still have the option of mounting them in a wall or overhead.
With a flush-mount kit, a wall or ceiling-mounted electric heaters can be installed so that the face of the heater is flush with the wall. This means they are discrete and they are always ready to be activated and adjusted to your liking. The design, mounting options, and power source mean electric-powered infrared heaters have a much wider range of control options and power settings.
Our electric heaters have many heater control options available. You could choose simple on/off switches or you could choose a dial control system. Alternatively, you may opt for the smart control package that comes with a wide array of control capabilities, including the ability to sync your electric heaters with your mobile device for an attractive spectrum of remote and automated functionality options.
Keep in mind that once installed, electric infrared heaters cannot be unplugged and moved. Because they are high-power appliances that need to be properly grounded, they must be hard-wired into your electrical system. They cannot be plugged into a standard outlet and must be installed and uninstalled by a professional.
Quick Infrared Heater Reference Guide
Infrared
All AEI heaters produce infrared heat whether they are run on Propane, Natural Gas, or Electricity
Propane Heater
Portable or fixed installation
Come in mushroom and box shapes
Offer a wide range of control options
Natural Gas Patio Heater
Installed in a fixed position
Come in mushroom and box shapes
Offer a range of control options
Electric Patio Heater
Installed in a fixed position
Come in box shape only
Come in a range of sizes and output capacities
Offer a wide range of control options
Get in touch today to learn more. Our team is ready and eager to answer all of your questions on our wide selection of exterior gas heaters and electric models.
---
Want more information? Have a question? Contact us today, and we will be happy to help!