Eco-Friendly Electric Heaters Deliver Win for Eateries, Homeowners & The Environment
8 minute read | Heaters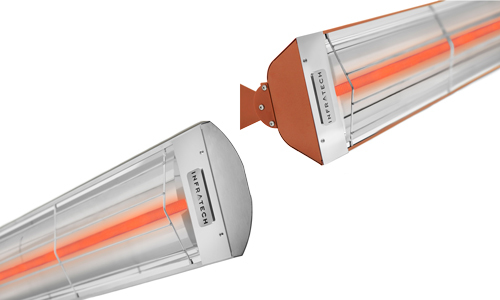 Home and restaurant owners have similar concerns about the use of outdoor spaces during cold weather months. Whether it's the early morning and evening chill during spring and autumn, or persistently cool winter temperatures, the only way to enjoy these areas involves a patio heater.
But hospitality businesses and homeowners also share a concern about the environment. The rise in air pollution has a significant impact on the health and well-being of our loved ones, as well as future generations. The U.S. has been slowly transitioning away from coal-powered electricity plants to natural gas for these very reasons. Right now, infrastructure is being built to pivot away from passenger vehicle gasoline and truck diesel to further reduce carbon emissions. Business decision-makers and homeowners are now installing eco-friendly electric heaters to expand patio hours and do their part for the environment.
Benefits of Eco-Friendly Electric Heaters
In terms of selecting a patio heater, those fueled by natural gas and liquid propane are widely considered sustainable. There is certainly nothing wrong with deploying infrared electric heaters to provide warmth and comfort from chilly weather on backyard patios, outdoor dining areas, or any place people like to gather. Our heaters produce less than half the carbon emissions of coal.
But infrared electric heaters provide an edge over even the most sustainable fuel resources. While power plants typically use natural gas to produce electricity, the massive solar fields and wind turbines being erected reduce even those limited carbon emissions. Essentially, installing infrared electric heaters will increasingly support cleaner air and a healthy environment for the next generation. Eco-friendly electric heaters will also deliver the following benefits right now.
Restaurants: Infrared electric heaters allow eateries to extend service in fresh air spaces. This expands comfortable dining areas and places where people can gather for drinks and appetizers. Infrared heaters help restaurants increase revenue that might otherwise decline with seasonal weather changes.
Homeowners: The benefits of eco-friendly electric heaters to working families are largely qualitative. Being able to sit out under a moonlit sky with a loved one adds to the romance and strengthens our emotional bonds. The ability to host birthday parties or weekend family gatherings helps strengthen ties with one another. Infrared electric heaters also allow us to enjoy quiet time alone over a morning beverage or while practicing yoga in the open air.
Commercial and residential property owners without natural gas lines can save on the expense of connecting buildings to the lines in the street. And those who prefer the convenience of turning a switch instead refilling liquid propane tanks are pleased with infrared electric heaters as well. Installing eco-friendly electric heaters overhead or on walls also maximizes the square footage of decks, patios, verandas, and other outdoor spaces.
Installing Infrared Electric Heaters
It's important to understand that eco-friendly electric heaters cannot be safely plugged into an existing outlet. High-powered and commercial-grade infrared heaters generate substantial BTUs and deliver a wide throw radius. The technology in leading infrared patio heaters warms the objects in their range. Flame-driven units heat the surrounding air, which is quickly eliminated when a breeze blows, leaving patrons and guests uncomfortable.
Having a certified contractor run a designated line to a patio heater system involves a relatively nominal cost. An electrician taps into the existing box or infrastructure and runs a line to the units and control panel. The process is generally not disruptive, and less costly than installing a new natural gas service. It's more convenient than swapping out liquid propane tanks.
But before contacting a licensed contractor, it's essential to consider the layout of your overhead patio heater layout. Each model will require sturdy supports and the clearance recommended by the manufacturer. Restaurant and home owners are also tasked with measuring the throw radius of infrared heaters to ensure the space is ideally covered. Overlapping radiant heat proves redundant and wasteful. By that same token, gaps in coverage area may leave a patron chilly, and generate a subpar social media review as well.
By conducting some due diligence and working with a licensed professional, outdoor living spaces can be extended by hours, weeks, and even months. All of the benefits hold true as long as you select state-of-the-art products.
Top Eco-Friendly Electric Heaters for Patios
The Infratech line of infrared electric heaters has been trending high for backyard patios and restaurant outdoor dining areas. These single-element models can be installed overhead and possess the flexibility to be mounted on structurally sound walls and other infrastructure.
As industry-leading eco-friendly electric heaters, there are two Infratech lines worth considering. The C series and W series patio heater lines include multiple heat-throw capabilities, lengths, and exterior designs. These are things to consider about Infratech electric heaters when creating an infrared outdoor warmth system.
Infratech C-Series: This line of infrared heaters comes in 39- and 61-inch lengths that use a single element. These stainless steel quartz models leverage between 2,000 and 4,000 watts. Their throw radius runs from 6 x 6 to 10 x 10 square feet, depending on the model. The energy-efficient C-Series Infratech patio heaters enjoy flush mounting capabilities and zero to 60-degree angling. The attractive C-shaped stainless steel exterior adds to the décor and impresses patrons and friends.
Infratech W-Series: This class of eco-friendly electric heaters also comes in 39- and 61-inch lengths, running between 2,000 and 4,000 watts. Depending on the model, throw radiuses also span 6 x 6 and 10 x 10, while delivering flush mounting capabilities on walls and overhead infrastructure, as well as zero to 60-degree angling. The primary difference involves the W-shaped exterior that highlights the infrared glow of the element.
It's also important to note that Infratech C-Series models come with mounting options that deliver 2.5-inch clearance. Brackets for the W-Series provide a 3-inch clearance at each end of the unit. Both lines offer finishes that include beige, almond, bronze, and white to merge with existing décor. Home and business owners who want the electric patio heaters to remain unnoticed can select black to make them blend into ceilings or under soffits.
Infratech also comes with a secure three-year warranty and a Made in USA guarantee. Rated for 5,000 hours of continuous use, these eco-friendly electric heaters continue to be a preferred choice among restaurateurs and everyday people desiring to improve their quality of life experience at home.
Infratech Infrared Electric Heaters Are A Sustainable Choice
Employing natural gas and liquid propane heaters is still considered green-friendly because they have low emissions ratings. Those fuel systems also make perfect sense on properties that possess natural gas lines. Patios and other gathering areas that are away from buildings are excellent candidates for infrared mushroom heaters that house a propane tank in the base.
But infrared electric heaters are generating a significant buzz as the U.S. and Canada pivot away from fossil fuels in an effort to create a healthier and more sustainable environment. A significant portion of North American power grids has already transitioned to solar and wind, reducing their carbon footprint.
By integrating eco-friendly electric heaters such as the Infratech line, home and business owners are realizing all the warming comfort benefits they desire. They are also doing their part for a cleaner environment. Knowing thoughtful consideration went into installing eco-friendly electric heaters is a priceless gift to future generations.
---
Want more information? Have a question? Contact us today, and we will be happy to help!