Installing Patio Heaters with Patio Grills Proves a Winning Combination For Condos and Rental Properties
6 minute read | Grills Heaters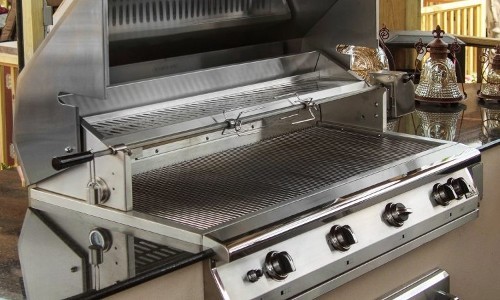 Given the key to successfully increasing condo property values and multi-family rental profits involves quality of life satisfaction, investing in patio heaters and patio grills takes outdoor living to another level.
According to the Hearth, Patio & Barbecue Association (HPBA), upwards of 70 percent of American and Canadian households own patio grills. The HPBA also noted that early morning and winter grilling has been on the rise in recent years. Surveys indicate an upswing in cold-weather grilling during Thanksgiving (20 percent), Valentine's Day (14 percent), New Year's Day (14 percent), and Christmas or Hanukkah (11 percent). Approximately 30 percent of people with outdoor BBQ grills use them to prepare Super Bowl party food. Given the sometimes frigid weather surrounding these special days, it makes sense to bundle natural gas or propane heaters/grills for condos and multi-family living facilities.
Benefits of Patio Grills for Condos and Rentals
The same benefits that homeowners enjoy from installing patio grills extend to multi-family developments. Whether developers have the project on the proverbial drawing board or a property management firm plans to improve resident satisfaction, patio grills deliver tried-and-true benefits. These rank among the prevalent reasons that condo owners, renters, and others desire outdoor grill opportunities.
Flavor: Nearly 60 percent of grilling enthusiasts indicate they do it for the locked-in flavor.
Lifestyle: Approximately 40 percent of people polled say that grilling over an open flame is an essential part of their lifestyle.
Entertainment: One-third of people who use patio grills regularly enjoy the ability to entertain guests in the fresh air.
Convenience: Almost 30 percent of people say they like the fact patio grills require far less cleanup and make meal preparation easier.
It's also common for grilling aficionados to use their stainless steel BBQ to explore recipes. Because the open flame process locks in the juices and natural flavors, it makes trying new menu options an exciting proposition. Grilled foods also tend to retain their nutritional value at a higher rate than those cooked on indoor stoves.
Benefits of Patio Heaters for Condos and Rentals
The benefits of patio heaters are largely qualitative. Whether someone lives in a single-family house, condo, or another type of multi-family living environment, people seek fresh air when the opportunity presents itself. High quality patio heaters elevate the condo and rental experience in ways that mirror the freedom of home ownership. That, in turn, allows property owners and management firms to increase real estate values and profitability. These are among the most popular benefits lauded by people who use all-season patio heaters.
Health and Fitness: Strategically placing patio heaters allows residents to explore yoga and fitness stretching outdoors. Being able to perform fitness routines in the open air typically adds to the experience and motivation.
Mindfulness: Like yoga, mindful meditation practitioners prefer to engage in daily routines outdoors whenever possible. Adding patio heaters in quiet or private spaces allows residents to engage in this attractive process earlier in the day and extend the season.
Gatherings: Warm-weather months are the easiest time to host parties and get-togethers because attendees feel comfortable outside. The Fourth of July ranks among the holidays with the most parties in the U.S. By integrating a patio heating system into multi-family communities, residents are able to increase their socialization options.
At the end of the day, packaging commercial-grade patio heaters and patio grills exponentially benefit residents and property owners alike. The challenge for decision-makers involves identifying durable products that cost-effectively complement each other.
State-of-the-Art Patio Heaters and Grills for Condos
Investing in propane or natural gas heaters/grills tasks property managers and developers with conducting thorough due diligence. The BTUs, heat-through radiuses, and parts warranties can be a lot to digest. That's why AEI Corp offers consultations for natural gas and propane heaters/grills. These are industry-leading products that can be deployed to create an outdoor space suitable for grilling, gathering, or practicing health and wellness regardless of the season.
Top Patio Heaters for Multi-Family Communities
The next-generation technologies used to engineer and manufacture infrared patio heaters from AEI continue to trend high. The organization also offers durable stainless steel and hard-cast aluminum patio grills to seamlessly round out an outdoor living space. These are ideal heaters to deliver the warming comfort residents desire.
Patio Comfort
Recognized by their classic mushroom head design, these iconic patio heaters work equally well when powered by liquid propane or natural gas. Commercial-grade Patio Comfort models come in a variety of stylish finishes and deliver upwards of 40,000 BTU. When fueled by a propane tank stored in the base, they can be moved as needed.
Sunpak
The Sunpak options are overhead box heaters that can be mounted to any secure ceiling, wall, or post. Generating 25,000 to 34,000 BTU, depending on the model, this class of patio heaters delivers a 100- to 144-square-foot infrared warmth radius.
SunStar
Designed to handle harsh conditions, SunStar commercial heaters utilize weather-resistant zinc coatings, marine-grade stainless steel, and durable ceramic glass that protects the heating elements. Tested to withstand 40 mph winds, these patio heaters are the go-to option for areas that experience storms.
Sunglo
Similar to the Patio Comfort line, Sunglo models emulate the mushroom design. The key difference is they are usually installed using a sturdy post and connected to a liquid propane or natural gas line. Property owners who like the style, but not the portability, often select Sunglo.
Infratech
The Infratech line of patio heaters provides increased flexibility when creating an outdoor comfort zone. These electric heaters can operate from a designed power line and provide radiant heat to people gathered around liquid propane or natural gas patio grills.
Top Patio Grills for Condos
The commercial PGS T-Series grills have emerged as condo and multi-family living darlings. That's primarily because they offer flexible fuel options and sizes to complete an outdoor gathering location. The PGS T30 patio grills can be mounted on portable carts with a liquid propane tank in the base. These heavy-duty cast aluminum models generate 30,000 BTU while offering 330 square inches of direct grilling space and a convenient side shelf.
The larger S27T, S36T, and S48T patio grills are ideal to complete an outdoor kitchen environment or communal gathering place. Property management companies that invest in large patio grills, coupled with infrared patio heaters, often leverage the space for holiday parties and celebrations. Building a close-knit residential culture is a priceless added value of matching the right patio grill and radiant heaters.
If you are considering an outdoor grill and patio heater installation to improve residential life, explore our industry-leading patio grills and heaters and let's get the process started.
---
Want more information? Have a question? Contact us today, and we will be happy to help!