New Outdoor Heater, Gas Grill Brochure Provides Insightful Details
5 minute read | Grills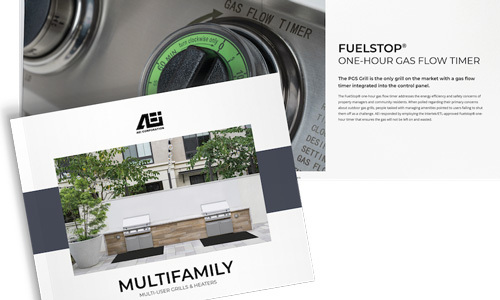 Developers, architects, and others linked to the success of multi-family properties now have access to a comprehensive brochure for commercial-grade outdoor grills and patio heaters. Attracting reliable occupants with the ability to navigate premium rents and fees calls for superior amenities. Natural gas, propane grills and natural gas, propane, electric heaters are considered next-level quality of life assets. If you are in the planning stages, or are considering upgrading an existing facility, the AEI Corp commercial gas grill and infrared heater brochure showcases industry-leading products.
Professionals Benefit From AEI Corp Outdoor Gas Grill & Infrared Heater Booklet
By requesting a booklet that covers the technical aspects and specifications of top-tier PGS Grills and Infrared outdoor heaters, professionals with a stake in a multi-family living environment can make informed decisions.
The commercial PGS Grill lines AEI Corp offers rank among the elite products designed to perform with precision excellence and still endure severe weather conditions. The same holds true of the infrared heating system options that can be powered by natural gas, liquid propane, or a designated electrical line. With flexible options and a diverse range of products, these are benefits professionals can anticipate from using the colorful and detailed brochure.
Brochures for Architects
Multi-family community architects have a rare opportunity to use a booklet that provides visual elements and highly detailed schematics. This helps foster a process that gives creative individuals an opportunity to re-imagine common areas. Integrating a sizable propane or natural gas grill transforms such sites into natural gathering spaces.
Brochures for Developers
When the housing market is hot, investors have little difficulty renting apartments. But as experienced developers generally know, people earning good salaries want added value. The outdoor grills and heating systems offered through AEI Corp change the dynamic in a positive fashion. They help create an environment where residents can enjoy deliciously grilled meals in the fresh air and stay outside after the evening chill. Grills and heaters are the little extras renters seek.
Brochures for Property Managers
Property management firms spend enormous amounts of time and energy beautifying the grounds of condominiums, apartment complexes, and senior living communities, among others. Residents want the best bang for their HOA and other fees. Gas grills and outdoor heaters deliver. Having a stainless steel or hard cast-aluminum patio grill to prepare meals and enjoy them even when cool evening air breezes through raises their peaceful enjoyment. Multi-family residential community members can sometimes be difficult to please, but grilling stations and extended outdoor hours exceed expectations.
Brochures for Contractors
Builders are tasked with installing state-of-the-art open-air heating systems and outdoor kitchens. The booklet AEI Corp is releasing covers technical aspects and essential specifications crews need to know. As architects, owners, and homeowner associations select heaters and gas grills, it's important to remain on the same installation page. Obtaining the brochure of the AEI Corp informational guide gives you a critical reference resource.
These are reasons why professionals in the community living sector would be well-served to request a brochure that provides detailed information about top-of-the-line outdoor heating and grilling models.
Grills and Heaters for Multifamily Properties
As a reference guide, the brochure helps decision-makers envision how to gain the maximum benefit from outdoor grills and heaters. Because the AEI Corp grills and heaters use advanced technology and their designs are built on a bedrock of experience, models can be employed to re-imagine poolside enjoyment, and rooftop patios, upgrade amphitheaters, or increase residents' appreciation of communal areas. These are highlights of the products you'll find in the insightful brochure.
Commercial Natural Gas and Propane Grills
The informational guide highlights commercial PGS Grills called Legacy and the T-Series. Between these two outdoor liquid propane and natural gas grill lines, five distinct models can be selected that offer the space, grilling capacity, and flexibility to accommodate any setting. Legacy grills are constructed from stainless steel and provide 540 to 960 square inches of direct grilling area. These models are the ideal centerpiece of a complete outdoor kitchen installation.
The PGS T-Series is built from durable cast aluminum and stainless steel, and the two sizes make them perfect for outfitting intimate spaces. They can be cart-mounted and rolled into place or installed on a fixed pedestal to tap into natural gas. These slim PGS grills are widely used to complete patios and modest common areas near individual condos or apartment buildings.
It's also important to note that the AEI Corp brochure speaks to grill accessories and safety measures. Models come with items such as 60-minute shutoff timers, matchless ignition, and lift-assist grill handles. The Legacy line can also be installed using a prefabricated grill island that does not necessarily require property owners and managers to hire a contractor.
Brochure for Natural Gas, Propane, and Electric Heaters
The brochure goes into great detail about the five brands of infrared outdoor heaters used to extend daily and seasonal uses of outdoor spaces. The product engineers created these durable outdoor heaters with a keen eye for safety and energy efficiency.
Using radiant heat to warm objects in their throw radius, these commercial heaters do not expose residents and guests to open flame. Depending on the model and installation preferences, they can be deployed to handle small patios or large-scale outdoor areas. These are the models and a brief description of what the brochure expands upon.
These outdoor heating opportunities can be leveraged to create entire comfort systems or single-space warmth. By reviewing the specifications and understanding heat radius metrics, among other things, multi-family property professionals can improve residents' enjoyment when chills would otherwise force them indoors.
If you are considering adding heating and grilling amenities or updating existing ones, the AEI Corp brochure provides a wellspring of valuable information. It also has QR codes that link users to CAD designs. Request a brochure today and get the process started.
---
Want more information? Have a question? Contact us today, and we will be happy to help!