Outdoor Patio Heaters Enhance Life Experiences with Warming Comfort
6 minute read | Heaters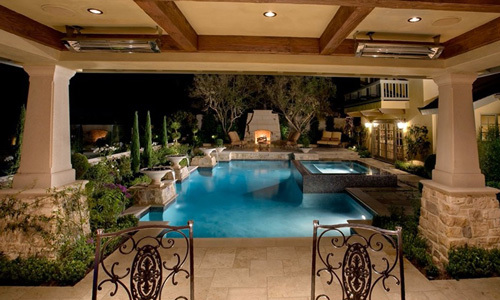 Working people like you invest hard-earned dollars into outdoor spaces so you can have downtime from stress, anxiety, and unending tasks. There are plenty of buzzwords for spending time alone or with an intimate companion outdoors. Some refer to this peaceful enjoyment as "mindful meditation," others consider it a "quality of life" experience. Regardless of what you call being on your patio, porch, deck, or veranda, that time is limited by seasonal temperatures.
In an effort to extend leisure time outside, homeowners have turned to residential infrared gas and electric heaters to gain year-round use of these spaces. A portable patio heater or overhead natural gas heater can help deliver the full value of your outdoor space investment. Consider how the following scenarios would be positively affected if you installed an electric, natural gas, or propane patio heater.
Morning Coffee During Late Fall
Run through your seasonal morning activities and consider how many warm-weather days you take your morning coffee outside. Some of us like to wake early while the world seems quiet. Before the day's hustle and bustle begin, it can be just you, that morning java, fresh air, and birds chirping. That's an experience you invested in with a porch or patio. Now comes the cold-weather months. The fresh air and birds are still available, but it doesn't seem worth layering-up and having cold hands.
Lunch or Dinner on Your Backyard Patio
There's nothing quite like making a meal on a stainless steel BBQ grill and enjoying it with a friend or loved one. Our quality of life experiences are not only enjoyed in mindful quiet, but also in the bonds of those close to us. Now consider that you routinely can neither enjoy barbecuing nor sitting outside when the frigid months arrive.
Stargazing with the Children
There comes a time in just about every parent's life when you teach children about the planets and stars by purchasing a telescope. It may come as something of a surprise, but the winter months rank among the clearest and best for stargazing. It's challenging to manage a telescope with gloves on, and the family bonding often gets put on hold. Residential infrared gas heaters can mean the difference between making this memory or watching that telescope collect dust.
Hosting Parties During Cold-Weather Months
Consider for a moment how many holidays and special occasions occur from fall through spring. Those are all going to be impacted by the weather unless you take proactive measures to improve comfort on your porch, patio, deck, or veranda. Why spend gatherings cramped inside when you can expand the usable space with residential propane heaters?
Board Game Nights for the Family
Family bonding ranks among the top priorities for outdoor patio spaces and board game nights allow everyone to get away from technology and just talk. Boardgames remain a fun group activity that takes young and old back to real life. One of the chief reasons these have been successful in outdoor spaces is the reduced amount of televisions and improved quiet area. By leaving the cell phones inside and turning on a portable patio heater, working families enhance their connections.
Whether these examples or others are part of your outdoor experience, there's no doubt seasonal temperatures impact your robust enjoyment. By understanding the advanced technology and a wide range of options available to homeowners, you have every reason to build on your outdoor space investment and enjoy it all year.
How Overhead Patio Heaters Can Help
Residential property owners with screened porches and partially-roofed verandas can install state-of-the-art overhead heaters. Industry-leading products in this class of heater can be integrated into multiple existing fuel or power sources. These include usually tying into a natural gas line, or connecting to standard electricity. AEI Corp, for example, has several top-tier models such as Sunglo, Patio Comfort, Sunpak, which have LP & NG heaters, and Infratech which has electric heaters. Liquid propane is also an option, but that fuel source tends to be more prevalent in portable heaters. The industry-leading AEI options deliver the following benefits.
Suspended heaters can be mushroom-shaped or box models
Can be installed overhead or on sturdy walls for increased warmth
Box- or mushroom-shaped heaters can be widely spaced to cover the full breadth of an outdoor patio
Include next-generation infrared technology that warms objects rather than air
Heating designs can point inward to maximize the warming comfort of any outdoor space
What's essential to keep in mind about installing an overhead natural gas heater or an overhead electric heater is that they are now highly energy-efficient and can be deftly managed with accessories. Multiple heater installations are often handled from a central panel that allows homeowners to strategically utilize only the units necessary. They also can be outfitted with shutoff timers to avoid unnecessary fuel waste. Many homeowners prefer these overhead and wall-mounted options because they require no floor space and can be immersed in any décor. Today's models come in unique styles that add to the ambiance or can be tucked away and hardly noticed.
How Mushroom Patio Heaters Can Help
The mushroom heater remains the most iconic model on the market today. That's largely due to its overwhelming success in delivering year-round warmth to residential and commercial outdoor spaces.
A convenient liquid propane tank is generally housed in the base and easily swapped out. Models such as the Patio Comfort have the flexibility of being firmly mounted at the base or the agility to be moved on wheels. These are more reasons why residential and commercial property owners often select mushroom patio heaters.
Emit a 360-degree infrared circle of comfort
Fixed models can be adapted to utilize natural gas or propane
Mobility allows owners to position them for strategic use
Propane refill tanks are readily available at retail outlets and gas stations
Liquid propane ranks among the more cost-effective fuel sources
Liquid propane is widely considered a green fuel source
Everyday people also tend to gravitate toward this class of portable patio heater because they can be used under tall enough coverings, or out in the open. Simply position it where the throw radius can provide the seasonal comfort needed to enjoy morning coffee, intimate gatherings, or the stargazing you want children to fondly remember.
There were good reasons why you embraced the idea of outdoor space. An infrared outdoor heater can add more days and evenings to your experiences.
---
Want more information? Have a question? Contact us today, and we will be happy to help!