SunStar Outdoor Heaters Deliver Comfortably Heated Outdoor Spaces
5 minute read | Heaters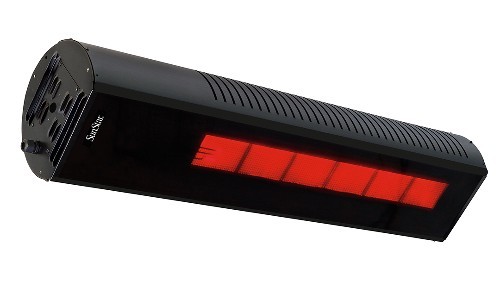 Commercial property owners and management firms are tasked with providing lasting outdoor comfort to residents, guests, and patrons. That mandate is typically challenged by seasonal temperature dips and evening chills. While installing outdoor heaters remains the best solution, it takes a durable product to handle intense weather conditions. That's why AEI Corp offers SunStar infrared heaters constructed with weather-resistant architecture. If you want to improve customer satisfaction at your spa, resort, country club, hotel, restaurant, brewery, or multi-family living facility, these are reasons to consider installing SunStar patio heaters.
What are the Benefits of Outdoor Heaters?
Installing liquid propane or natural gas heaters changes the dynamic of outdoor space utilization. During the warm weather months, people are excited to take in the fresh air over warm morning beverages, late-night drinks, or dining on foods straight off the BBQ grill. That scenario continues to change as summer turns to fall and cooler weather prevails. Without the radiant comfort of infrared heaters, customers shy away from al fresco dining and residents are disappointed when they take breakfast indoors. However, natural gas and propane heaters can reverse this trend and deliver the following benefits.
Health & Wellness: Researchers have determined that increased fresh air and sunshine help improve quality of life. Being outdoors for extended periods helps reduce stress, anxiety, and improves restful sleep. Taking in morning sunshine also helps minimize the impact of seasonal affective disorder. With the support of well-placed patio heaters, people living in multi-family residential communities can also practice outdoor yoga and mindful meditation outside.
Profitability: Businesses such as restaurants, coffee shops, breweries, and wineries, among others, retain and attract customers with their inviting outdoor spaces. The idea of drinking, dining, and socializing outside attracts customers who stay longer and spend more money. Outdoor seating adds an estimated 30 percent to monthly revenue, and outdoor heaters help maintain a lasting cash flow longer.
Consistency: Customers tend to be creatures of habit, and maintaining a loyal following requires consistent hours and a comfortable experience. Operations that close their outdoor seating or smoking areas become far less enjoyable. It's not unusual for unhappy parties to go somewhere else that provides open-air warmth. When competitors offer heated outdoor spaces and you do not, it isn't easy to get people to return when spring finally arrives. By installing outdoor heaters, there's no reason for people to go elsewhere when temperatures dip.
Capital Investment: Installing fixed overhead patio heaters generally increases property values. In terms of patron-driven enterprises, infrared heaters can be a pass-through expense. Few upgrades provide the same comfort and quality experience as outdoor heaters. Installing SunStar models is essentially an affordable luxury.
Installing liquid propane or natural gas heaters is also relatively straightforward. Businesses and residential communities have the option of utilizing either fuel resource by selecting the appropriate SunStar model. Both natural gas and liquid propane are considered environmentally sustainable fuel sources that are readily available in most areas.
SunStar Infrared Heaters are the Go-To Choice
Like other products offered through AEI Corp, the SunStar outdoor heaters do not present an open flame. And just as their other commercial-grade options do, this line provides a wide radiant heat radius that is not affected by wind. In fact, the SunStar commercial patio heaters can withstand upwards of 40 mph winds. That speaks volumes to why SunStar heaters are the go-to choice in areas that experience severe weather patterns. These rank among the top reasons why business and community living decision-makers choose SunStar outdoor heaters.
SunStar Mounting Options
A SunStar outdoor patio heater requires sturdy overhead mounting infrastructure. They can also be secured to walls to complete a heat disbursement layout for verandas, patios, smoking areas, and a variety of leisure spaces. These outdoor heaters are permanent fixtures with the ability to tap into existing natural gas lines. SunStar infrared heaters also come with a mounting kit that allows business owners and property managers to angle the radiant heat throw radius between 15 and 60 degrees.
Durable Tinted Glass Protection
SunStar heaters have tinted, high-temperature glass that resists high winds and inclement weather. Although residents and guests are unlikely to make use of their warming comfort during stormy weather, other products are more likely to have the heating elements become badly damaged. By integrating durable glass to protect the infrared heat-producing components, a SunStar is ready to run as soon as high winds or driving rains subside.
Weather-Resistant Designs
The engineers who designed the SunStar line had fierce weather in mind. That's why they employed hardened design aspects such as zinc-plated materials and high-temperature silicone powder-coated paint in select models. Not only do SunStar infrared heaters stand tall against 40 mph winds, but they also look good while doing it.
Marine-Grade Stainless Steel Heaters
Among the various SunStar line options are models built with 316 stainless steel. This marine-grade material benefits enterprises set along the coast as well as those in high wind regions. These stainless steel heaters are ideal for boathouses, seaside restaurants, resorts, and inland businesses that experience intense seasonal wind storms that kick up dust and debris.
Standard Outdoor Heater Options
Although the outdoor heaters in the SunStar line possess nuanced differences, they enjoy consistent opportunities. These infrared heaters generate between 25,000 and 35,000 BTU in an attractive casing. Each option offers two heat settings that can be managed from a wall-mounted switch with three positions. Some models even come with remote controls that allow users to set the commercial patio heaters to high, low, or off without having to walk to the control panel.
These Made in USA outdoor heaters also come with a 3-year warranty covering the burner assembly and a 1-year warranty on the controls. SunStar heaters are 48 inches long and can be conveniently installed under soffits, walls, and attached to sturdy posts without worrying that foul weather will damage them. There are upwards of 16 models in the SunStar outdoor heater family, and making a choice can prove challenging. To make the process customer friendly, AEI Corp offers free outdoor heater consultations.
Get Your Outdoor Infrared Heating System Started
To say AEI Corp infrared heaters offer products for every niche would be something of an understatement. There are commercial-grade products available to fit the needs of virtually every business.
The ability to select outdoor heaters that can sync with existing fuel resources — propane or natural gas — reduces installation costs, and that helps buoy profits driven by customer satisfaction. If you are considering increasing traffic, profits, and making your patrons feel welcome this fall, the time is now to start the outdoor patio heater process. If you need to warm your commercial space or business efficiently with something that will last, SunStar heating systems from AEI will not disappoint.
---
Want more information? Have a question? Contact us today, and we will be happy to help!