Winter is Coming: Invest in Portable Propane Heaters
5 minute read | Heaters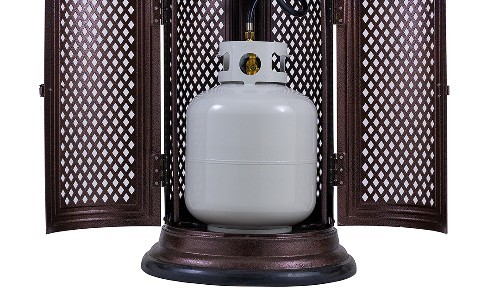 Portable propane heaters are consistently the most sought-after because they provide versatility for homeowners, restaurants, resorts, and community living spaces. The popularity of propane patio heaters has the industry poised to grow by upwards of 50 million by 2030, and those who invest in these products are reaping the benefits. The iconic mushroom heaters prominently displayed on decks, patios, and at resort pools deliver warmth and comfort that would otherwise force people indoors. When people utter the prophetic words from Game of Thrones — "Winter is Coming" — it's time to invest in liquid propane heaters.
Business Benefits from Portable Patio Heaters
The fundamental reasoning for onboarding portable patio heaters is relatively straightforward. Modern mushroom heaters use infrared heating systems that warm objects within their throw radius. Contrasting how open-flame products work, the radiant heaters deliver comfort that a stiff breeze cannot whisk away. By strategically placing liquid propane heaters where people gather, they can relax even when late-night chills or seasonal cold weather would otherwise drive them indoors. These are specific ways portable propane heaters can be deployed, and the benefits associated with portable patio heaters.
Restaurant Outdoor Seating
The National Restaurant Association reports that "65 percent of restaurant operators said they offered on-premises outdoor dining in a space such as a patio, deck or sidewalk." That number has steadily risen, and more than one-third of eateries indicate outdoor seating accounts for 40 percent of total sales. On average restaurants claim al fresco dining is responsible for 70 percent of daily revenue. When cool autumn days and winter's chill arrive, restaurant patio heaters help food-service businesses thrive.
Portable Propane Heaters for Condos
Property management firms are deftly positioned to take advantage of the benefits portable propane heaters provide. Mushroom heaters can be placed throughout multi-family living environments, making patios and common areas increasingly more functional. Condominiums with private outdoor spaces can accommodate the streamlined designs of mushroom heaters that house a liquid propane tank in the base.
The same holds true for common areas, where portable propane heaters can be repositioned as needed. Whether hosting a birthday party, holiday celebration, or enjoying deliciously prepared meals on an outdoor stainless steel grill, portable patio heaters improve resident satisfaction. One caveat that property managers and owners also enjoy is the fact purchasing high-quality piqued propane heaters can be passed along in rents and HOA fees.
Portable Patio Heaters for Resorts
Regardless of whether you're operating an exclusive resort or a family-oriented all-inclusive, seasonally cold weather can put a damper on occupancy and rates. People who want to escape from hectic work weeks, errands, and stress prefer not to feel challenged by nightly temperature dips. Strategically placing portable liquid propane heaters accomplishes that goal.
Establishing radiant heat around pools, outdoor patios, and places that offer the best views derive benefits from portable patio heaters during the early morning and late evening by extending the time guests can utilize them. Resort managers could easily market morning yoga sessions under the warming comfort of liquid propane heaters.
Outdoor Patio Heaters for Ski Lodges
People who want to play in the winter wonderlands of ski resorts understand the weather will typically hover below freezing. By that same token, skiers flock to the slopes adorning weather-appropriate gear and attire. But when the schussing is over, many wish to indulge in other outdoor amenities such as ice bars, hot tubs, and outdoor swimming.
Although skiers take a hardy approach to outdoor amenities, the same restaurant patio heaters used to keep open-air seating available also support ski lodge activities. Placing stylish mushroom heaters in these frigid spaces takes the edge off getting out of a hot tub, pool, or even enjoying a warm beverage while taking in mountain views. It may be too cold to go outside and maximize a ski resort's outdoor little extras until the portable patio heaters are deployed.
Why Invest in Liquid Propane Heaters?
There are three types of fuel sources used in industry-leading infrared patio heaters — liquid propane, natural gas, and electricity. Liquid propane offers the greatest flexibility because the tanks are usually housed in the base of mushroom heaters. This design allows homeowners, restaurateurs, property managers, and decision-makers at resorts to move them as needed once cool.
By contrast, outdoor heaters powered by natural gas and electricity must be fixed in place. After running a designated gas or power line, these heaters can be attached to overhangs, posts, and walls. This may be ideal for semi-enclosed spaces. But it's generally not feasible or cost-effective to install heating systems along pools, hot tubs, and backyard patios. Those are all reasons why mushroom heaters remain the most popular residential and commercial option.
Top Portable Patio Heaters
AEI Corporation offers industry-leading infrared portable propane heaters with exceptional throw radiuses, attractive designs, and the ability to withstand inclement weather. The Patio Comfort line tends to be the most popular mushroom-style outdoor heater. This line of portable propane heaters comes in a variety of finishes while remaining true to design elements that promote agility. With the liquid propane tanks stored in the base, finishes include antique bronze, jet-silver, vintage, and the classic stainless steel seen on wide-reaching patios and outdoor living spaces. Patio Comfort mushroom heaters offer the following.
Generate 40,000 BTUs
Self-Contained with Safety Pilots
Have Portable Wheel Kits
Up to 10 Hours of Radiant Heat per Standard OPD Cylinder
It's also important to note that liquid propane is widely considered a sustainable energy source. That means utilizing Patio Comfort mushroom heaters is an eco-friendly way to enjoy invigorating outdoor spaces. These heaters also have natural gas models available. When using natural gas models, home and business owners would need to secure patio heaters in place and tap into natural gas lines.
Other Liquid Propane Heaters to Consider
There are a variety of durable, high-quality AEI outdoor heaters suitable for residential and commercial usage. Along with the Patio Comfort mushroom heaters, these are products that may accommodate niche spaces and uses.
Sunglo Patio Heaters
The Sunglo line also employs the iconic mushroom head design that throws radiant heat in a circular area. Also generating 40,000 BTU, these liquid propane heaters can extend comfort up to 12 feet, sporting stainless steel and black matte finishes. They can also be fixed in place to ensure residents and guests don't inadvertently topple them.
Sunpak Heaters
This class of fixed-in-place overhead heaters can be fueled by either liquid propane or natural gas. Secured to sturdy infrastructure, Sunpak units deliver 10 x 10 heat coverage from ceilings, walls, or posts. This infrared heater line may be suitable for semi-enclosed areas and those with limited floor space.
Sunstar Heaters
Another line of fixed-in-place overhead heaters, Sunstar models are also adaptable as natural gas or liquid propane heaters. One of the key benefits of the Sunstar line involves models engineered to withstand the harshest weather. Utilizing Marine-grade 316 stainless steel and wind-resistant design elements, Sunstar heaters are excellent fits for areas prone to fierce weather conditions.
Choose Liquid Propane Heaters for Commercial and Residential Enjoyment
Selecting portable propane heaters presents an opportunity to maximize outdoor spaces flexibly and cost-effectively. AEI has commercial-grade products that are durable and pleasing to the eye. If you are considering improving the comfort of residents, patrons, and guests, AEI has the model to fulfill your heating needs.
---
Want more information? Have a question? Contact us today, and we will be happy to help!