Mushroom Heaters: The Leading Choice for Patio Comfort
5 minute read | Heaters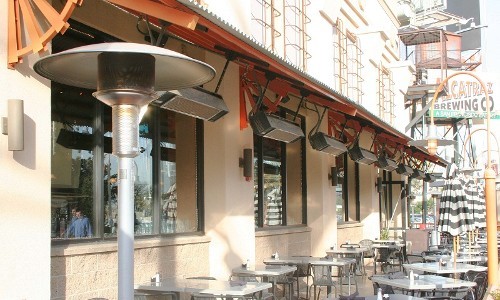 Some patios are deserted when the weather turns chilly. Restaurant customers insist on indoor seating, and residential guests duck inside. However, you'll also see outdoor spaces where the eating, conversation, and general fun keep right on going on cool evenings and even into the cool-weather months. You'll typically notice something else about those patios: they're populated by mushroom heaters.

These handsome patio heaters derive that name from their slender shape with the distinct circular cap. When you deploy mushroom heaters from respected names such as Sunglo and Patio Comfort, you don't have to anxiously check the weather report to know whether it will be warm enough to seat people outside. Furthermore, you needn't fret about the durability of your outdoor heating investment. Because they don't require costly electricity, high-quality, long-lasting gas-powered mushroom heaters are a cost-effective way to extend your patio season.
Heaters That Are Attractive and Effective
When people think of patio heaters, mushroom heaters are the ones that come first to mind. It's no wonder; these iconic units with the long stems and mushroom cap tops are among the most popular heaters for commercial establishments such as restaurants, hotels, resorts, golf clubs and sailing clubs, indeed, for any business that entertains customers outdoors. Mushroom heaters also can be found in the common areas of apartments and condominiums. Moreover, many homeowners have been delighted to discover how a mushroom heater or two can keep family and neighborhood gatherings going later into the evening and longer into the chilly season.
A patio with Sunglo or Patio Comfort mushroom heaters can feel like a day at the beach, and the reason is infrared heat. Infrared heats the same way our sun does. It directly warms up the objects, such as people, tables and chairs, when the rays hit them. It doesn't expend energy warming up the air in between. Because the air temperature doesn't need to rise, people start to feel warm as soon as you switch on an infrared unit.
The familiar "mushroom" cap atop the heater isn't there just for its good looks. It's a working device that distributes the heat in a wide arc. Depending on wind conditions, mushroom heaters located about 12 feet apart will keep everyone comfortably toasty. Furthermore, you don't have to worry about the heat source going out or the warmth being blown away by a breeze. Infrared heat keeps doing its thing in all kinds of conditions.
Two Respected Brand Names
AEI Corporation is pleased to partner with two of the most outstanding manufacturers in the patio heating industry. Sunglo built the original patio heaters 60 years ago, and Patio Comfort has been bringing the warmth to al fresco events for 45 years. There two distinguished companies offer mushroom heaters in a variety of colors, styles and fuel options.
Your Choice: Natural Gas or Liquid Propane
All these mushroom heaters run on electricity-free gas, and both Sunglo and Patio Comfort offer two gas choices. Neither is the "best" option, but your decision depends on your building, your space and your requirements.
Liquid propane heaters (LP) are portable. In their base you find the same kind of LP tank that runs a gas grill. You can readily move LP heaters around the patio as tables move about and guests come and go. You can store them indoors during the seasons when patio heat is unneeded.
The natural gas heater (NG), on the other hand, is more firmly affixed, because it's hooked up to the natural gas line that heats your building. Most are on poles cemented into the patio surface, but there are also portable units that are fed by a 12 foot hose that's attached to the gas line. With NG mushroom heaters, you don't have to worry about running out of gas or keeping a spare tank on hand. Just turn a valve and the natural gas from your building is ready for you to use.
Patio Comfort
Patio Comfort offers mushroom heaters constructed with commercial grade aluminum, stainless steel, aluminized steel or brass. Their LP heaters are portable units, and finish choices include stainless steel, antique bronze and a jet color with silver vein. There is also a particularly striking model called the Vintage. It boasts an electrostatically applied antique bronze polyurethane powder coating as well as hinged access doors in a "French Door" style.
Patio Comfort's NG offerings include a permanent steel post model that is buried into the patio surface. There's also a portable heater that stands on the floor. It attaches to the building's NG source via a hookup kit, so it can move about the patio or be disconnected for storage.
All Patio Comfort Heaters have non-rust and non-corrosive components, and the heaters can be left outdoors even in a rainy climate.
Sunglo
The name Sunglo is practically synonymous with patio heaters because they were the originals, developed in the 1960s. At first they were found only at the finest restaurants and resorts, but now there are units with features and prices that make them suitable for any commercial or residential location.
The A270 series is the liquid propane line, with all the flexibility you expect in a portable mushroom heater. You can add and subtract heaters, move them around your outdoor space and take them off for storage when you need to. They come in a stainless steel as well as a black model, both of which are manufactured with heavy duty corrosion-resistant construction.
The Sunglo A242 series is the NG mushroom heater line, available in black and stainless steel. As with the Patio Comfort, there are both embedded permanent pole units and portable units attached to the fuel source with a hose. The heaters require no electrical hookups, and they use a pilot-thermocouple 100 percent safety shutoff. There are semi-automatic ignition models that require lighting a pilot as well as automatic systems that start the pilot system via a switch.
Sunglo also offers the A244 overhead NG mushroom heater. The heating element and reflective dish sit within a black rectangular frame with distinctive scrolling. With the available automatic control, it can be operated without reaching overhead.
Reliable Heaters That Welcome Guests
AEI mushroom heaters will transform your patio. Guests will want to spend more time in your outdoor spaces, protected from any chill that may be gathering just outside your circle of warmth.
Comfort, flexibility, cost-effectiveness, hospitality, durability: what's not to like? There's a reason that business owners, building managers and homeowners have made infrared mushroom heaters the most recognizable units available for today's outdoor spaces. Likewise, there are reasons that Sunglo and Patio Comfort are two brands that continue to lead the way.
---
Want more information? Have a question? Contact us today, and we will be happy to help!