Prepare for All Your Upcoming Summer Holidays and Get-Togethers With Quality Patio Heaters and Grills
6 minute read | Grills Heaters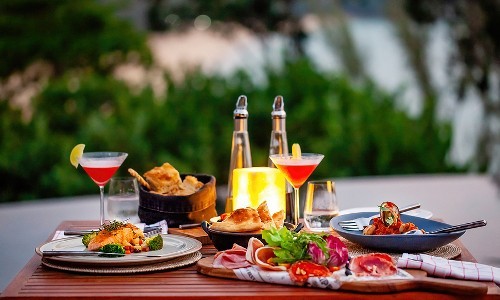 There's a subtle frustration that persists among homeowners who are unable to spend time grilling and relaxing on their decks and patios during the late evening or cool weather months. If you purchased your house with a deck or patio, you likely paid a premium. Anyone who hired a contractor knows the full dollar amount of construction.
And yet, you are forced to retreat indoors on some of the most beautiful days, evenings, and special occasions. The good news is that a stainless steel patio BBQ and infrared heaters would be a quality-of-life game-changer.
How Do Infrared Patio Heaters Work?
An infrared patio heater provides warmth and comfort without exposing family members or friends to an open flame. A state-of-the-art fixed, or portable patio heater generates infrared rays that warm objects within its throw radius. The most popular models are those with circular mushroom heads that homeowners can position as needed.
One or more infrared patio heaters can eliminate the chill that forces people inside. They also open the door to outdoor use during Thanksgiving and Super Bowl Sunday, among others. By integrating a fixed or portable patio heater, you can relax or entertain guests during the holidays or special occasions.
How To Choose the Right Patio BBQ
Perhaps the biggest mistake homeowners make is purchasing cheaply made imported grills at big box retailers. These products are made from low-quality materials with little care about even heat distribution or longevity. That's typically why backyard BBQ enthusiasts suffer unevenly grilled steaks, chicken, veggies, and other menu items. It's also why hard-working families replace their patio BBQ every 3-5 years.
Given that even mass-produced grills from overseas are no longer cheap, it makes sense to invest in a high-quality stainless steel or cast aluminum BBQ grill made locally in the USA. American-made products are built to last, come with excellent parts replacement warranties, have natural gas or liquid propane fuel source options, and will be the best and last BBQ you'll ever need to purchase.
Rather than spend the summer burning burgers or cooking indoors, you may be better served making a one-time investment into a PGS patio BBQ grill. In fact, AEI has the perfect patio BBQ and patio heaters needed to transform your outdoor living area into an all-season enjoyment space.
One-Stop Shopping for A Reliable Patio BBQ & Infrared Patio Heaters
As an industry leader with more than a half-century of experience in the outdoor heater and patio BBQ grill niche, AEI enjoys a unique perspective. The organization remembers when a backyard grill was designed to last for decades, if not a lifetime. And the same holds true even for yesteryear's open-flame heaters. While AEI has always integrated the latest technologies and innovations into outdoor grills and heaters, too many brands have traded quality and durability for reliability and excellence.
The AEI infrared patio heaters, liquid propane and natural gas BBQs homeowners select continue the tradition of durable, reliable use along with modern-day conveniences. If you're tired of not maximizing the pleasure of grilling in the fresh air on your deck or patio, these products are the solution.
Top Patio Grill Brands for Homeowners
The "Performance Grilling System" line, commonly referred to as PGS, involves a variety of portable and fixed-in-place outdoor grills powered by either liquid propane or natural gas. Homeowners have options in terms of size, heat generation, and accessories, to seamlessly meet their patio BBQ and space needs. These are PGS patio grills worth considering.
T-Series Grills
The PGS T-Series line offers an array of durable grills constructed from stainless steel or hard-cast aluminum. A unit can be employed as a portable propane BBQ with a tank housed in a wheeled cart. They can also tap into an existing line of natural gas, and can be mounted in countertops or pedestal stands. Direct grilling space ranges from 330 square inches to 960 square inches, and BTUs of 30,000 to 90,000, depending on the model.
A-Series Grills
Homeowners with limited outdoor space tend to gravitate to the A-Series due to the sleek, streamlined designs. The liquid propane and natural gas BBQs range from 330 square inches of direct grilling space to 434 square inches. Heat generation runs from 30,000 to 40,000 and this line offers warming racks that help perfect meal service timing. Often mounted on space-saving pedestal stands, adding foldable stainless steel side shelves makes them perfect for cozy patios and decks.
Legacy Grills
Legacy patio BBQ grills have emerged as the go-to option for homeowners that want to invest in a complete outdoor kitchen experience. These large models deliver 540 to 960 square inches of direct grilling area. You can also utilize a 200- to 355-square-inch warm rack, depending on the model. Having 45,000 to 102,000 BTUs at your disposal allows any backyard grilling aficionado the bandwidth to handle all your summer cookouts with ease.
It's also important to keep in mind these PGS patio grills come with 60-minute shutoff timers, matchless ignition, and can be accessorized with side burners, beverage centers, infrared rotisserie burners, lift-assist, and other perks.
Top Infrared Heaters For Extended Patio Enjoyment
A deck or patio is not complete unless it has a warming system. The AEI infrared patio heaters are widely recognized as industry-leading units that deliver immediate warmth and long-term durability. These rank among the popular models for extending daily and seasonal outdoor pleasure.
Patio Comfort
The Patio Comfort model is a classic mushroom head heater that can be moved as needed, if it is a propane model. It has a wide infrared throw radius and generates warming rays for up to 10 hours on a single tank of propane. This line comes in a variety of finishes, as well as a vintage design.
Infratech
Infratech residential models are fixed-in-place heaters that can be mounted on ceilings, walls, or sturdy infrastructure. Using electricity instead of propane or natural gas, Infratech units have a 90-percent energy efficiency rating and can be installed with an electrician or contractor.
Sunpak
The overhead infrared heaters from Sunpak utilize natural gas or liquid propane. They are typically mounted overhead and the black finish can blend into the décor without attracting attention. Like other infrared patio heaters, they can be regulated with wall-mounted timers.
Sunglo
The Sunglo line is the next logical step of the classic portable mushroom style. Rather than house a tank in the base that requires changing, a sturdy post can be used to secure the heater in place. The Sunglo line does offer portable models in stainless steel and black finishes.
Sunstar
Part of the evolution of the infrared heaters at AEI, the Sunstar is designed to handle the most foul weather. Too many infrared patio heaters could not withstand seaside gales or sand-blasting winds. The robust exterior and components of the Sunstar are perfect for homeowners that experience nasty storms.
When there's a problem that prevents homeowners from relaxing or entertaining during summer holidays, chilly evenings, or cool weather months, AEI has a solution. If you are considering re-imagining your deck or patio by adding infrared patio heaters and adding a quality patio BBQ grill, AEI has a complete line of both. Our Made in USA grills and heaters deliver the lasting benefits homeowners deserve.
---
Want more information? Have a question? Contact us today, and we will be happy to help!