Warm Up with a Natural Gas Patio Heater
7 minute read | Heaters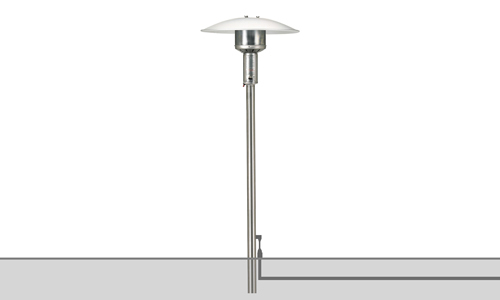 Your backyard patio might just be your happy place. It's a place where you gather with family and friends to share good conversation or maybe a great meal or just some relaxation time. But Mother Nature doesn't necessarily deliver perfect backyard weather all the time. If you want to enjoy your outdoor space when the afternoons cool off or the evenings become chilly, you should add a patio heater or two.
Natural gas heaters are the perfect solution for warming up a patio. Natural gas is a clean and safe fuel choice. If you choose a patio heater that is attached to a gas line, you never worry about switching out a propane tank or running out of fuel in the middle of a gathering. And depending on your space, you can add more than one heater to completely bathe the area in warmth. Natural gas heaters are perfect for individual patios, restaurant patios and patios in common areas like apartment or condominium buildings.
Where Do You Install Natural Gas Heaters?
There are many options for installing and placing natural gas heaters. Look up and see if there is a sturdy overhead structure like a pergola or gazebo that could serve as a mounting spot for a heater. If the heater or heaters are hung up, all of the floor space below is available for sofas, chairs, and tables. Mounted overhead, heaters can be placed directly over dining tables to guarantee a meal enjoyed in warmth.
If the patio is adjacent to a building there may be a spot on the wall or in the eaves to mount a heater.
If there isn't a spot on a ceiling or a wall, natural gas mushroom heaters are a stand-alone option for patio warmth. These heaters on poles can be placed on the patio anywhere a contractor can run a gas line. Mushroom heaters give you the opportunity to warm up spaces along the edge of the patio that may be a distance away from a wall or an overhead structure. You can strategically place multiple mushroom heaters so that the warmth reaches all of the space in your outdoor area.
How Do Hanging Patio Heaters Work?
Sunpak heaters use infrared radiant energy that is similar to the heat of the sun. They focus on warming people and objects and not just heating up the air. They can be mounted on ceilings or walls and are available in different finishes to blend with their surroundings.
Sunpak heaters are designed to provide maximum warmth outdoors in variable temperatures and wind speeds. They need fresh air and ventilation to operate properly and should never be installed in interior spaces.
An overhead natural gas heater will work as well in a backyard as in a larger gathering space like a restaurant.
Why Choose a Mushroom Heater?
Mushroom-style heaters offer great flexibility in placement. They aren't dependent on the parameters of a building for installation. Natural gas mushroom heaters just need to be in proximity to the gas line. That's why you often find them at the edges of an outdoor space or next to dining tables.
Patio Comfort mushroom heaters use an efficient infrared system to warm objects and not air. You find them on decks, patios, poolside and in dining situations. They are available in several fashionable finishes to blend with the outside space.
Can You Find Overhead Mushroom Heaters?
Not all mushroom heaters are mounted on fixed posts or portable bases. Sunglo manufactures natural gas hanging mushroom heaters. These mushroom heaters are designed with attractive frames that become a welcome part of the decor. The hanging mushroom heaters also operate with radiant warmth for maximum heating efficiency. And they have deep dish reflectors that spread the radiant heat over a larger area.
An overhead hanging mushroom natural gas heater will leave your friends, family, or customers feeling like they're being warmed by the overhead sun.
Do Natural Gas Heaters Have Safety Features?
Premium natural gas patio heaters are built with safe pilot and ignition systems. They come with safety shutoff mechanisms. There are also floor clamp kits available to ensure that the gas hoses are not a tripping hazard on a patio or pool deck. Natural gas is a clean and efficient fuel for outdoor patio heaters.
Why Choose an Outdoor Heater?
An outdoor heater allows you and your friends and family to enjoy more time outside. Infrared heating systems cut through the air and zero in on warming people. You could enjoy extra minutes on your home patio or maybe even extra months with the addition of natural gas patio heaters. Outdoor heaters are perfect on the pool deck to remove the chill after a dip in the water.
Outdoor dining has never been as popular as it is now. Outdoor heaters are a great way to ensure that restaurant and bar guests are very comfortable outside and are likely to choose to visit because of that great space. Heating systems can bolster revenue because more guests may choose to dine in a spot with a comfy patio. And patrons may linger longer and spend more money when they aren't chased away by the cold.
A flexible and useful outdoor space is a selling point for apartment residents and condominium owners. A heated patio is a highly sought-after amenity that will have residents dreaming of all the ways to enjoy the outdoor living room in their communal space.
Campgrounds and RV parks are two other spaces where guests cherish the time they can be out of their tent or vehicle and enjoy a common space. Outdoor natural gas heaters extend those recreational options.
Outdoor spaces are meant to be enjoyed. From the backyard to the neighborhood pub to the community pool, friends and family love to gather in the fresh air. Outdoor natural gas heaters are a common-sense addition to these spaces to maximize the time they can be used. With options that can be mounted overhead or on the side or moved into the proper place, there is an outdoor heater for every space. Natural gas heaters are safe and clean and their radiant technology cuts through the air on a chilly afternoon or evening to wrap everyone in a blanket of warmth.
---
Want more information? Have a question? Contact us today, and we will be happy to help!