What to Look for in Outdoor Patio Grills
8 minute read | Grills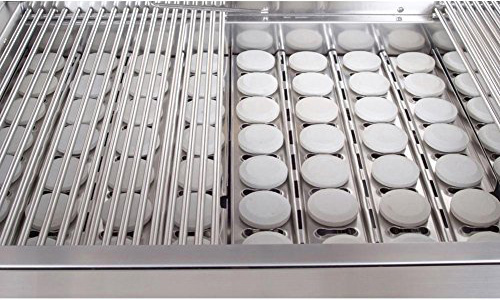 There is a wide range of outdoor patio grills on the market with staggering differences in terms of size, quality, and available accessories. To say doing your due diligence on a new grill is confusing would be a huge understatement. The question homeowners, business decision-makers, and property managers must consider is: What to look for in a gas grill?
Answering that question can be more challenging than it might appear. If that's the case, consider researching a high-quality outdoor gas grill the way you would if you were buying a new home. There are a lot of similarities between buying a home and a natural gas or propane barbecue grill.
Look for Quality Construction in a Gas Grill
There are plenty of flimsy, low-cost grills you can secure at rock bottom prices. The same holds true when purchasing a property. Now, think about what that low-cost house looks like. It probably has declined into a blighted state or is shoddily made from cheap materials. Those are not the type of homes you want to live in, nor are they the outdoor patio grills you want.
The outdoor appliance you want is constructed from quality materials that will deliver grilling excellence for years to come. These are top-tier materials and construction employed by reputable grill lines such as AEI's PGS lines.
Cast Aluminum and Stainless Steel Components
Fuel Lines Secured and Protected from Elements
Sturdy Bases to House Propane Tanks
Strong Pedestal Stands
Heavy Duty Portable Cart Construction
Just like a property you would feel good about calling home, it's essential that the outdoor patio grill you select meets those same standards. And like shopping for a home, there will be practical considerations that factor into what to look for in a gas grill as well.
Natural Gas or Propane Outdoor Patio Grills?
The decision to purchase a natural gas or propane barbecue grill is usually based on existing fuel resources. If your home, residential association, or business are already equipped with natural gas, this can be a wonderful cost-effective option. On the hand, propane continues to be a popular choice among grill aficionados. But beyond the presence of a fuel line, these are reasons why grill overs choose one or the other.
Choose Propane If: You wish to maintain a portable grill that can be moved as needed.
Choose Natural Gas If: You prefer the convenience of not having to swap out fuel tanks. This option is also popular for built-in grills in outdoor kitchens. A stainless steel built-in BBQ such as the PGS Legacy Series can increase property values when installed in verandas, decks, and patios.
The good news is that the fuel used in both natural gas and propane barbecue grills is inexpensive.
Outdoor Patio Grill Accessories are Like Getting a New Kitchen
Taking your grilling experience to the next level is a lot like making home improvements. So, purchasing a stainless steel gas grill that can be accessorized to meet your growing needs is an important consideration. PGS models such as the T-Series and Legacy Built-in grills can be conveniently accessorized. A suitable gas grill should include or allow you to add-on the following items at your leisure.
The ability to accessorize your outdoor cooking station allows you to expand your menu and effectively entertain friends and family.
Why Outdoor Patio Grills Replacement Parts Matter
Just as your home may require a new floor light or fixtures over time, even well-constructed outdoor patio grills require updating at some point. Whether that is the result of a severe weather impact or human error, the ability to order replacement parts means the difference between a quick online order or buying a new unit.
Imagine if you had to buy an entirely new house because someone clogged a drain or spilled coffee on the carpet. That wouldn't make sense for the home you buy and doesn't for your outdoor gas grill purchase either. Ordering a PGS replacement part or accessory upgrade is just a mouse click away.
AEI has been Making Reliable PGS Grills for Over 50 Years
AEI has been engineering high-quality PGS grills for more than 50 years. This reliable Made in USA grill line continues to adhere to only the most stringent manufacturing standards and uses only the finest materials. Since 1968, the PGS grill has embraced emerging technology and remains a trusted industry leader.
---
Want more information? Have a question? Contact us today, and we will be happy to help!