Hospitality Businesses Thrive With Outdoor Patio Heating Systems In Place
5 minute read | Heaters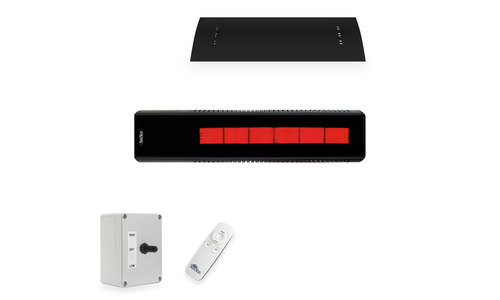 Business professionals in the hospitality industry have little wiggle room if they hope to install infrared heaters in time to offset autumn chills and keep patrons frequenting their outdoor patios.
Despite the searing hot summer of 2023 now in our rearview, the fall forecast remains unchanged. Restaurants, breweries, resorts, and private clubs can anticipate temperatures to drop by 8-10 degrees on average during October alone. And daylight hours will turn to cool starlit evenings at a rate of 2-3 minutes each day. The best way to resist closing down outside seating areas and fresh-air gathering spaces is to onboard industry-leading patio heaters before guests go somewhere else. By providing the warmth and comfort needed to remain outside this fall, your operation will reap the benefits of increased patronage and customer satisfaction.
The Economics of Infrared Patio Heaters
Imagine people in your group want to use an eatery's outdoor area after finishing a good meal and enjoy a nightcap. It's only natural the rest of the party would join and engage in lively conversation. One beverage leads to another, and then someone asks about dessert and an espresso. It's amazing how a dinner bill grows when parties of four or more are having a good time in the evening air. Introduce a stiff autumn breeze, and those same revelers are handing your valet a ticket and calling it a night.
In one scenario, people stay longer and spend more money while they enjoy each other's company. In the other, food service bills are limited to an appetizer and an entrée as patrons exit early. Studies indicate that al fresco dining and mingling on outdoor patios results in hospitality businesses taking in upwards of 30 percent more revenue. That's the reality of outdoor patio heater economics.
Budgeting for Infrared Heaters Proves Profitable
It's not uncommon for decision-makers to shy away from making capital investments such as an infrared heating system installation when revenue appears tight. The persistent inflation has already forced many hospitality operations to raise prices, and some naturally worry about the impact on customers. No one wants to give customers sticker shock and the thought of taking on another pass-through expense seems counterproductive.
Although such reasoning may be prudent when considering a bathroom remodel or repainting a space, patio heaters are closer linked to profits and not necessarily outgoing money. With an anticipated 30-percent growth margin running deep into the fall and early winter, revenue would look bleak without regulars.
It's also important to keep in mind that investing in patio heaters now allows you to open outdoor spaces more than a month earlier than normal come spring. The benefits of extending the days and seasons pale by comparison to the largely tax-deductible infrastructure investment.
Creating Outdoor Comfort for Customers and Guests
Hospitality businesses that wait yet another year to invest in the seasonal expansion of outdoor areas appear to be falling further and further behind. Recent reports indicate the global outdoor heater market topped $1.22 billion in 2022. By year's end, it's expected to exceed $1.27 billion and tip $1.88 billion by the end of the decade. North American businesses enjoy the lion's share of commercial infrared heating systems. Industry-leading AEI Corp natural gas, liquid propane, and electric heaters, such as the following, have emerged as the go-to resource.
Infratech
One of the issues that sometimes holds hospitality owners and managers back from investing in patio heaters is the lack of an existing fuel line. The cost of running a natural gas or liquid propane line to an area feels prohibitive on its face. The Infratech electric heaters solve this problem because it can be powered by a designated line. A certified contractor can tap into the existing system and set up a tie-in. Infratech outdoor heaters can also be operated from a convenient wall panel.
Sunglo
The Sunglo line is an ideal outdoor heater for sidewalk cafés, resort pool areas, breweries, wineries, and others that benefit from extended hours and the fresh-air experience. Recognized by their iconic mushroom-style heads, Sunglo models disperse radiant heat in a circular throw radius. They can be fueled by housing a liquid propane tank in the base, making them mobile when cool. Business owners who wish to tap into an existing natural gas resource can secure them in place and have a line run.
SunPak
These powerful overhead infrared heaters come in three distinct models and two finishes — black and stainless steel. The SunPak S25 generates 25,000 BTUs of radiant heat. The S34 throws 34,000 BTUs and the S34 offers a two-stage option that produces between 25,000 and 34,000 depending on need. These overhead heaters deliver warming comfort to people within a 100-square-foot radius. They can be strategically mounted to overhangs or walls to maximize the benefit to customers and guests.
It's not unusual for hospitality business owners to install multiple SunPak patio heaters to create a comprehensive system. Installing a control panel to manage these liquid propane or natural gas heaters helps eliminate wasteful usage. And adding a shutoff timer ensures they won't keep running when it's closing time.
Sunstar
This class of liquid propane and natural gas heaters is designed for environments that experience intense weather conditions and temperature shifts. As a marine-grade box heater, these durable products are constructed with 316 stainless steel and can be mounted at angles of 15 to 60 degrees. The Sunstar natural gas or liquid propane heaters also have a heat shield to protect the ceramic infrared burner system from flying debris and excessive saltwater moisture. Generating radiant warmth from 25,000 to 34,000 BTUs, it serves seaside resorts and other hospitality businesses exceedingly well.
Patio Comfort
The Patio Comfort mushroom heater remains the most popular option for coffee shops, eateries, nightclubs, resorts, and other operations that bank on agility. The vast majority of Patio Comfort models are used as liquid propane heaters with a tank stored in the base. These propane tanks can be easily refilled or swapped out at local retail outlets and gas stations. Business owners and operators typically keep a backup on hand to ensure uninterrupted customer relaxation during cool autumn nights and early winter afternoons.
The ability to reposition Patio Comfort heaters when they're cool allows business owners to rethink seating and mingling spaces. It also opens the door to accepting large parties and hosting special events without worrying about changing temperatures. The AEI Corp models also allow decision-makers to permanently secure them using sturdy posts as natural gas heaters.
Get the Outdoor Infrared Heating System Started
To say AEI Corp infrared heaters simplify the process would be something of an understatement. There are commercial-grade patio heaters available to fit the needs of virtually every business. Box heaters can be mounted overhead, horizontally or vertically to secure walls and on posts. Mushroom head models continue to provide the flexibility necessary to negotiate intimate outdoor spaces and changing usage.
The ability to select outdoor heaters that can sync with existing fuel resources — propane, natural gas, or electricity — reduces installation costs, and that helps buoy profits driven by customer satisfaction. If you are considering increasing traffic, profits, and making your patrons feel welcome this fall, the time is now to start the outdoor patio heater process.
---
Want more information? Have a question? Contact us today, and we will be happy to help!