Where Should I Place Commercial Grills for Apartments?
7 minute read | Grills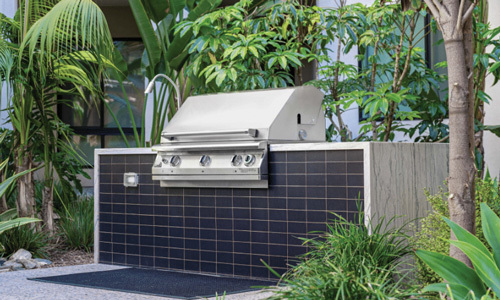 Less than 10 years ago, an apartment complex offering residents an outdoor grill was a highly sought-after rental option. These days, multi-family property owners without a designated natural gas or liquid propane grill station struggle to onboard preferred tenants.
Now that grills for apartments are widely considered a standard amenity, it's up to owners and property management outfits to maximize the peaceful enjoyment of stainless steel grills for residents. A deeper understanding of outdoor grill placement and industry-leading products can give you a competitive advantage in the rentable living space sector.
Best Places to Install an Outdoor Grill
The best place to install liquid propane or natural gas grills is driven by factors that include fuel availability, square footage, and the type of communal space. Each gathering area has specific infrastructure, seating options, and resident expectations. Providing the perfect gas grills for apartments generally means strategically placing them in outdoor areas such as the following.
Poolside Areas
Adding a mid-sized or large outdoor grill near the complex's swimming area changes the dynamic for residents and guests. Rather than bring a small cooler and retreat back indoors to make lunch or dinner, tenants can bring a day's worth of food and beverage options. A large cart-mounted propane patio grill can be positioned as needed. But, many multi-family property owners and managers prefer a fixed-in-place pedestal mounted grill for safety reasons. Adding an appropriately sized BBQ grill allows residents to relax in the sunshine and fresh air as long as they desire.
Green Spaces
Select green spaces are not necessarily just for admiring. Well-manicured grass and gardens can also be enjoyed while dining on a warmly grilled burger or kabob. It's not uncommon to choose cart-mounted grills in such green spaces because of their flexible mobility. Deploying stainless steel grills when people gather for celebrations or just want to relax as children play gives an apartment complex a luxury resort feel.
Individual Patios
Multi-family communities are perfect for individualized grilling stations. Developers and management firms need only follow local building and fire safety codes to install a pedestal mount grill on each outdoor patio. Tapping into natural gas lines also places the fuel cost on individual renters. By that same token, property owners typically charge a premium for living spaces that include separate natural gas grills on personal patios.
Hardscape Communal Areas
The stone and brick architecture of hardscapes are an ideal place to install a complete outdoor kitchen with a natural gas or propane grill as the centerpiece. The best stainless steel grills for apartments can be directly installed into outdoor countertops, giving them a wealth of food preparation space. They can also be accessorized with side burners, beverage centers, warming racks, utensils and seasoning drawers, as well as rotisseries. Attractive spaces to relax and enjoy each other's company, a patio grill installation improves the experience.
Decision-makers should also be keenly aware that not every major outdoor kitchen installation requires the cost of contractors. There are prefabricated outdoor grill islands that can be assembled by grounds crews and handy DIYers in a single afternoon. These products can house a liquid propane tank in the base or you can have a professional run a natural gas line. The point is that top manufacturers and distributors are finding ways to cut installation costs for multi-family property owners.
Top Outdoor Grills for Apartments
The PGS Grill line continues to prove it's the industry leader in terms of improving multi-family communal spaces. The PGS T-Series grills have emerged as the go-to resource for retrofitting and new outdoor grill installations. These hard, cast aluminum and stainless steel grills are equally effective at using liquid propane or natural gas. Generating high BTUs of evenly distributed cooking heat, the advanced technologies T-Series grills employ help eliminate flare-ups. These are things decision-makers may want to consider when planning to onboard grills for apartments.
Cast Aluminum Outdoor Grill Installations
The T-Series includes models known as T30 and T40 that are considered modestly sized options. This patio grill line offers 330 to 434 square inches of direct grilling area and BTUs of 30,000 and 40,000, depending on the model. Using stainless steel cooking grates, they are simple to clean and effectively handle intense weather.
As liquid propane grills, they can be cart mounted and moved to green spaces, patios, or impromptu locations as the need arises. As a pedestal mount grill, they can be connected with natural gas lines for use on individual patios, hardscapes, and other popular gathering places.
Stainless Steel Grills for Apartments
The PGS S48T, S36T, and S27T models rank among the larger stainless steel grills used in multi-family settings. With direct grilling areas that range from 720 to 960 square inches, these top-tier grills are designed to handle family gatherings, birthday parties, and celebrations with relative ease. Generating 67,000 to 90,000 BTUs, they are also ideal for built-in kitchen installations and use with specific prefabricated grill islands.
These commercial outdoor grill options also work seamlessly with natural gas or liquid propane. In terms of accessories, side burners, beverage centers, infrared rotisseries, and self-cleaning grates make them a multi-family community darling. But it's the extensive list of safety features that often makes them the preferred choice among property managers and owners.
PGS Grill Safety Features
Capital expenditures do not necessarily happen in a vacuum, and property owners need to keep an eye on insurance costs. Amenities such as gymnasiums and pools typically increase monthly premiums and an outdoor grill may be no different. However, the PGS Grill line integrates key safety elements that reduce the risk of a burn injury and help keep premiums low. These are notable safety features T-Series barbecue grills offer community living environments.
60-Minute Shutoff Timer: This feature ensures the natural gas or liquid propane grill powers down at the end of each hour. This reduces the risk of someone touching a hot lid and suffering a burn. The shutoff timer also prevents the needless waste of fuel.
Anti-Theft Knobs: Outdoor grill knobs have a habit of sprouting legs and walking away. Rather than have residents try to turn control stems or buy new ones, anti-theft knobs are designed to stay in place.
Left-Assist: Property owners have the option of adding a lift-assist handle to help residents more efficiently use the stainless steel grill. It's a welcome feature for people with physical limitations.
Matchless Ignition: The days of using a lighter to activate gas grills are largely in our rearview. When powering up a PGS grill, you safely press a button.
Laser-Etched Instructions: Not everyone has owned or operated a commercial-grade patio grill, and little mistakes can lead to injury. To account for new users, T-Series grills enjoy permanent instructions etched on panels.
Another distinguishing factor that PGS Grills offer involve extensive warranties. These reliable Made in USA cast-aluminum and stainless steel grills offer lengthy parts replacement warranties and support. Made to withstand inclement weather and temperature shifts, T-Series models outperform others in their class and are often the last patio grill you'll need to purchase. If you are considering an outdoor grill installation to enhance the quality of life experience of your multi-family residents, contact a PGS Grill dealer for more information.
---
Want more information? Have a question? Contact us today, and we will be happy to help!